DIY Stenciled Stovetop Cover
We simply adore this DIY stenciled stovetop cover that we made with the help of our Cricut machines and some vinyl for stenciling! Sometimes known as noodle boards, these handmade stove top covers are really useful too. They give you some much-needed extra kitchen counter space and if properly sealed with a food-grade sealant, they can be used as a stove top cutting board or kneading board for dough too.
It's easy to make one of these stove toppers, even if you don't have any previous woodworking experience. We'll also share our best Cricut hacks for stenciling and getting professional looking results. These wooden stove covers make great gifts too!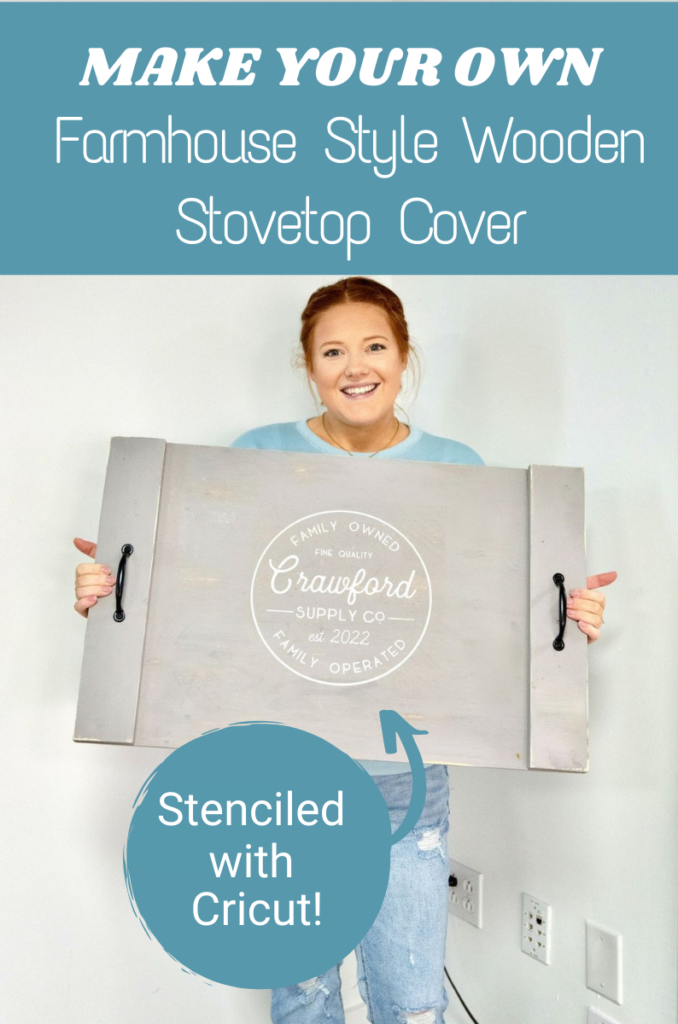 DIY Stenciled Stovetop Cover
If you're planning to use your stove top cover as a cutting board, remember that the knife marks may affect your design. You might want to think about the placement of your stenciling to bear that in mind.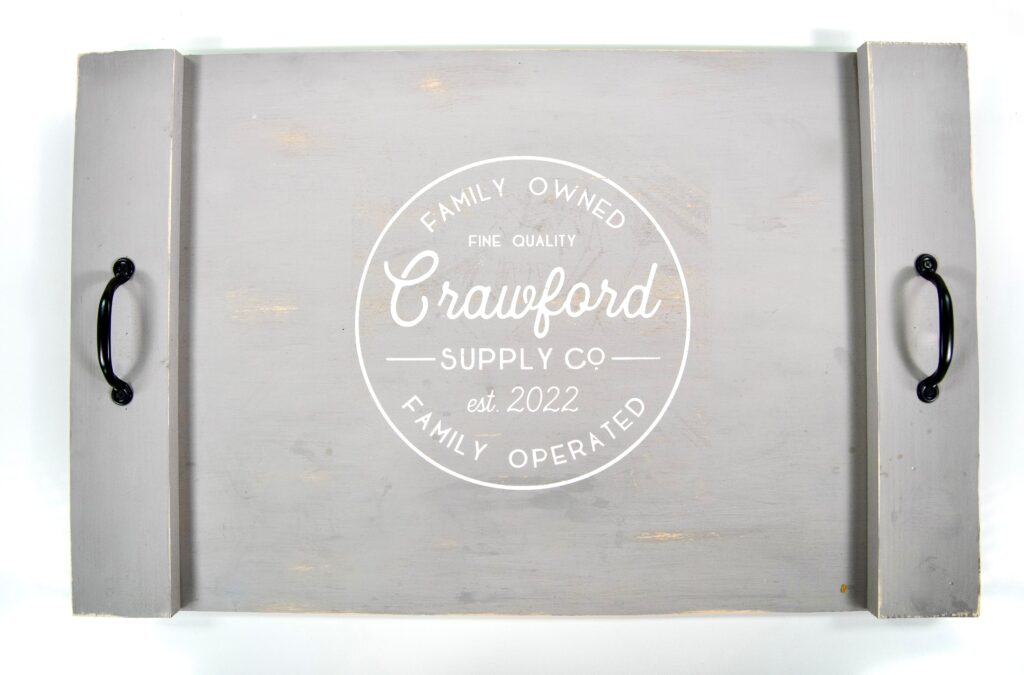 Supplies Needed:
Cut Files/Fonts Used:
Step-by-Step Instructions: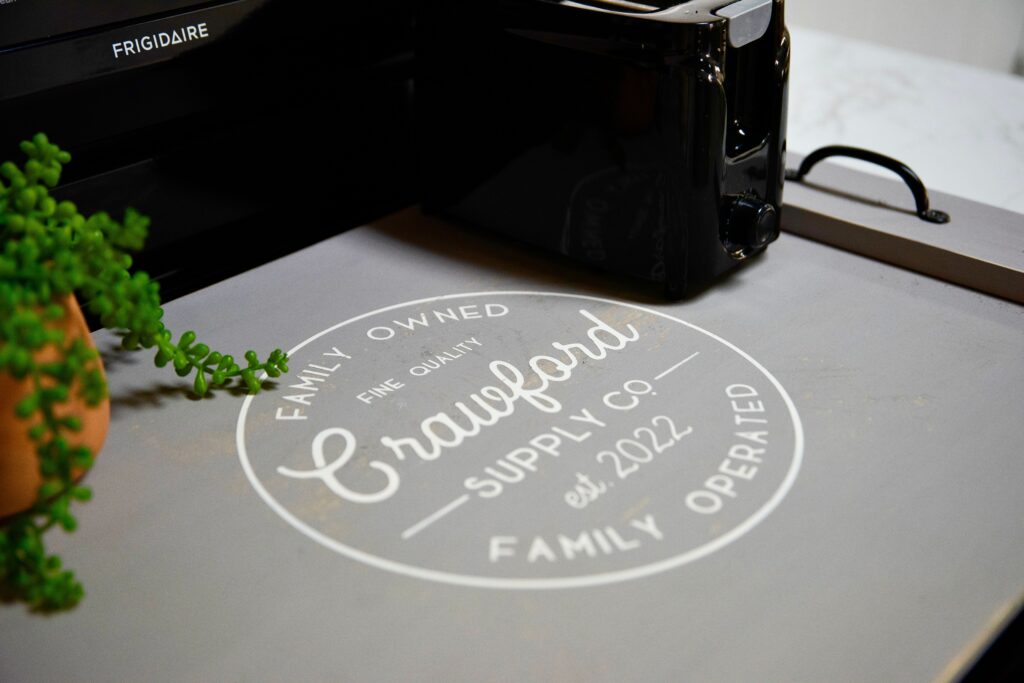 Making the wooden board:
1 – We bought a piece of wood and had Home Depot cut it down to size for us. Measure your stove to see just how large to make yours. If you have power tools available, you can also cut it to size yourself. Our board is 19 x 30 inches.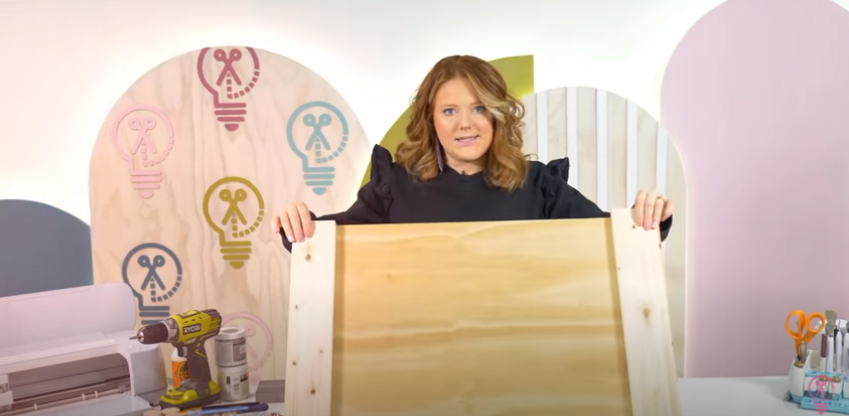 2 – You also need to cut down the 1 x 4s to fit the main board so that you can place them on either side.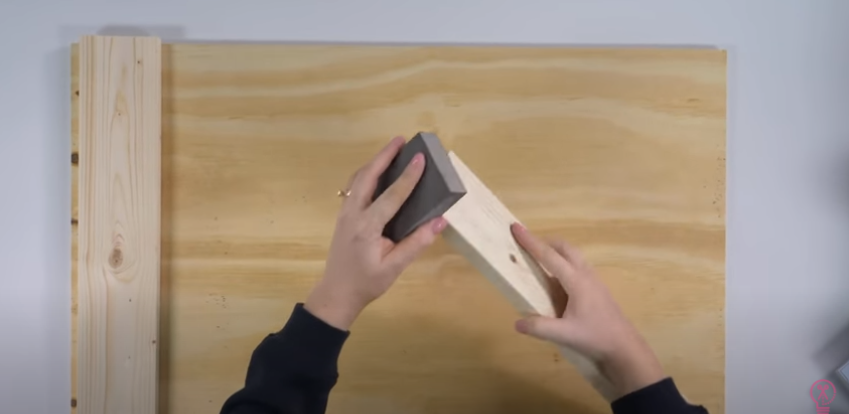 3 – Sand the edges of all the pieces of wood until smooth. Use a circular motion to sand the surface of the pieces.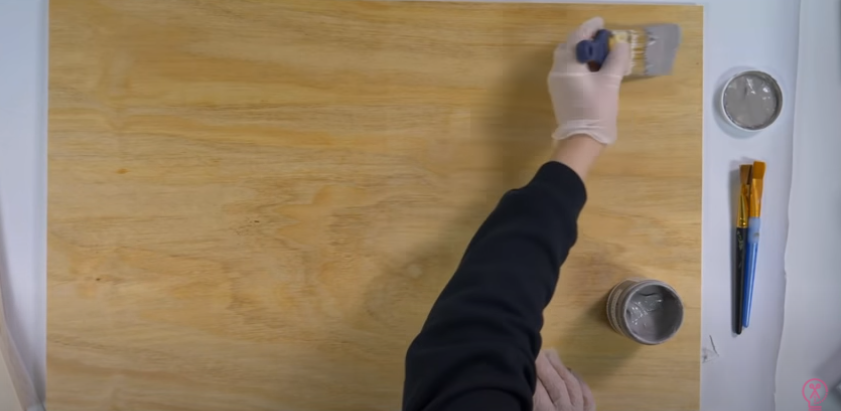 4 – Paint all of the wood pieces. We used chalk paint because we like the look and it dries really fast. One consideration when it comes to deciding whether to use paint or stain is that we are using two different kinds of wood. If we tried staining them, each kind would take the stain differently. By using paint, we are getting a cohesive finish on all of them.
PRO TIP: For a more finished look, be sure to paint the bottom of the board too!

Creating the design in Cricut Design Space: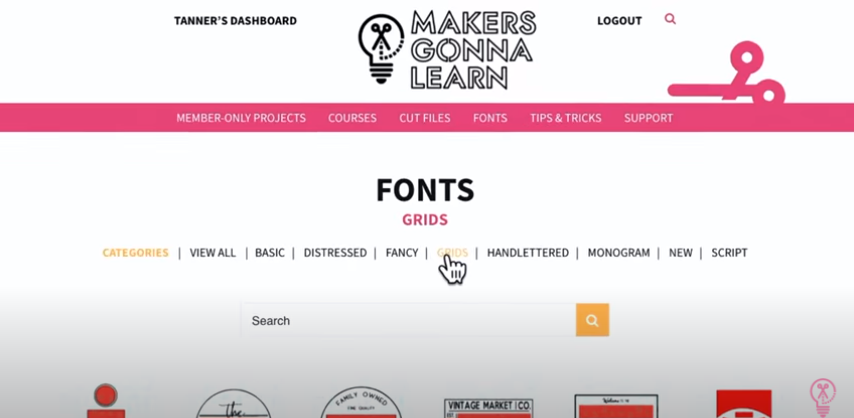 5 – While the paint is drying, you can work on your design for the stencil. To make this really easy, we have a Grids category in our fonts section. These grids do most of the designing for you!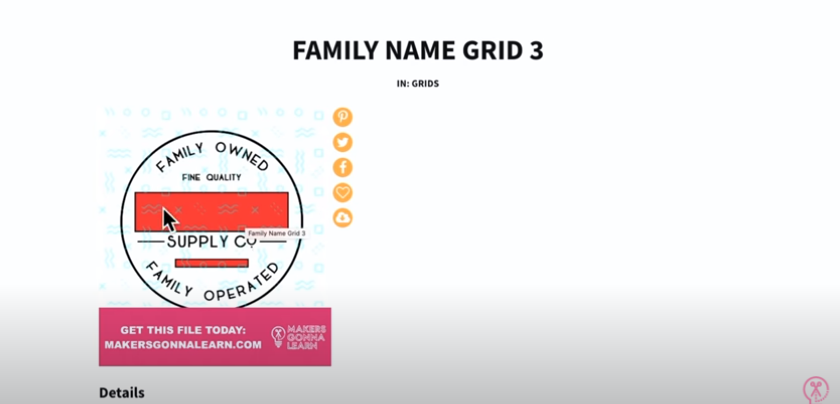 6 – You can see that in this grid, all we have to do is plug in the name and established date right where those red rectangles are. You can choose whatever font you want, but you'll see that there are suggested fonts available if you're not sure what to pick.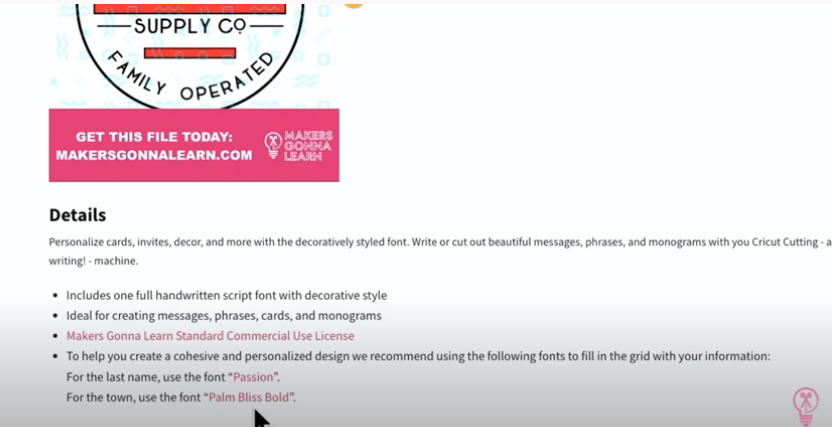 7 – Upload your grid into Design Space. Add your text and drag it into the rectangle. Size as needed. Repeat for the second rectangle.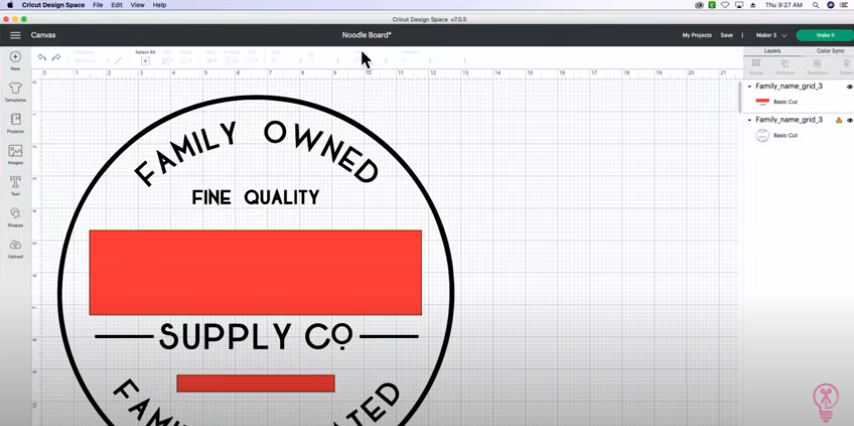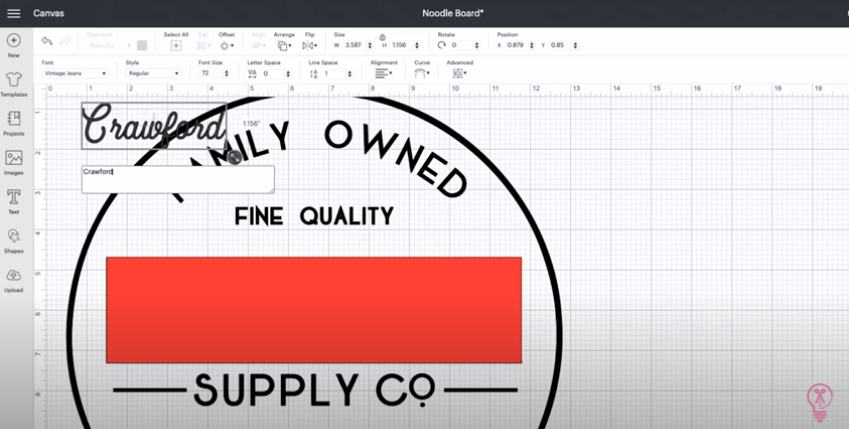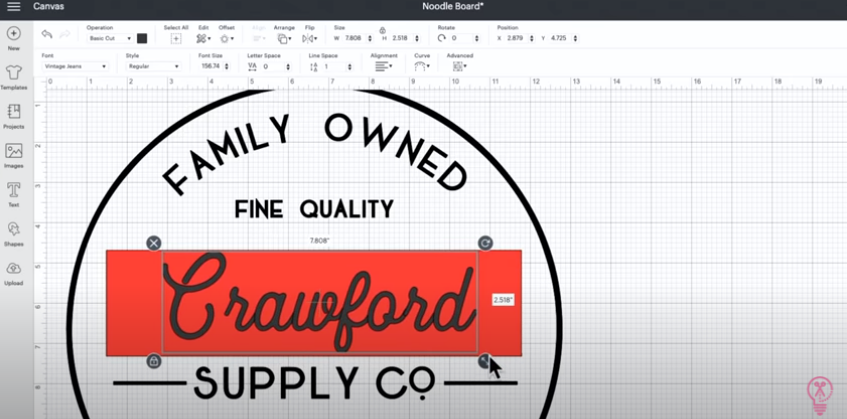 8 – Select everything and use Align, Center Horizontally to get everything lined up.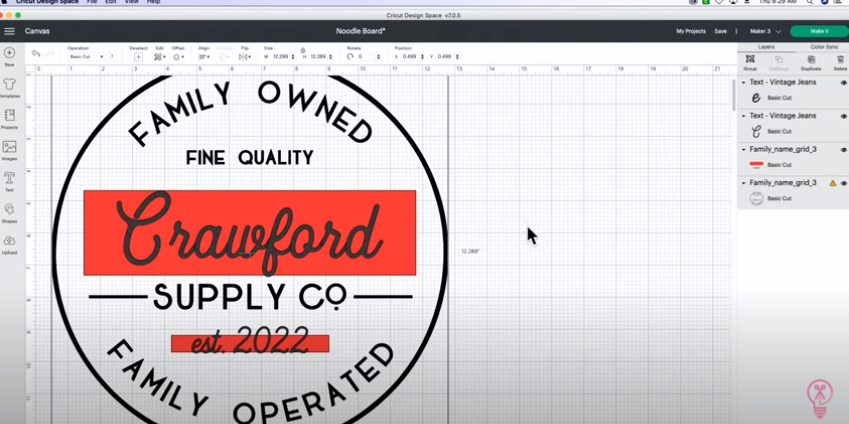 9 – Once you have everything where you want it, click off the whole design and select only the Family Name Grid over in your layers panel and delete to get rid of the red boxes.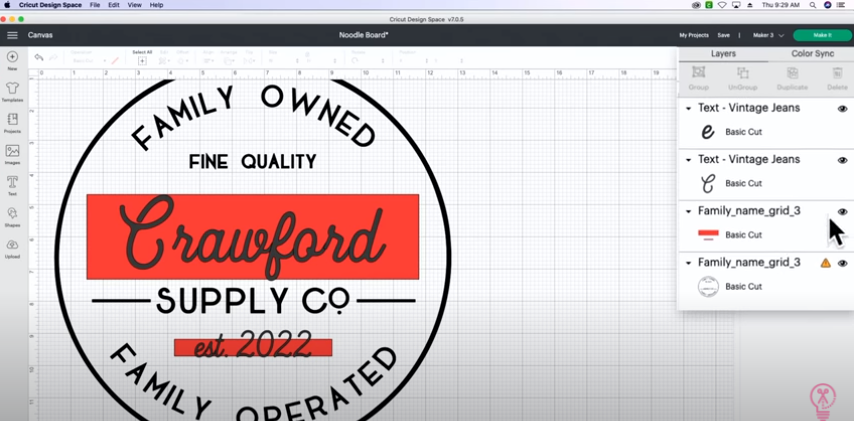 10 – You can finetune the placement of everything until you like how it looks. To keep it all together, select the whole design and Weld. Doublecheck the size of your design – we wanted ours to fit on one cutting mat.
Cutting the stencil:
11 – Now you can click Make It to cut out your design. Choose your materials and follow the prompts to get your stencil cut out.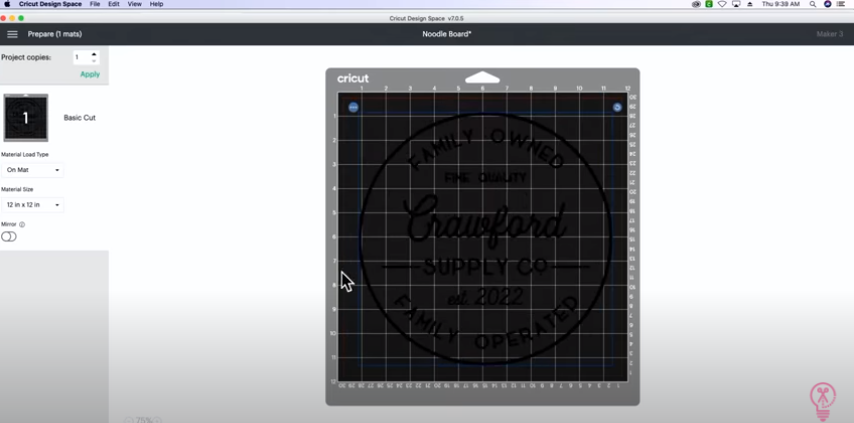 PRO TIP: Move the design into the middle of the mat to give some extra space around it. This is really helpful when you're using a vinyl design as a stencil.
Adding the handles: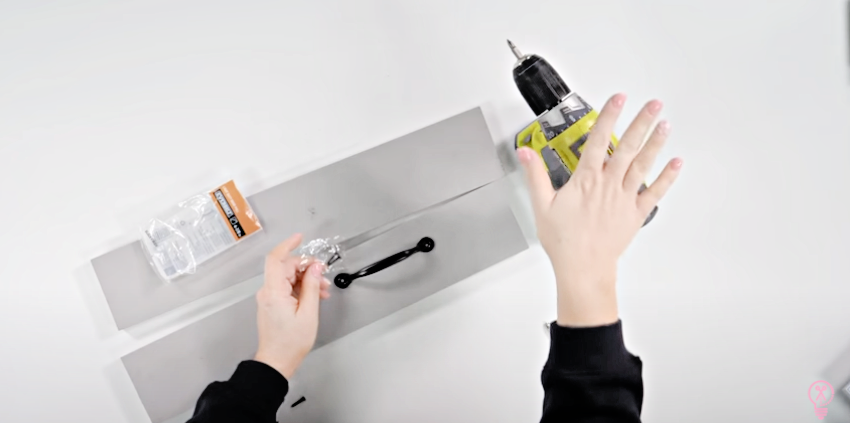 12 – Next, we're going to add the handles to the side pieces of wood. Use a measuring tape to ensure that they are centered. Screw them in place with a screwdriver or drill.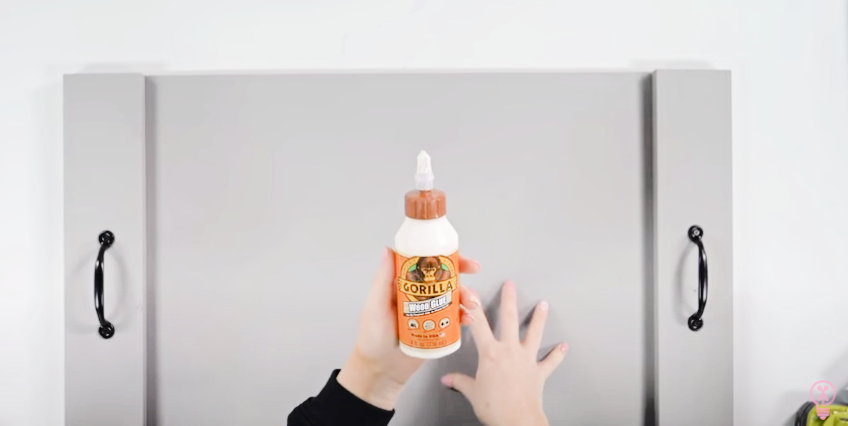 13 – Glue the sides pieces to the main backing piece of wood using a good wood glue. We're using Gorilla Glue. If you have clamps, use them to secure the wood in place while the glue dries. If not, find some heavy books, buckets, or other items you have lying around! We have a brad nailer so we nailed ours in place.
Applying the stencil: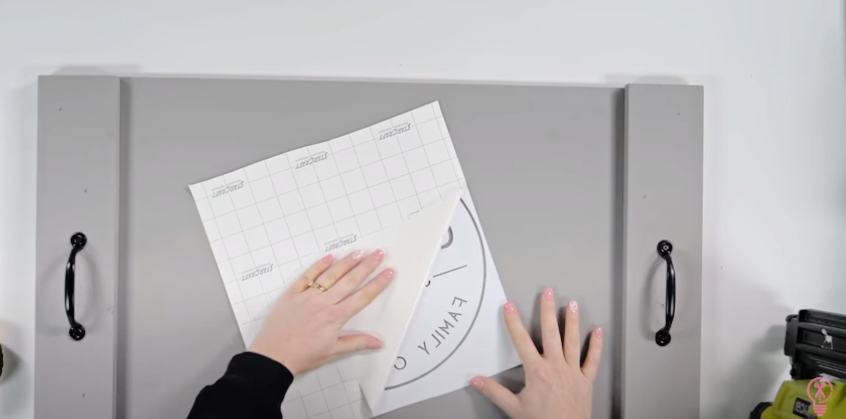 14 – Mark your measurements so that you can center your stencil perfectly on the board. Peel the backing off the stencil slowly and carefully.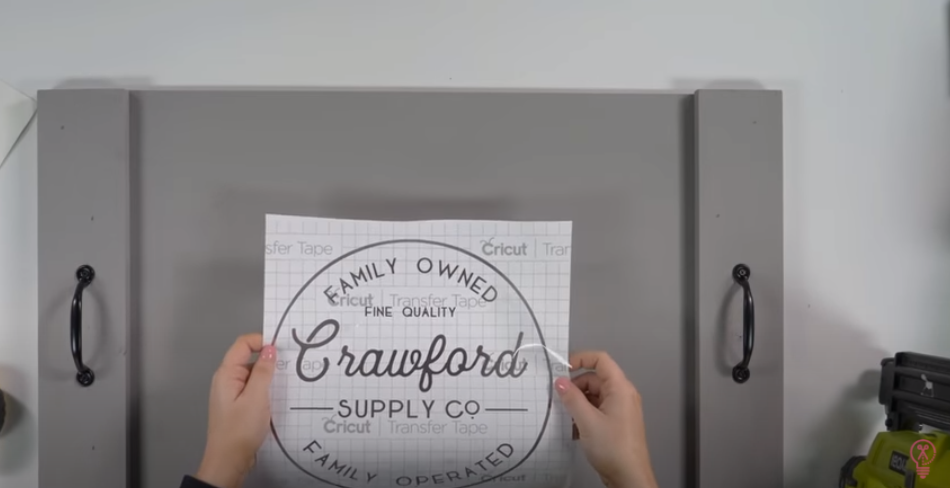 15 – Line up the stencil in place. Remember you only have one chance to place this down so work slowly. We find the taco method makes it easier. Gently bend the design in the center to make a taco shell-like shape. Lay the middle of the design down first and then move your hands out to lay down the sides. This helps not only ensure it's centered, but also helps prevent air bubbles.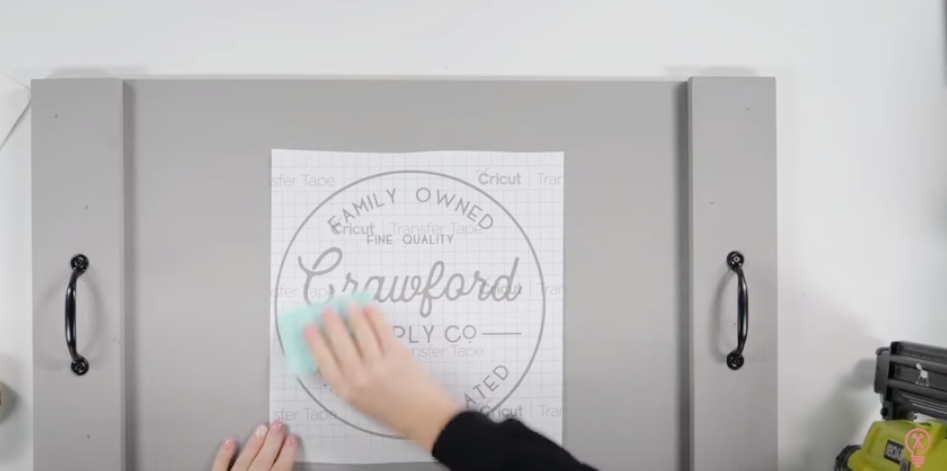 16 – Use a burnishing tool to make sure the design is flat and well-adhered with no bubbles or wrinkles. Remove the transfer tape. Peel it up slowly and carefully so you don't pull up any of the middles of the letters.
Stenciling: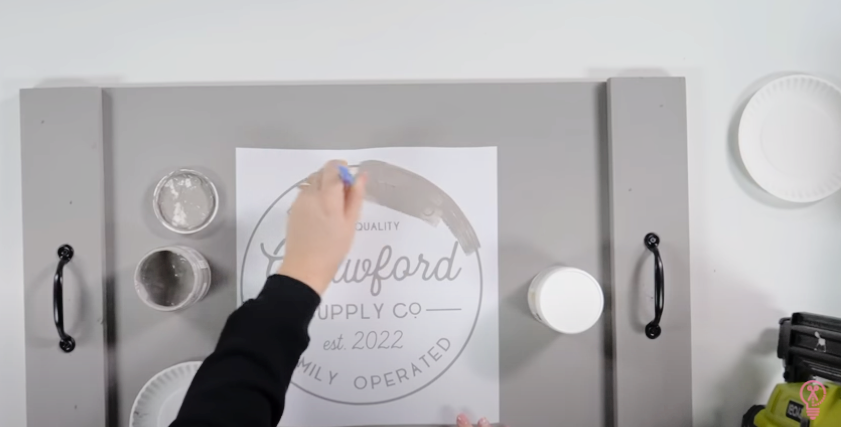 17 – Paint over the stencil using the same color as the background! YES! This is an important stenciling hack and helps you get amazing results. Paint on an even light coat and this will help seal the edges of the stencil and give you nice, crisp results.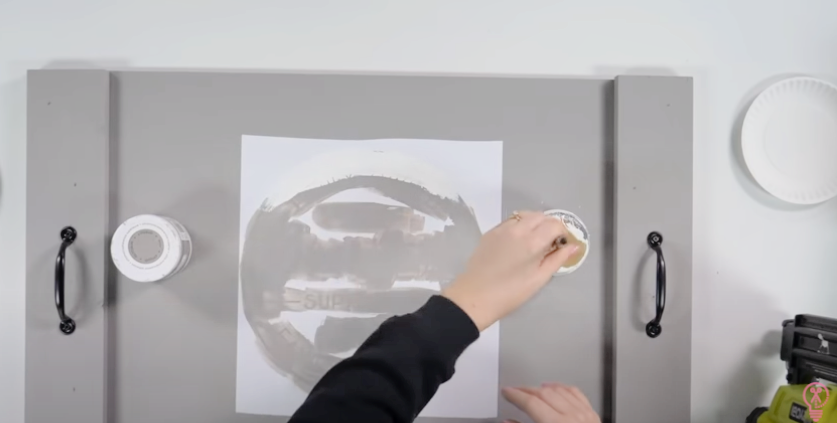 18 – After this is dry, paint over the stencil with the desired color. In this case, we used white. You might need more than one coat.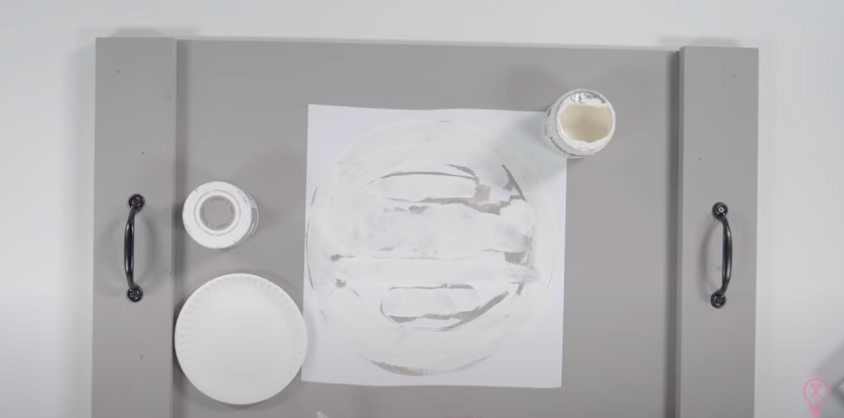 19 – Work carefully around the edges. If you get some white paint onto the gray board, just cover it with some gray paint.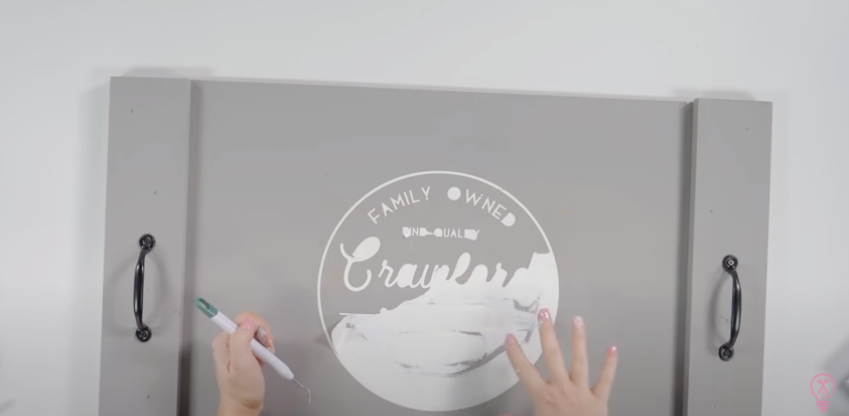 20 – Once you have painted all the coats of paint needed for the stencil and it has dried, peel off the stencil.
PRO TIP: Remove the larger parts of the stencil first. Then, it's easier to go back in and remove the smaller pieces.
Finishing touches:
21 – Flip the board upside down. Apply little felt pads to help protect the top of your stove.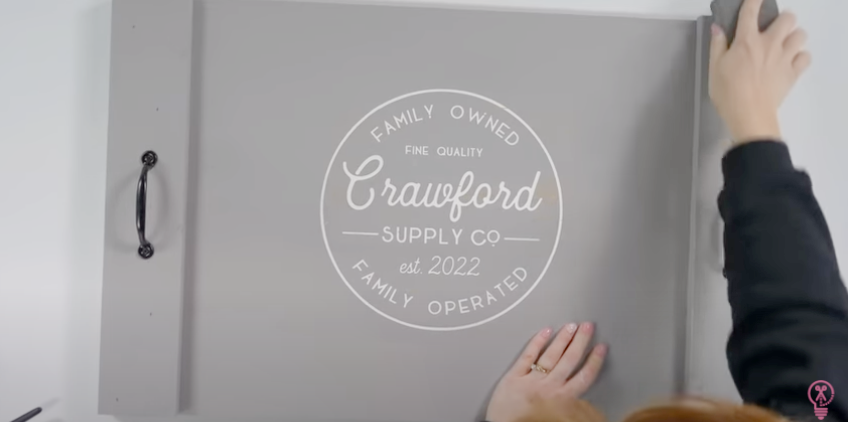 22 – Run your sanding block along the edges and over parts of the board to create a distressed look.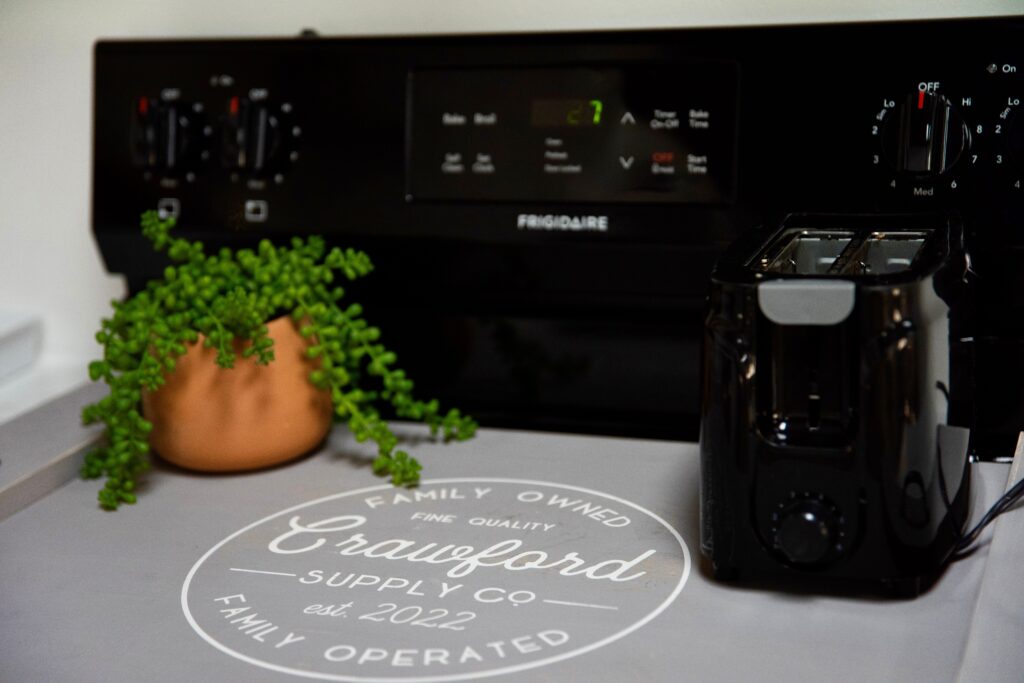 And that's it! Your decorative wooden stove top cover is ready to use. If you want to do food prep right on the board, be sure to add a food-grade sealant over your paint and design.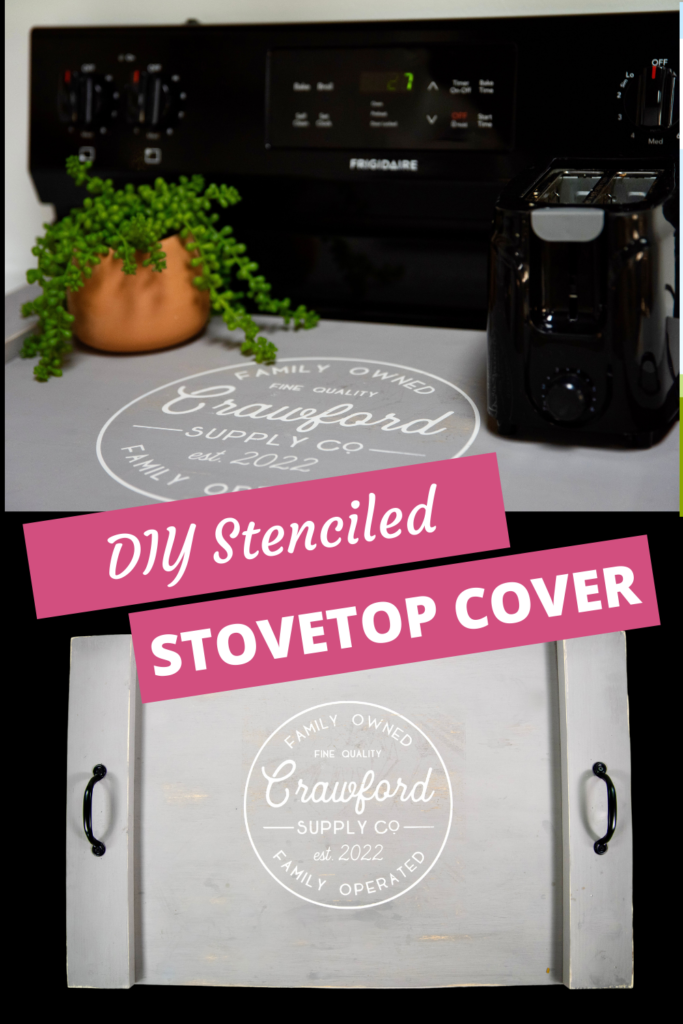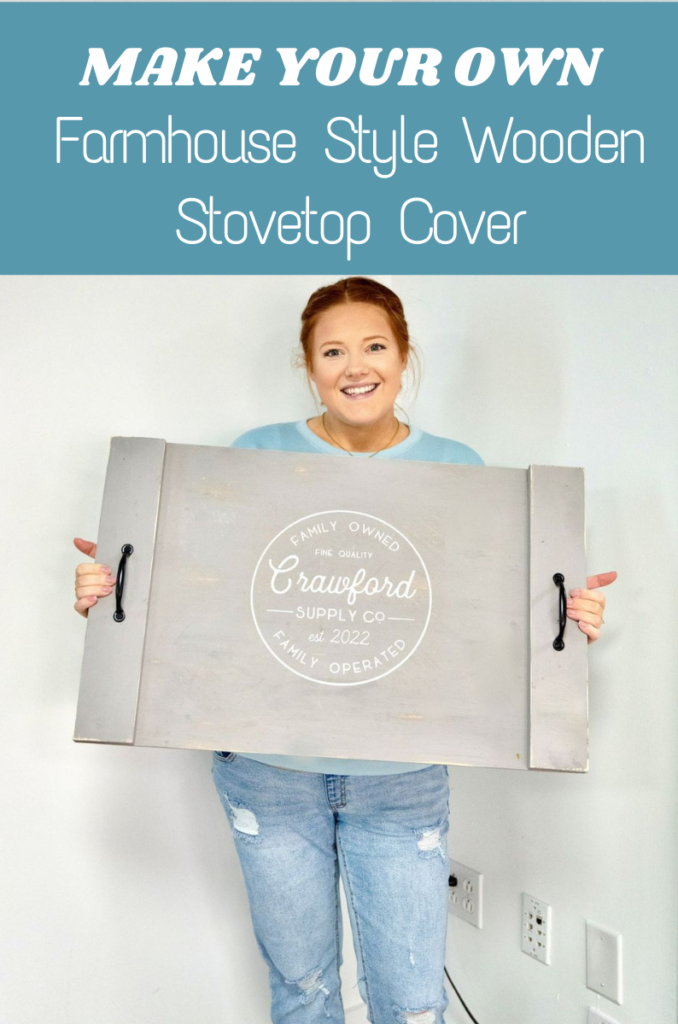 Tanner, Courtney, and the rest of the Makers Gonna Learn Team are all here because we love die-cutting and especially love sharing fun projects and tutorials with fellow makers. We are all great friends and are always having a blast when we are together- you will see this on camera, especially during live streams! We are here to inspire and support you in your crafting journey!