How To Apply Vinyl To Mugs
If you're curious about how to apply vinyl to mugs, this post is for you! Today, we will be sharing with you a few Cricut tips and tricks that will help you put vinyl on your mugs like a pro. It might seem to easy to apply vinyl to mugs but there are some simple tips that you should know to get flawless results every time.
This is such a fun project because it allows you to personalize your mugs with anything you want. They make great gift ideas too.
Want to make your mug dishwasher safe? Check out this post!
If you want to use sublimation or Cricut Infusible Ink on a mug, learn more here!

How To Apply Vinyl To Mugs
Designing your mug
We'll start in Design Space. Choose your cut file and add it to your canvas. We're using this fun Rise + Shine cut file from our Makers Gonna Learn library.
Next, grab your measuring tape and measure it. You want to find the available space for your design.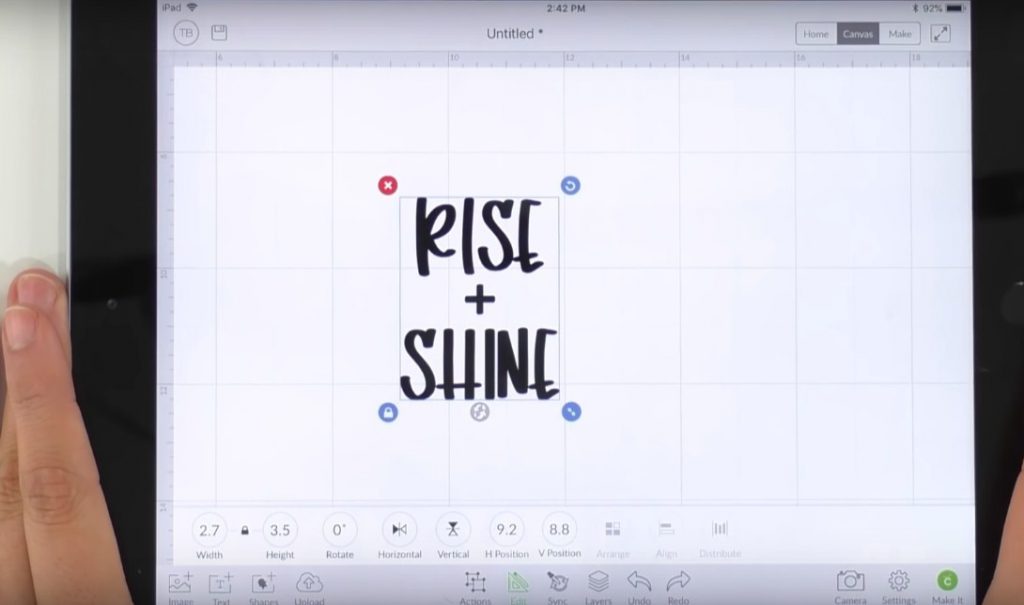 One hack I have for you when working is mugs has to do with how to get them to stay in place properly. You need two hands to properly apply the vinyl to your mug, but it's going to want to roll to one side. Just grab a small bottle of paint and place that under the handle. This will hold the mug in place and make it much easier to work on.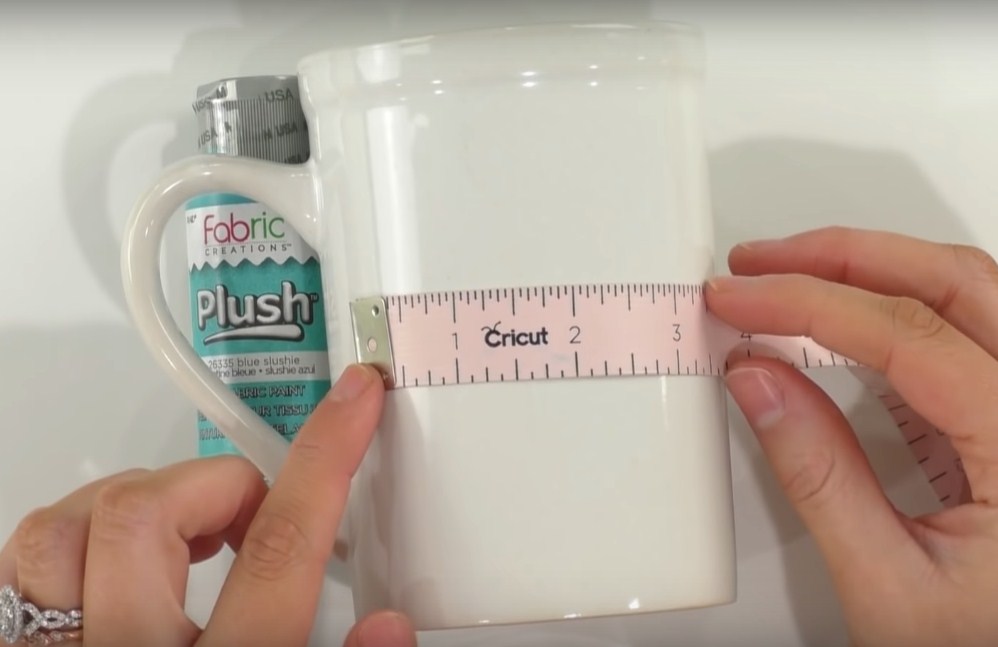 Once you've sized your mug, make sure to size your design to fit in Design Space. We have a width of 2.7 inches and a height of 3.5 inches. Next, we're going to click "Make it".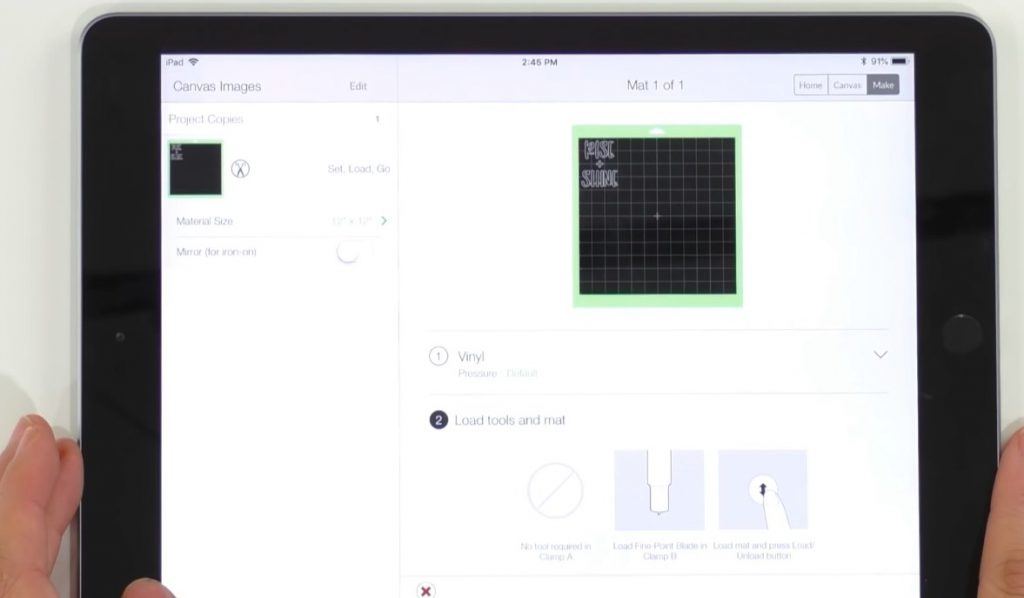 Cutting your design
For the next step, we're going to select our material, which is adhesive vinyl in this case.
Place the vinyl on your cutting mat and load it into your Cricut machine. Once loaded, press that flashing Cricut button.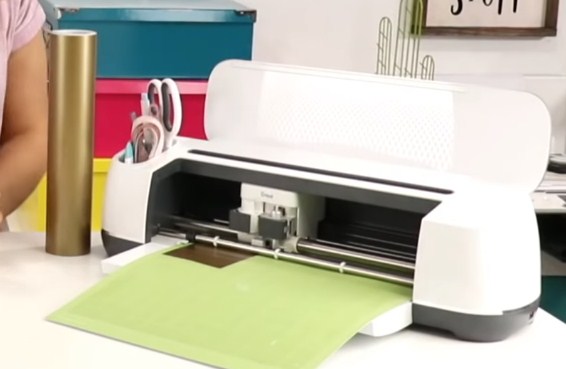 Weeding your design
Once you've cut the design out, unload the mat. It's time to start weeding.
Before we go in with our weeding tool, I have an awesome little hack for you all that you might not know. Get your little scraper tool and burnish on top of the vinyl before you even weed it.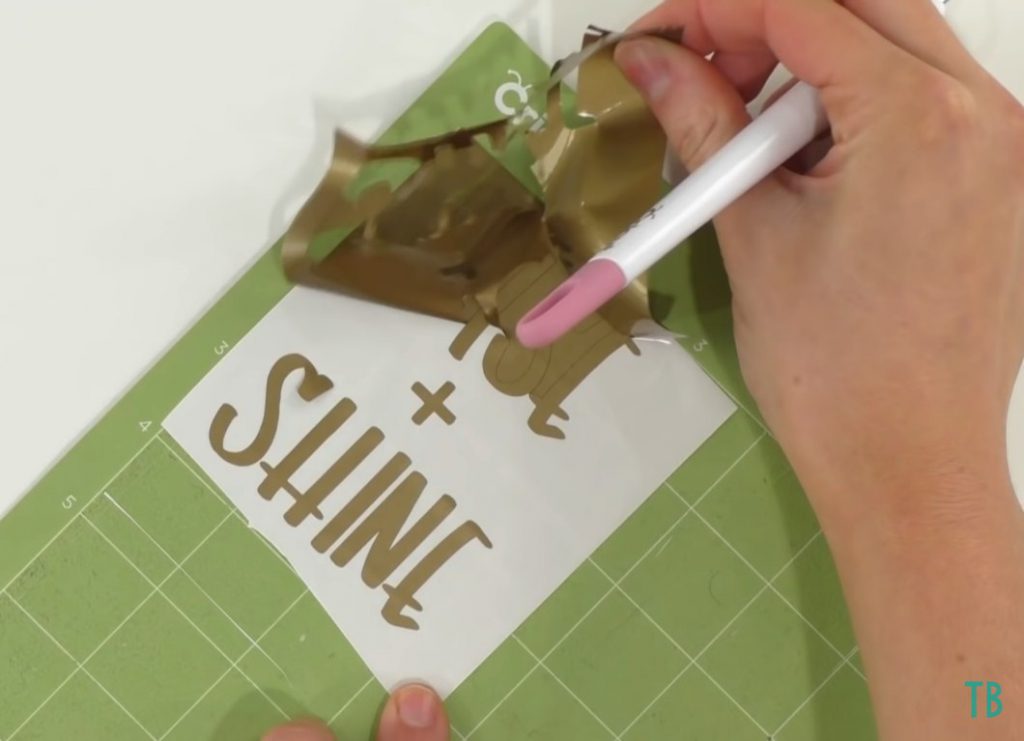 Once you've burnished your vinyl, it's time to start weeding. You'll find that burnishing really helps to keep all of the letters down for you and makes weeding so much easier.
Once we're done weeding, we're just going to remove the backing off of a piece of transfer paper and using the taco method, we're going to lay it across our design. Now, go back in with your scraper tool and burnish some more.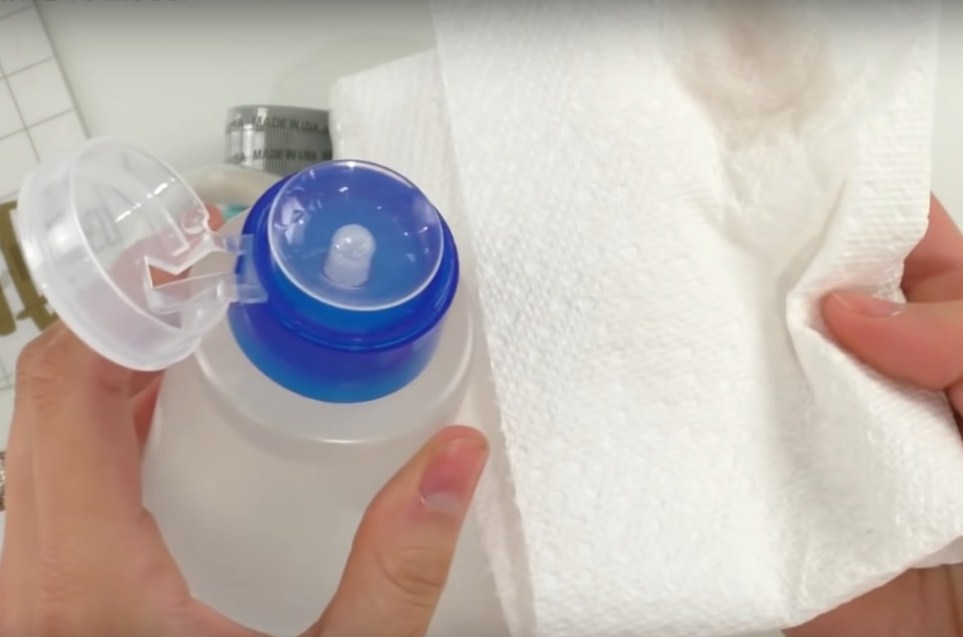 Applying vinyl to the mug
Another great tip is when you take your vinyl off the mat, flip the mat over and lift the mat away from the vinyl. This will help keep your vinyl from curling. Once we've peeled our vinyl off the mat, we're just going to set that aside and grab our mug and paint bottle.
Before you apply your vinyl to your mug, use some rubbing alcohol and clean off your mug where we're going to apply our vinyl. This works wonders for taking off any dirt or dust or any grease from your fingers. It really helps the vinyl adhere beautifully.

Now all you're going to do is peel the backing off of your vinyl and if any of the letters want to stick to the backing, place it back down and just give it a little nudge. If you have to, you can place this paper back down and lay the whole thing back on your table and burnish again.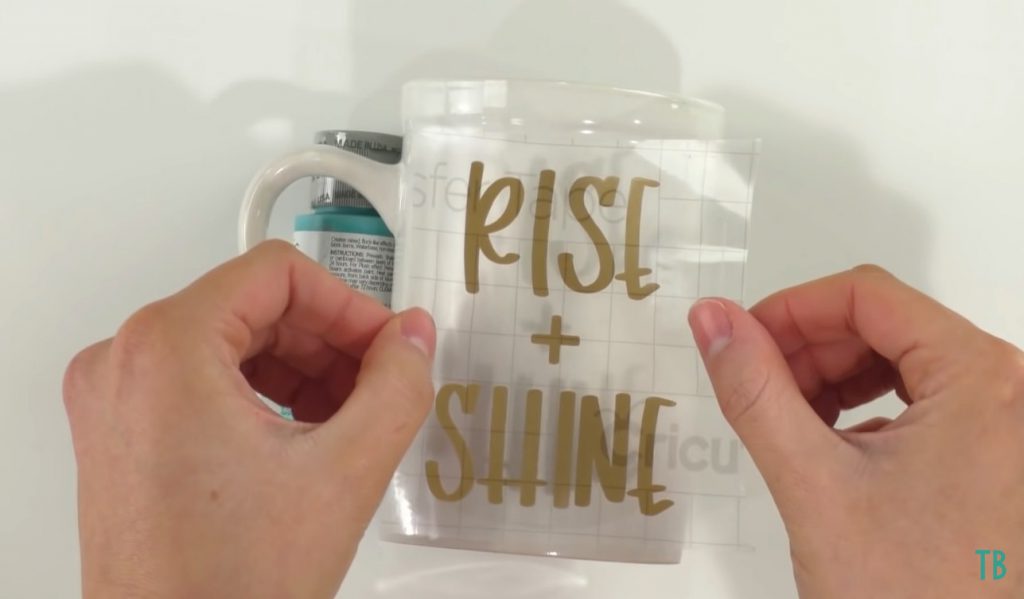 Placing your design
Now all we're going to do is flip it over and taco it again. This helps us see where the middle is so we can get the correct placement. Then, we're going to carefully apply our vinyl onto our mug.
All you want to do when you have it in the place where you like it, is just take your fingers and rub all over the mug. This works a lot better than the scraper tool because this is a rounded surface so your finger really does the trick.
Another hack when you're using rounded surfaces like this or Christmas ornaments or anything like that is to get a pair of scissors and slice the edges of your transfer tape right where the letters are. Not hitting the letters, but just right around the letters on the transfer tape making little slits all the way around. That really helps the transfer paper to go on those rounded surfaces more easily.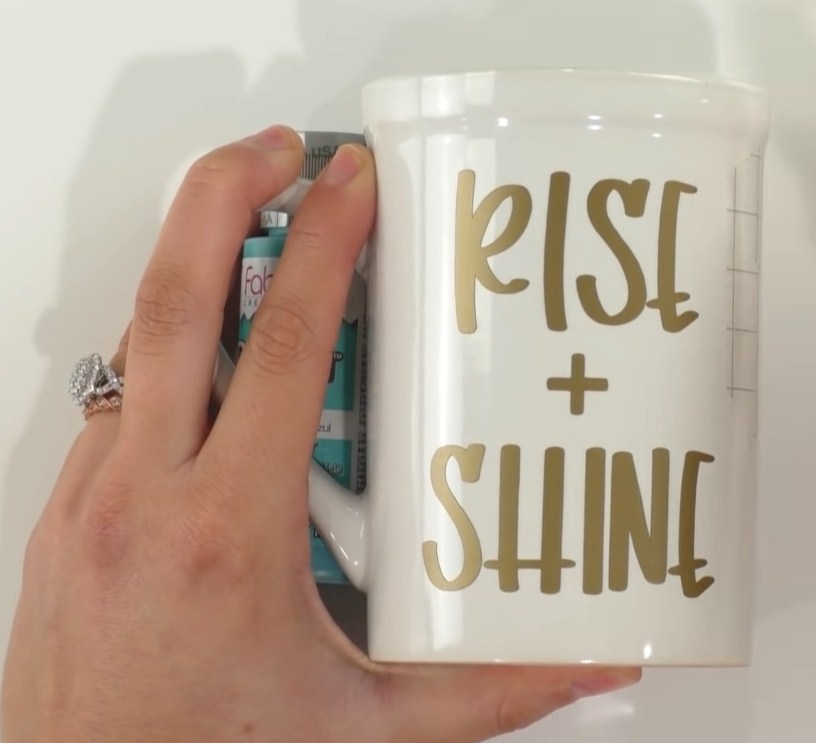 Once you feel your vinyl is well adhered to your mug just pick a corner and we're gonna tightly pull the transfer paper straight down. We don't want to pull it up because we could risk pulling our vinyl up. It's doing really well on this mug probably because we cleaned it well with our rubbing alcohol.
Isn't it so easy to apply vinyl to mugs? I hope that now you have the confidence to apply the vinyl to your mugs like a pro!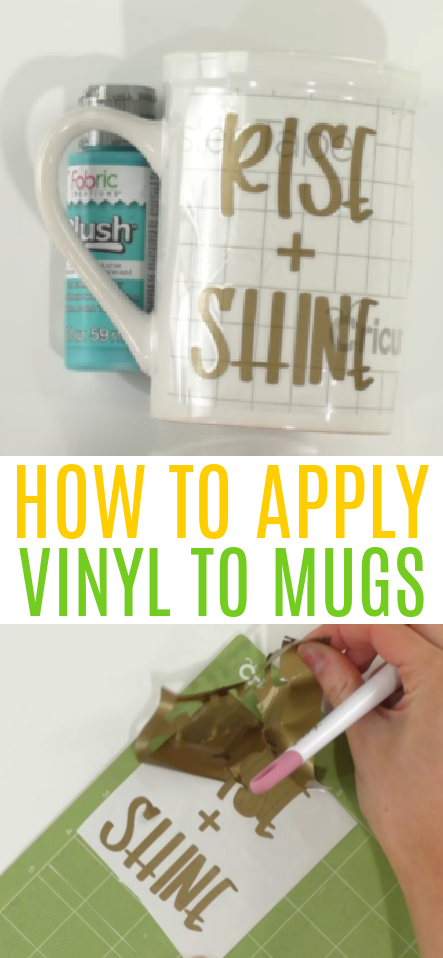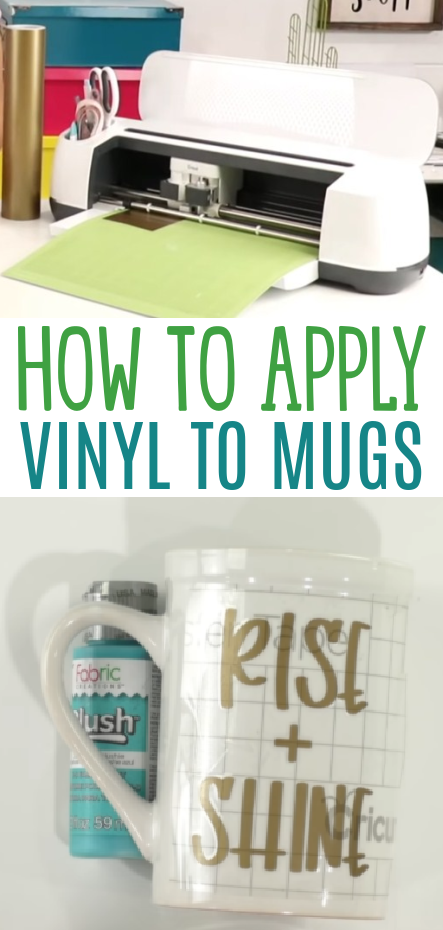 Tanner, Courtney, and the rest of the Makers Gonna Learn Team are all here because we love die-cutting and especially love sharing fun projects and tutorials with fellow makers. We are all great friends and are always having a blast when we are together- you will see this on camera, especially during live streams! We are here to inspire and support you in your crafting journey!