How To Make Waterslide Decals
Waterslide decals are getting more and more popular. This is a great craft technique to use on glasses, mugs, tumblers, and more. We love the look of them! So today, we're going to tackle the basics of How To Make Waterslide Decals.
We're always getting questions about waterslide decals. There are so many different ways you can make them and it can get confusing. We'll show you the technique we prefer to use, taking you through it step by step, and sharing some great craft tips so you can then make your own waterslide decal projects.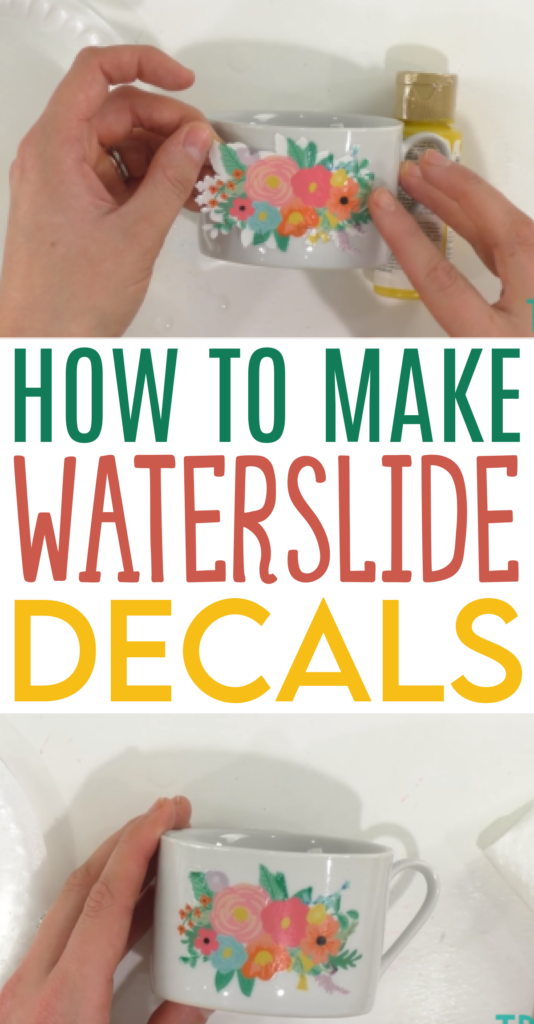 How To Make Waterslide Decals
You can easily make your own colorful waterslide decals at home, using your Cricut machine to cut them out. Make a fantastic craft project for yourself or to give as a gift.
Materials:
Spin It waterslide decal paper
some water
bowl/plate where you can put your water and decal to let it soak
mug/tumblers
Makers Gonna Learn flower cut file
Instructions:
We're creating a Print then Cut project for this waterslide decal. Before we go to Cricut Design Space, it's important to note that you need to print your design on the shiny side of your Spin It waterslide paper.
Choose your Print then Cut file and download it. Then, upload into Design Space. Put your waterslide decal paper into your printer and in Design Space, select your print and cut file.
First, you want to size it to fit your surface. Measure your project so you know how much space you have to work with. For our project today, we're making it 3.1 by 2 inches. Once you're happy with it, you can hit "Make it".
Since we're doing a waterslide, it's a little bit different than normal print then cut projects. Normally, we leave bleed on but for waterslide, we need to turn it off.
Now we can click "Print", and it will connect to your printer. Once done, you will see that it's beautifully printed on the shiny side just like we wanted.
Next, we need to put some pieces of cardstock or something similar to protect our table because we're going to spray this with our polyurethane spray sealer, Remember to work in a well-ventilated area. Apply a light coat and let that dry for 30 minutes.
Ideally, we're going to give this three to four coats in total. So, once this dries, go back in for another coat and give at least 30 minutes in between each coat until completed.
Once this has dried, we're going to click continue and select medium cardstock. We'll add a little bit more pressure and once you have your material selected, we're going to place our printed image on the top left corner of our cutting mat and load it into our printer.
I move the stars over a little bit because I don't want anything to happen with our printed image. Just scoot them over so they don't get in the way of where the design is and press the flashing Cricut button.
Our machine has finished cutting and we're going to peel up the excess from one of the corners. To remove the design from the mat, a little tip is to turn the whole mat over and peel it up that way. This does a much better job and prevents damaging the intricate pieces.
We're now going to get a little bit of water. It says in the directions to place it in water for 30 to 60 seconds. Grab your plate, add room temperature water, and place your design in it.
It's normal for it to curl up so if this happens, you'll need to use your fingers to open it up. Make sure that all the pieces are in the water and laying flat. While waiting, we'll go ahead and get some alcohol and wipe off our mug.
The alcohol ensures that we have a clean surface to apply the decal to and will give us the best possible adherence.
Now we can gently lift it out of the water. Be sure to dip your fingers in the water and use them to dampen the mug. You want to make it really slippery so your waterslide decal will stay on there. Now you can apply your design to the mug slowly and carefully.
Use one hand to help hold the design in place while you gently move the backing away.
You may see that it start to wrinkle up a bit but don't worry because you can fix it really easily. Use your fingers to carefully move any of the little pieces into place as needed.
Once you get it exactly where you want it, take a paper towel and dab the excess moisture away. Wipe all around and make sure you get the whole mug completely dry.
Once it's thoroughly dry, you can coat it with epoxy or another coat of spray sealer. That's it! It turned out beautifully, didn't it?
More fun Cricut mug and tumbler projects: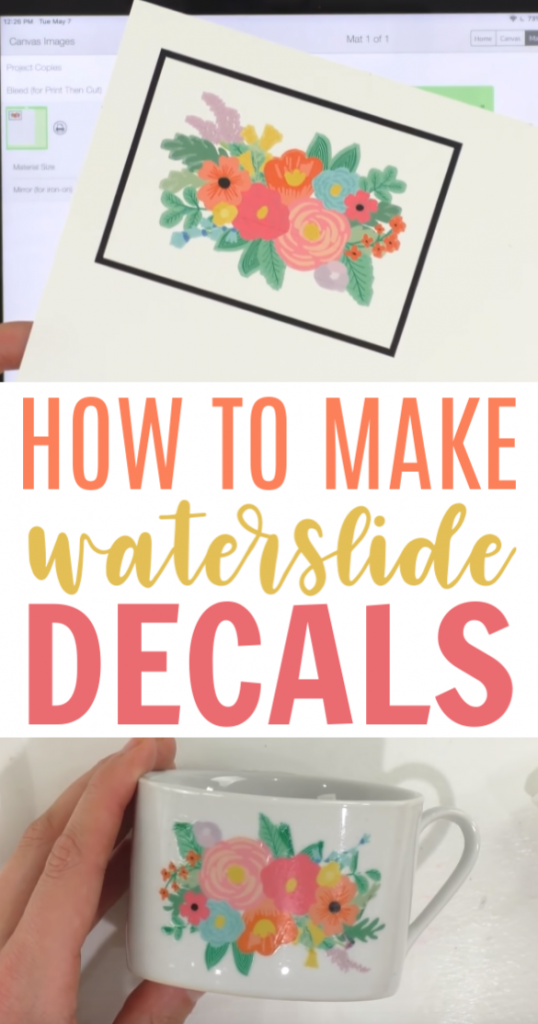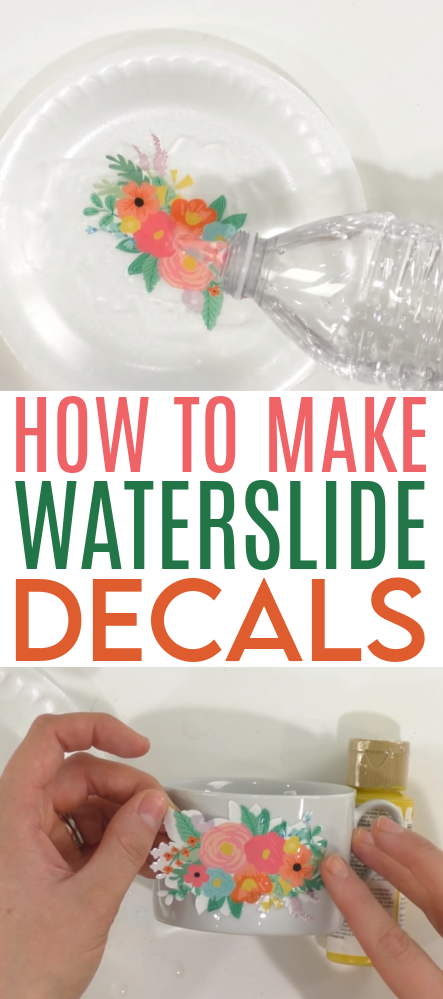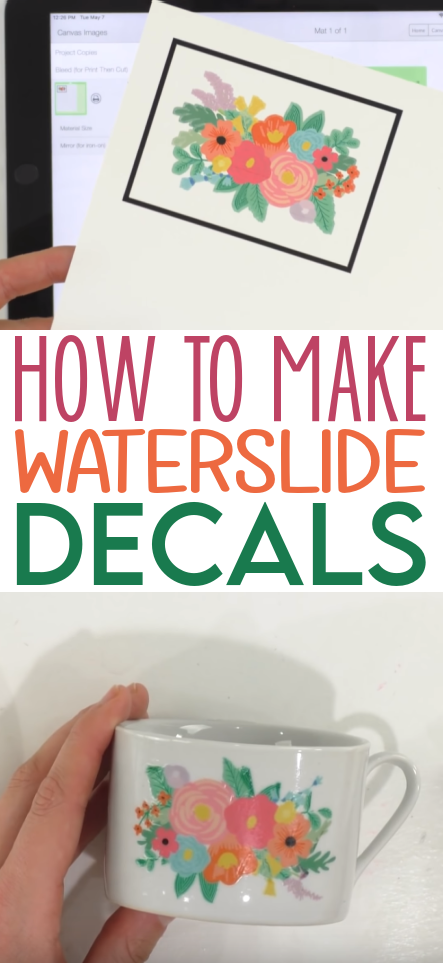 Tanner, Courtney, and the rest of the Makers Gonna Learn Team are all here because we love die-cutting and especially love sharing fun projects and tutorials with fellow makers. We are all great friends and are always having a blast when we are together- you will see this on camera, especially during live streams! We are here to inspire and support you in your crafting journey!