HOW TO WRITE AND CUT WITH YOUR CRICUT
You've probably figured out by now that your Cricut machine can help you make a lot of really fantastic craft projects! We have already shared tons of Cricut tutorials to let you know about all the amazing features and functions. Now, we wanted to show you How to Write and Cut with your Cricut. You simply won't believe just how easy it is to do! Not only that, but it's a lot of fun!
With most people, the first thing they think of, when you mention a Cricut to them, is die cutting. It makes sense. It is known as a die cutting machine. What some people don't realize, though, is that it's much more versatile than that. We'll show you how to get more out of your Cricut!
Want to learn how to fill in fonts with your Cricut? We've got a great tutorial for that!
HOW TO WRITE AND CUT WITH YOUR CRICUT
Along with using a cutting blade for this project, we're also going to write and draw with our Cricut and a Cricut pen. For this particular DIY tutorial, we're going to show you how to make a really cute Father's Day Card.

STEP BY STEP TUTORIAL
Working in Design Space:
Log in to Cricut Design Space, go to the left-hand bar and choose "Upload" > "Upload Image" and choose your file. We're using this amazing Happy Father's Day cut file from here on Makers Gonna Learn.
You will now see it on your Recently Uploaded Images, and can insert it into your canvas.
To create a card select "Shapes" > "Square" and size it. For this tutorial, we're going to make a 4×8 card.
Then select "Shapes" > "Scoreline". This is used to mark the middle where you will fold the card. Then select both layers of your design and select "Align" > "Center" on the upper toolbar.
Once complete, select "Attach"
Now that our card was all set. Drag your image over to the card.
On the right sidebar you will see the scissors. Change that to write.
From here, we want to change the colors. You just have to select the color you'd like to use. As an example, for the "Happy Father's day" text I'll choose black, and for the tie, I'll choose silver metallic.
Cutting and drawing with your Cricut:
Then select both layers and choose "Attach" > "Make It"
On the left-hand bar you should see "Score, Draw and Cut" > "Continue"
For your materials, select "Medium Cardstock". Then it will tell you to "Load your Scoring Stylus in Clamp A"
Load your mat with the cardstock and load it into the Cricut. We like to select fast mode to work more quickly, but that's a personal preference. Press the flashing Cricut button.
Once it's finished making the scoreline, it's time to change the tool! We will now use our Silver Metallic pen and like the scoring tool, put it on Clamp A and press the flashing Cricut button.
When done, remove the Silver Metallic pen, put the Black pen in, and press the flashing Cricut button.
Unload your mat and you'll see that you have an awesome Father's Day card!
Easy isn't it? Now we have a perfect little card to give Dad for Father's Day. Now that you've learned how to write and cut, you can make any cards for all occasions! We can't wait to see the cards you create. Share them and tag us on social media with the hashtag #MakersGonnaLearn.
Did you know that you can write and address envelopes with your Cricut too?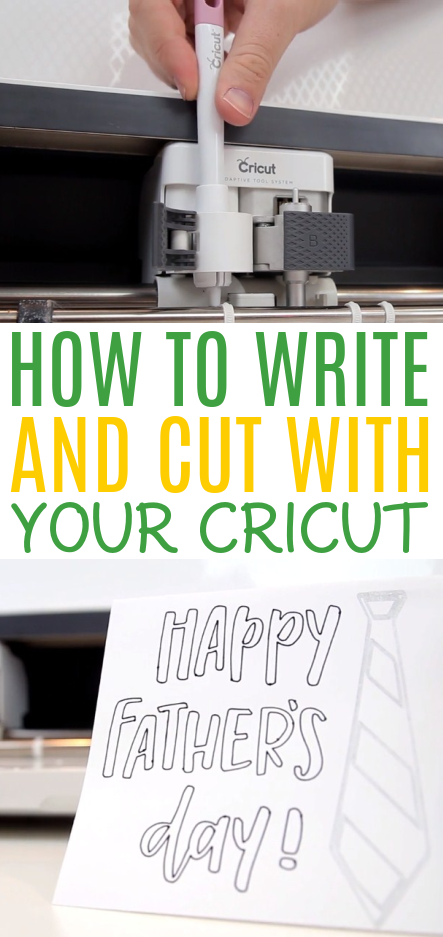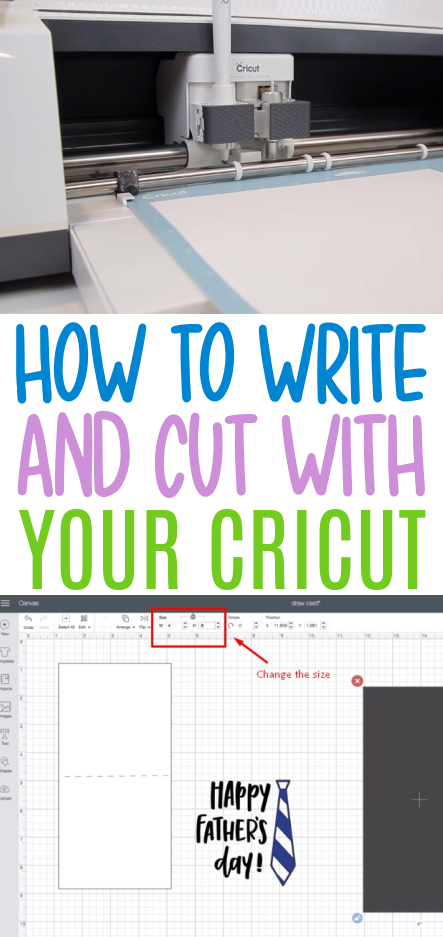 Tanner, Courtney, and the rest of the Makers Gonna Learn Team are all here because we love die-cutting and especially love sharing fun projects and tutorials with fellow makers. We are all great friends and are always having a blast when we are together- you will see this on camera, especially during live streams! We are here to inspire and support you in your crafting journey!