Which Vinyl to Use
This is a question we get frequently – I'm making a craft project and I don't know which vinyl to use. Help! We get it. There are so many different types of vinyl out there! It can be puzzling at times to know exactly which vinyl you should choose for each different type of project and surface material.
In fact, using the right vinyl for your die cutting crafts has a big impact on the success (or failure) of your project. We have heard so many crafters express frustration over putting a lot of work into designing a craft project, only to find it doesn't cut out well, or it's difficult to weed, or it won't adhere well to their surface material.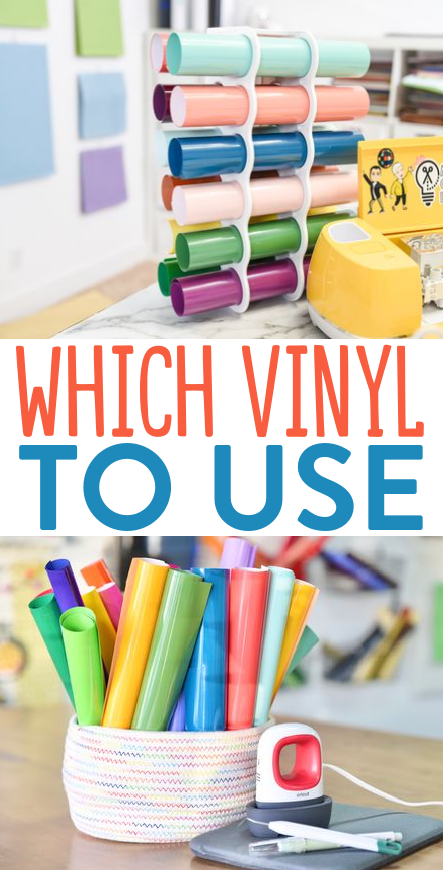 Which Vinyl to Use
We put together this guide to help prevent those annoying craft fails. Knowing which vinyl to use can save you time, money, and frustration! Be sure to pin this post so you can refer back to it again and again as one of your die cutting resources.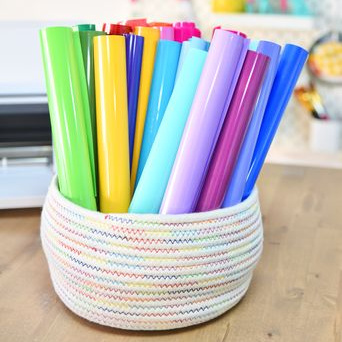 1 – Buy a good brand of vinyl.
We all want to save money, but using a quality brand of vinyl is so important. Of course, we also know that there can be a lot of wasted money involved in figuring out exactly which brand of vinyl is the best. Don't worry – we have saved you the time and expense and have a video that compares 3 different brands of vinyl.
Check out the comparison here:
2 – Understand the different types of vinyl.
There are really only 2 main types of vinyl: adhesive vinyl and HTV (heat transfer vinyl). Adhesive vinyl has a backing on it. Once you remove that backing, the adhesive is exposed and you can stick your vinyl down on a variety of surfaces. You can kind of think of it as a sticker! Our favorite brand of adhesive vinyl is Starcraft.
You will see that some vinyl is marked as permanent, but really, in our opinion, all vinyl can be removed. If you see labeling that talks about "outdoor", "permanent", or "removable", what they are really referring to is the stickiness of the vinyl. So, as you might expect, permanent is stickier than removable.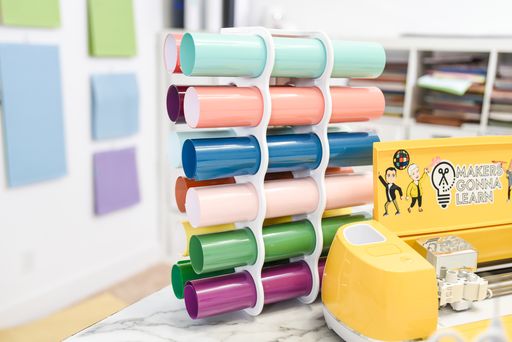 So really, once you find a really good brand of adhesive vinyl, you can use it for all of your projects and on any surface you want.
With HTV (also known as iron-on), you must use heat to activate the adhesive and apply it. Our favorite brand is Siser EasyWeed.
Both of these brands come in a wide variety of colors, as well as matte or glossy finishes. In addition, you can find some specialty vinyls such as a brushed metal look and glitter vinyl. Note: glitter vinyl can be especially hard to work with, especially if you don't use a good brand. In fact, we don't like working with most of them. However, the glitter HTV from Siser EasyWeed is one we can recommend!
You can get color swatches for both of these brands, making it easy to select your project colors from home.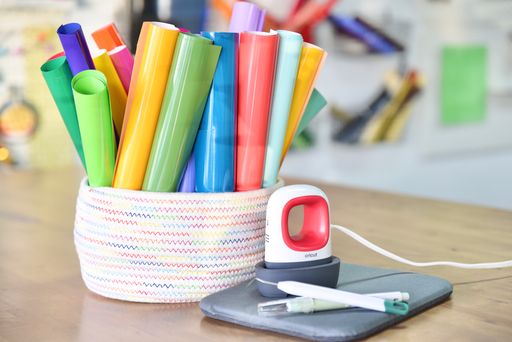 3 – Key difference between adhesive vinyl and HTV.
One of the important things you need to know is that with adhesive vinyl, you will need to use some transfer tape. After you cut and weed your vinyl, you will apply transfer tape so that you can remove the backing and apply the vinyl to your surface.
HTV, on the other hand, has built-in transfer tape. Because of the way it's designed and used, you have to place it "upside-down" on your mat – shiny side down and you have to mirror your design in Cricut Design Space after you click Make It. Again, a reminder that you will need heat to apply this kind of vinyl.
We prefer to use a Cricut EasyPress when heating our heat transfer vinyl. You can learn more about which EasyPress we recommend for your crafting needs here.
4 – Don't buy vinyl in bulk…yet.
Start working with the vinyl first and get a feel for the types of projects you like to make the most before you commit to bulk rolls or packages of vinyl. We keep both adhesive vinyl and HTV in bulk rolls of black and white on hand at all times here at Makers Gonna Learn because we use those so much.
We advise that you start making a few projects and really figure out what you like doing the most. It's also important to note that vinyl does have a shelf life and won't give you amazing results forever. It's important to consider how much you will use on a regular basis so that you won't end up wasting any that is past its prime.
Once you know that, you can then start bulk-buying vinyl to save some money.
5 – How do you know when to use each type of vinyl?
Use adhesive vinyl for: labels for items in your pantry, to decorate your Cricut machine or laptop, a glass or mug, a phone case, a picture frame, or your car. You can use it on glass, metal, plastic, or ceramic and more. There are many materials you can use adhesive vinyl on and it will last quite a while.
You can also apply HTV on thousands of different surfaces. For example, use it on: t-shirts, tote bags, koozies, onesies, pillows, blankets, and so many other items. It's an amazing product to use on fabric blanks.
Did you know that there are some surfaces that you can use either adhesive vinyl or HTV on? One of those is wood. We love applying iron-on vinyl to wood but adhesive vinyl does also work. Wood can be uneven – even after sanding – so you may find that HTV works best in those circumstances and will adhere better. As you use and practice with the different types of vinyl more and more, you will get to know exactly when you'd prefer to use each kind.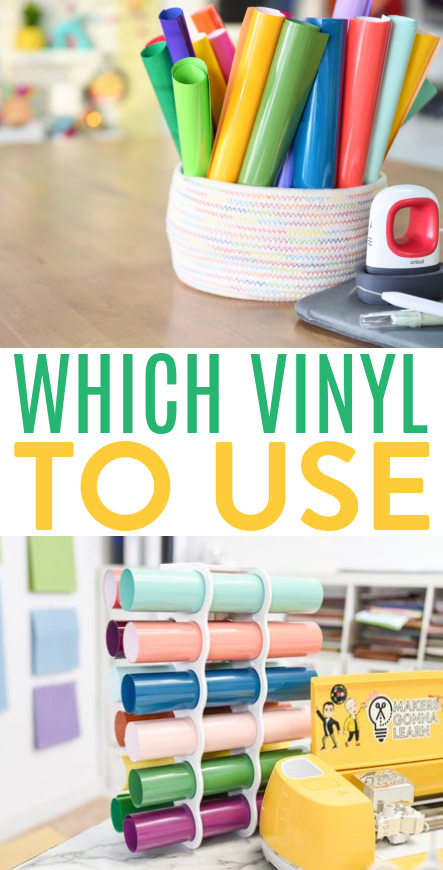 Meet the Makers Gonna Learn team! Tanner, Rachel, and Courtney are all here because we love diecutting and especially love sharing fun projects and tutorials with fellow makers. We are all great friends and are always having a blast when we are together- you will see this on camera especially during live streams! We are here to inspire and support you in your crafting journey!