How To Iron-On a Hat
Today, I'm super excited to share my tips and tricks for mastering ironing on hats. This is such a great way to use your die cutting machine to create a customized craft project.
We'll be using our Cricut Maker and the EasyPress but this is certainly a technique that could be adapted to use with a Silhouette Cameo or other die cutting machines as well.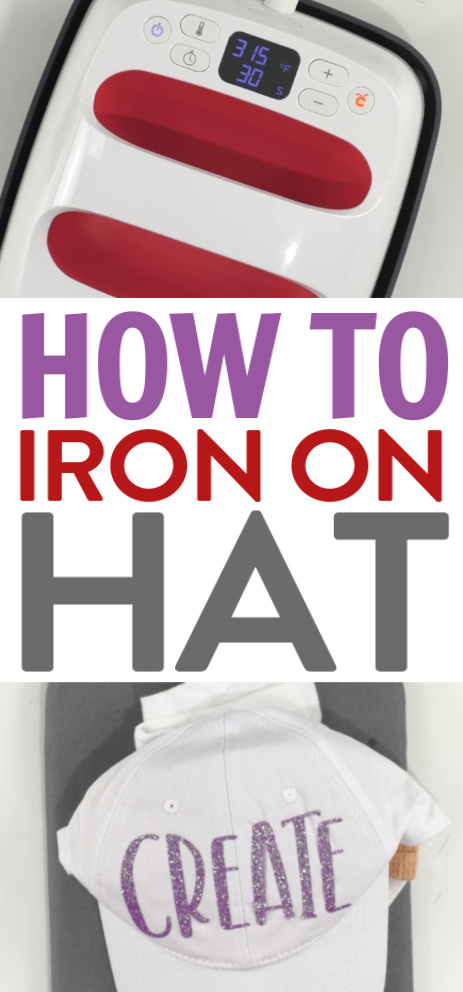 How To Iron-On a Hat
Ironing onto hats can be tricky, but this tutorial will help you succeed! So, let's get started with learning How To Iron On a Hat.

Materials:
A hat
Iron-on Vinyl (We're using glitter heat transfer vinyl)
Towel
We're going to contour one of the files we have on Makers Gonna Learn called "Created To Create". We don't want to use all of the words in this cut file so we're contouring it out to use only the word "Create". Select "Actions" and click on "Hide Contour". We're going to hide everything except for the word "Create".
Now we need to size this cut file design to our hat. For this die cutting project, we're working with about 5 by 2.4 inches. We're going to to be cutting this out of glitter heat transfer vinyl from Cricut. You want to put your heat transfer vinyl shiny side down onto the cutting mat and press "Make it".
When working with glitter iron on, be sure to select the glitter iron-on setting instead of the basic iron on setting. Once you're good to go, load your mat into the Cricut. Give it a little bit more pressure if you would like and turn fast mode on before you press the flashing Cricut button.
Once you're done cutting, you can press the unload mat button. Cut off the excess vinyl with the True Control Knife and get it out of your way. You can save it and use it on another project.
Now, grab your weeding tool and start weeding! A tip for weeding glitter Iron-on is to use baby powder to make the lines stand out better. We have more great Cricut hacks here and if you watch our Mind-blowing Cricut Hacks video, you can see exactly how we use baby powder to make weeding glitter HTV easier!
Now we can peel this up. Notice that the iron-on has a built in transfer tape. This helps keep the image together and it's so handy! Turn on the EasyPress and preheat it to 315 so you'll be all set for applying the vinyl.
We're gonna take our hat, towel and EasyPress mat and get ready to start applying heat to the vinyl design. The shape of the hat can make this a bit tricky. So, we're going to take this towel and fold it quite a few times so that we can stuff it right into the hat. This will help create a flat surface that makes pressing a lot easier.
Because it's a flexible surface, as you begin pressing, the hat may move a bit and there might be some unevenness happening. If you need more support, add another towel or t-shirt or something similar.
We're going to preheat the hat for about 10 seconds. Once you're good to go, you can place your glitter iron-on design on your project and heat it for 30 seconds.
You want to be very careful about applying even pressure and not moving the EasyPress too much at all. Lift up and take a look at your project to see how it's going. If there are any places that you feel like needs to be hit with the heat again, you can go back over them. Once you're done, just remember that with glitter vinyl, you really want to let this sit and cool for quite some time, before peeing up the transfer tape.
I love how this iron-on hat turned out! Make some for yourself, to give as gifts – you can even make these and sell them! My best tip for this is to get to know the hat that you're using. Every hat is a little bit different and some hats are easier to work with than others. Once you get the hang of it though, with our tips you'll get great results!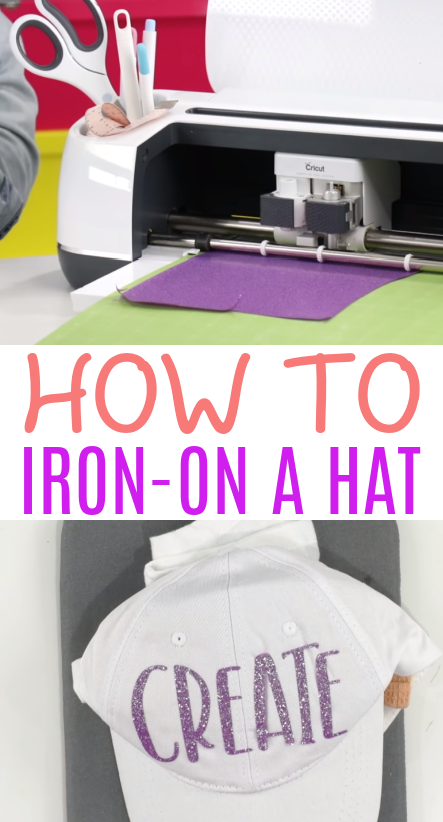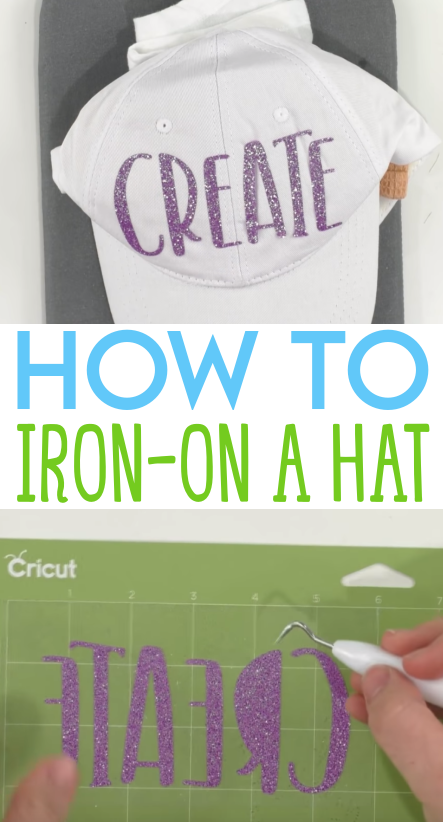 Tanner, Courtney, and the rest of the Makers Gonna Learn Team are all here because we love die-cutting and especially love sharing fun projects and tutorials with fellow makers. We are all great friends and are always having a blast when we are together- you will see this on camera, especially during live streams! We are here to inspire and support you in your crafting journey!