A Beginners Guide To Working With HTV
One of the most common types of crafts that people want to make when they first get their die cutting machine is an iron-on project. This Beginners Guide to Working with HTV will help you get started with learning all the tips and tricks for how to use heat transfer vinyl.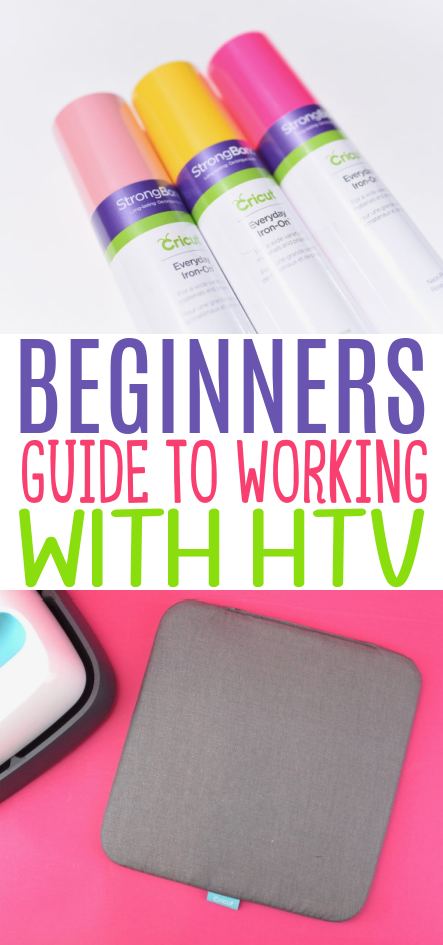 A Beginners Guide To Working With HTV
In the article below, we'll outline for you everything you need to know about using HTV with your Cricut, Silhouette, or Brother die cutting machine. We'll start with the basics about the material itself and then give you some great tips and tricks for working with iron-on vinyl (yes, that's the same thing as HTV!).
What You Need to Know about HTV

HTV = heat transfer vinyl = iron on vinyl. They are all different terms for the same type of material!
Unlike other types of vinyl used for die cutting, iron-on has built-in transfer paper. This is important to keep in mind when working with HTV.
When you look at your heat transfer vinyl, you'll see that one of the sides is shiny. That's the built-in transfer paper.
This is SO important >>> You will need to lay your iron-on vinyl shiny side down on the mat for cutting. Be sure to mirror your image/text in Cricut Design Space so that it comes out the right way after cutting.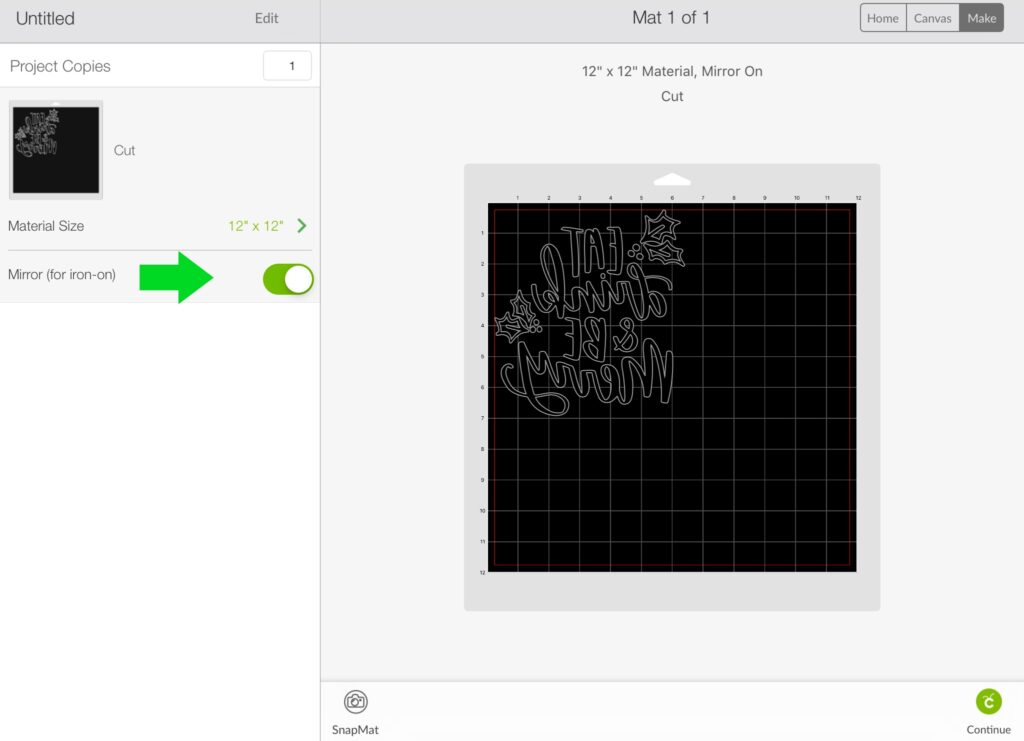 Materials You Can Use HTV On
Most of us instantly think of things like t-shirts and sweatshirts, but really, you can use heat transfer vinyl on so much more!
It works well on hats, tote bags, shoes, leather, and more. Check out these helpful posts below to learn how to iron on two unexpected surfaces: wood and tumblers!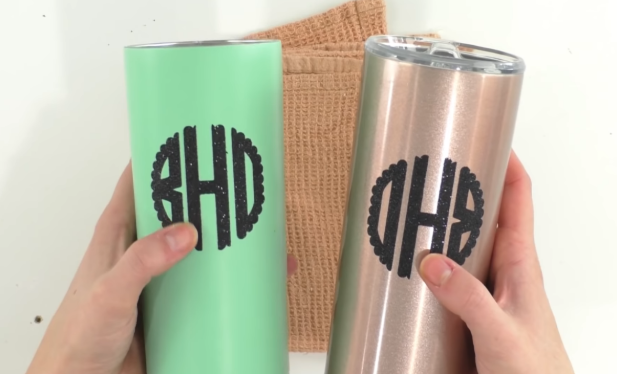 Where do I Place my HTV on T-Shirts?
On some projects like wooden signs or tumblers, it can be pretty easy to eyeball exactly where to place your vinyl. It can get trickier though with things like t-shirts. Our rule of thumb is to measure down 3 inches from the neckline. To get the proper vertical placement, we like to fold the shirt perfectly in half (line up all the seams!) and use our EasyPress to iron along the fold. That will give you a crease line to use for centering your design.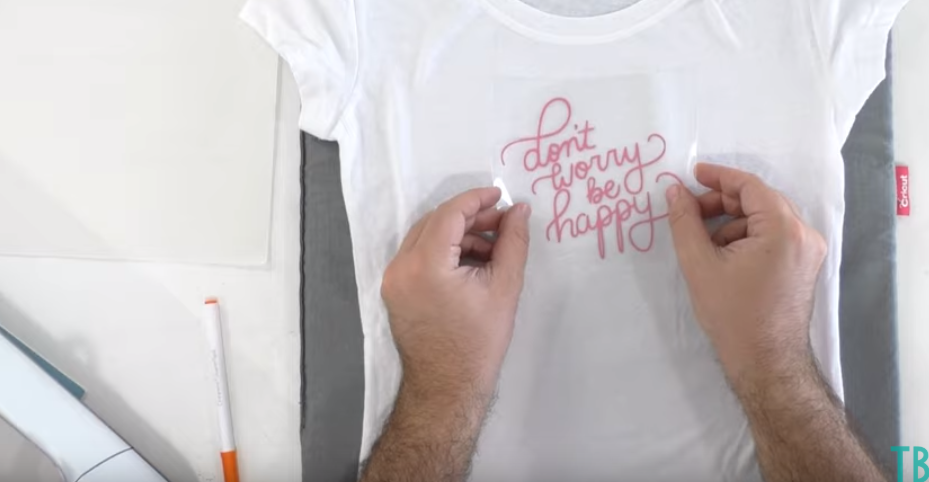 Remember with cups, you want to have it down far enough that your lips won't touch the design as you're drinking from it. If it's a sign that is going to be placed in a frame or a design going on a box with a lid, make sure you allow space for the frame/lid when placing your design before adhering it.
How to Heat Your Iron-On Vinyl:
The reason this kind of vinyl is called heat transfer vinyl or iron-on vinyl is because you have to use heat to activate the adhesive and adhere it to your surface. You can use a Cricut EasyPress, a heat press, or a household iron.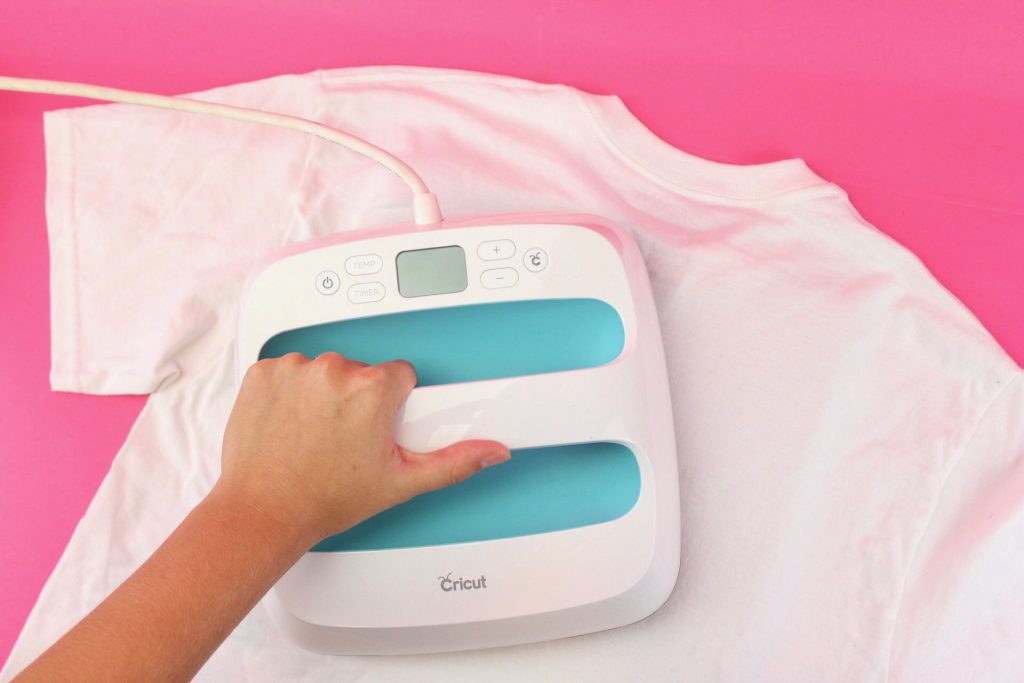 We prefer to use a Cricut EasyPress. It's easy to use and we find it much better for getting the best results than any other option. It's portable and provides even heat to your design.
We have a comprehensive guide to the Cricut EasyPress here. If you're thinking of getting one, have a look. We'll talk about the pros and cons of each model and compare it to other heat sources as well.
If you're starting out with a basic household iron, you can find our tips and tricks for using HTV with a household iron here.
What to Use Under Your Heat Transfer Vinyl Craft Projects: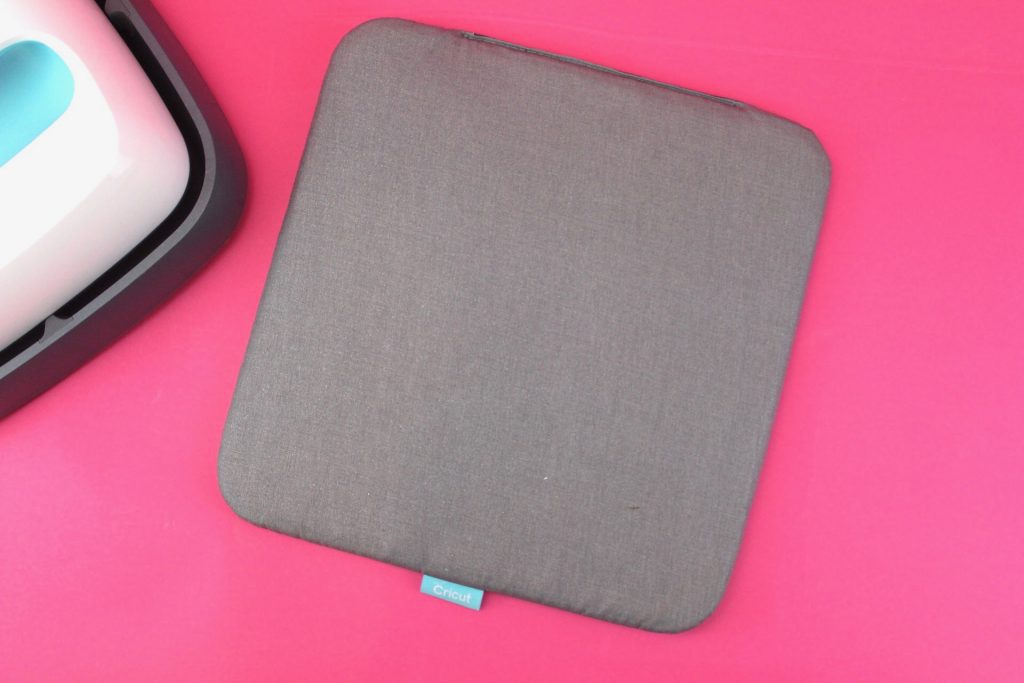 We have the Cricut EasyPress mats and love them! They are definitely game-changers! Each of the mats have properties in them that take the heat and sends it right back up to your surface material.
We've found that with the EasyPress mats, we don't need to use as much pressure. We've also been able to use lower temperature settings and get better results.
If you're not ready to commit to one of these, we highly recommend, as an alternative, a terry cloth towel. You want to make sure that it's folded three or four times to achieve that even pressure you need for good results.
Whether you're using an EasyPress mat or using a terry cloth towel, be sure to work on a very sturdy table or counter top to get the best results.
Check out our Comprehensive Guide to the Cricut EasyPress here.
How do I Make Designs with Multiple Colors?
There are basically two different ways to multi-colored designs using HTV with your die cutting machine.
In this method, you're going to be using Printable Iron-On Vinyl to essentially create a sticker with your machine. It's called Print then Cut because it's a two-step process.
Once you've created your design, you'll print it onto the HTV with your ink jet printer. As it prints, registration marks will be added to your design. These aren't part of the design itself and will be cut away later but they help carry out the next step properly.
The second step is to load the printed vinyl into your die cutting machine. Your machine will read the registration marks and these will help it know exactly where to cut.
We have fine-tuned our techniques and come up with what we find is the easiest way to layer HTV. Be sure to check out the video below to see a step by step tutorial.
What if I Make a Mistake or Want to Change my Iron-On Vinyl Design?
You can remove HTV from fabrics! We found a great heat transfer vinyl removal product that's definitely a life saver. Removing iron-On vinyl is so easy! Now you can remake or repurpose your fabric Iron-On projects without worrying about ruining your fabric. Check out this article: how to remove HTV.
With other surface materials such as wood and tumblers, you may be able to remove the vinyl by reheating it and then carefully and gently scraping it away. This is generally easiest to do the sooner you do it after having applied the HTV in the first place, but it can be successful with older projects as well.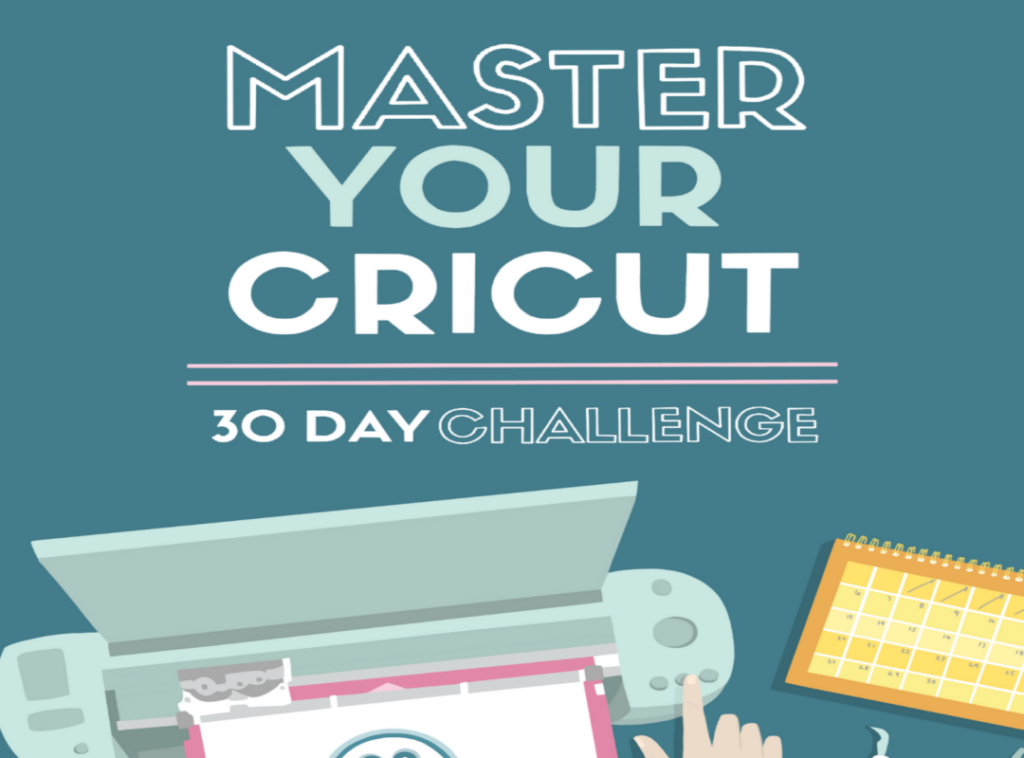 Craft Projects Using Heat Transfer Vinyl: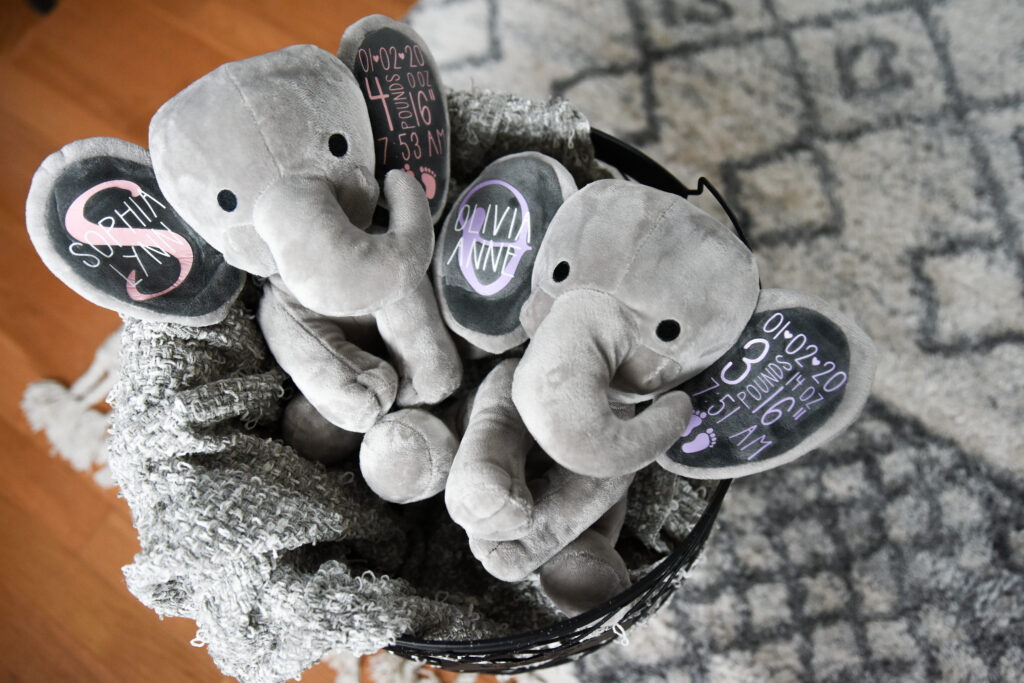 Making Iron-On Stuffed Animals <<< Yes! It's possible to iron vinyl on a stuffed animal! We'll show you how.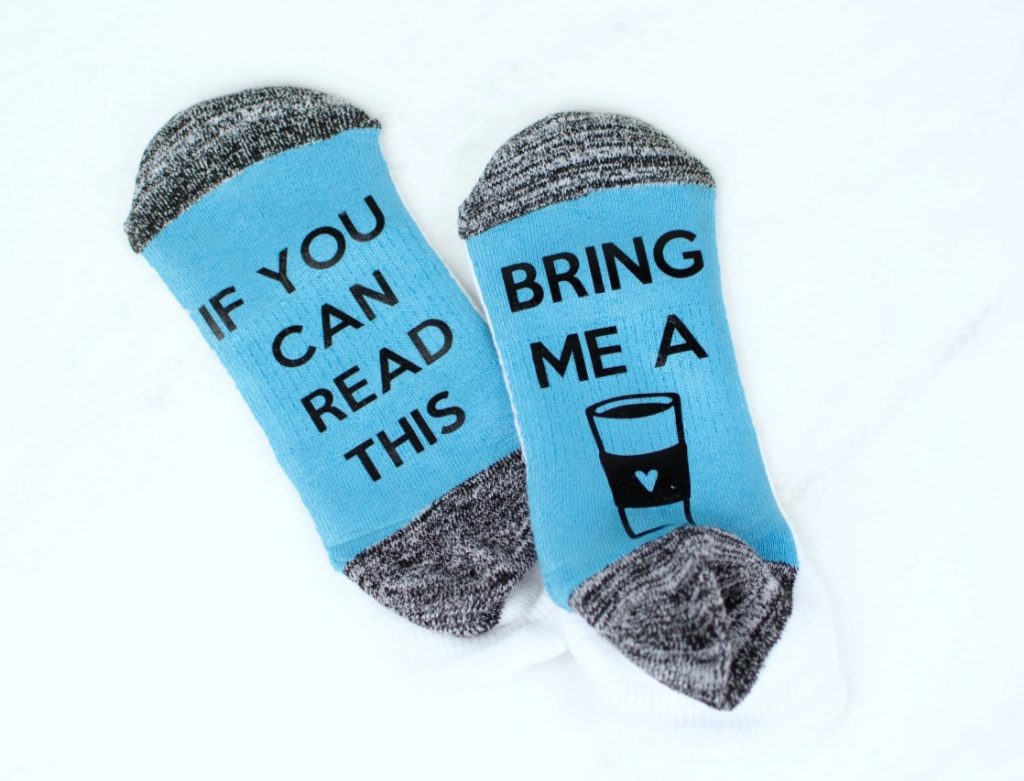 How to Make "If You Can Read This" Socks <<<This is such a fun gift idea!
How to Iron On a Hat <<<Think you can't use HTV with something soft and rounded like a hat? Think again.
If you're just getting started working with iron-on vinyl, this video is a great one for beginners: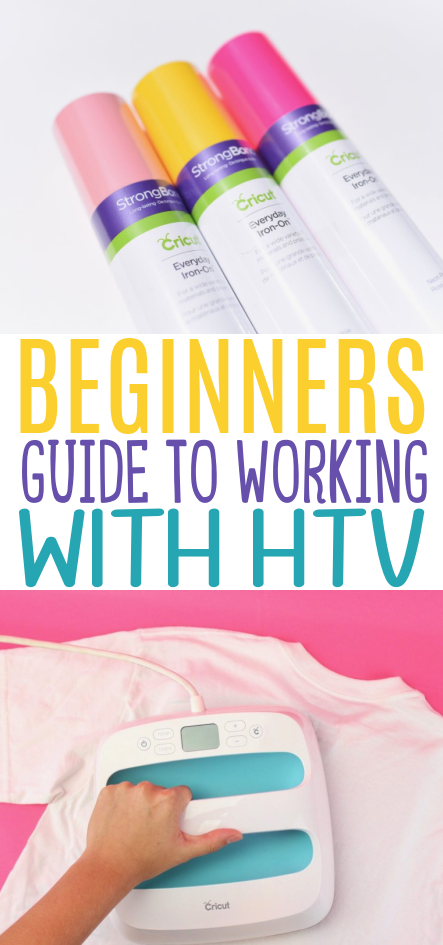 Tanner, Courtney, and the rest of the Makers Gonna Learn Team are all here because we love die-cutting and especially love sharing fun projects and tutorials with fellow makers. We are all great friends and are always having a blast when we are together- you will see this on camera, especially during live streams! We are here to inspire and support you in your crafting journey!