How to Make a Tumbler
If you've been wanting to learn how to make a tumbler, you are in luck. We have a lot of experience in making custom tumblers and we're going to share all of our Cricut tips for creating the perfect tumbler with you.
We know many people who like to collect personalized tumblers. What could be even better than being able to make them yourself using your favorite colors, themes, and quotes using your Cricut machine?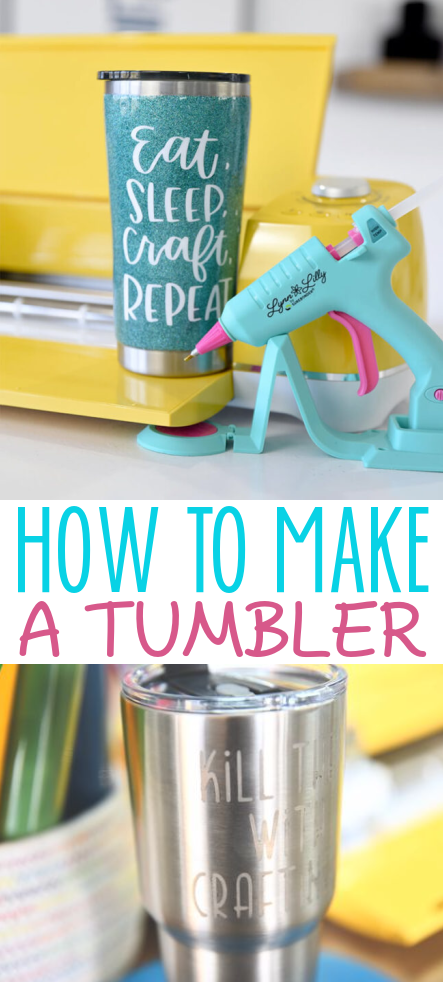 How to Make a Tumbler
There are several different techniques for making tumblers. Whether you want to make a glitter tumbler, an etched stainless steel tumbler, iron on tumbler, or a simple vinyl quote tumbler, we can show you how.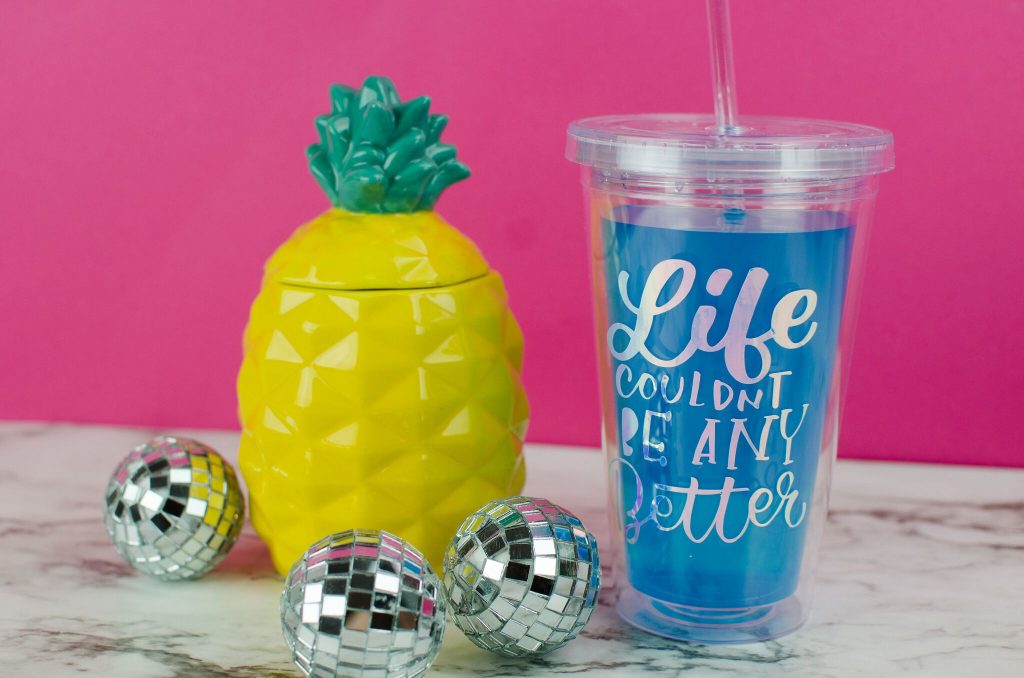 Some materials we use when making tumblers
Making Simple Vinyl Tumblers
It's easy to apply vinyl to a tumbler to create a custom craft project. There are a few things you may want to keep in mind before you begin though.
1 – If you apply basic adhesive vinyl to a tumbler, you will need to hand wash the tumbler carefully. Take care not to immerse it in water and be sure to dry it right after washing. This will help the vinyl decal last as long as possible.
2 – You can help your vinyl design last much longer by sealing the vinyl. By using the right Mod Podge, you can make your vinyl projects dishwasher safe. This not only helps the vinyl last longer, but it allows you to throw the tumbler into the dishwasher instead of having to hand wash every time.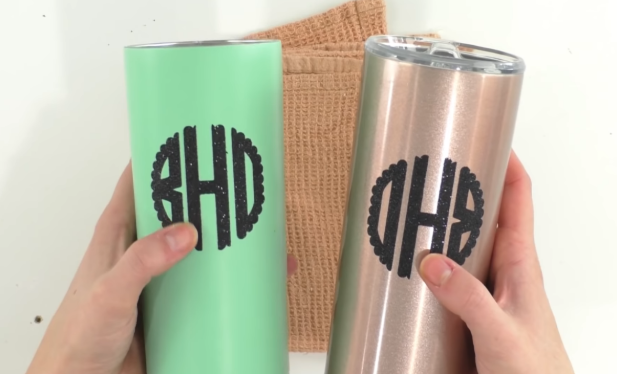 3 – You can also apply iron-on vinyl to tumblers instead of regular adhesive vinyl. We recommend using stainless steel tumblers with glitter heat transfer vinyl for the best results if using the iron-on technique. We prefer the results we get from regular adhesive vinyl instead.
4 – No matter what kind of tumbler you are using – stainless steel or plastic tumblers alike – and no matter which kind of vinyl you apply, you need to clean the tumbler really well before applying the vinyl. This helps it to adhere better and to stay adhered longer. Use rubbing alcohol on a folded up paper towel to clean away the dirt, debris, and oils from your fingertips away from the area where the vinyl will be placed.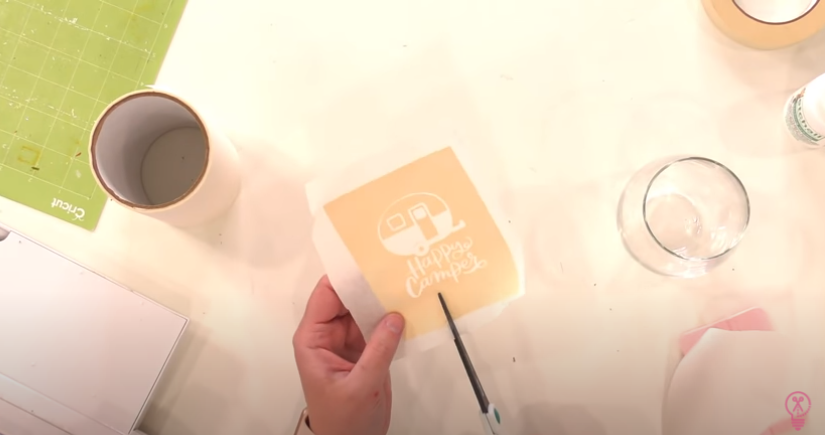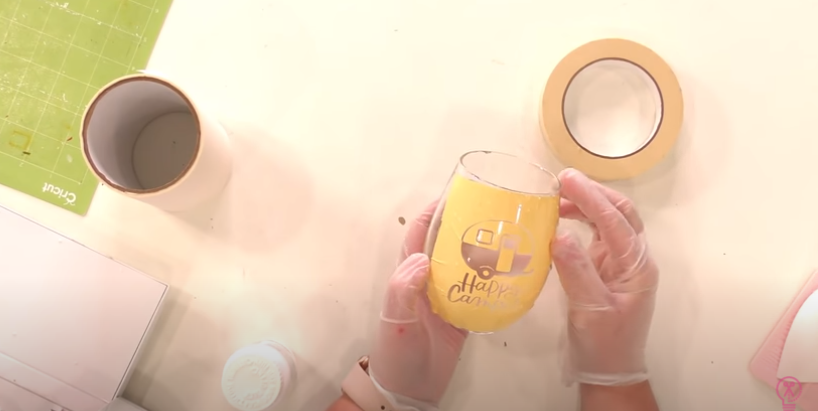 5 – It can be tricky to apply vinyl smoothly to a rounded surface like a tumbler. Make little snips around the design in the transfer paper, taking care not to snip into your design. Then, as you place the vinyl onto the tumbler, these little slits will give you a little ease when it comes to laying the vinyl down flat. It makes it easier to work out any wrinkles or bubbles too!
You can use a waterslide decal on tumblers too! This is a fun way to add a Print then Cut to your tumbler cup.
Etched Stainless Steel Tumblers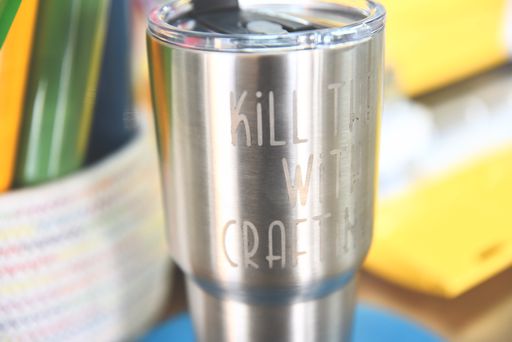 This is a great way to add a quote, your name, or monogram to a tumbler. With this technique, you will use your vinyl to create a stencil. Apply the stencil to the tumbler and use etching cream to etch the design into it. Etched tumblers look so professional and since there is no decal, they last pretty much forever!
Glitter Tumblers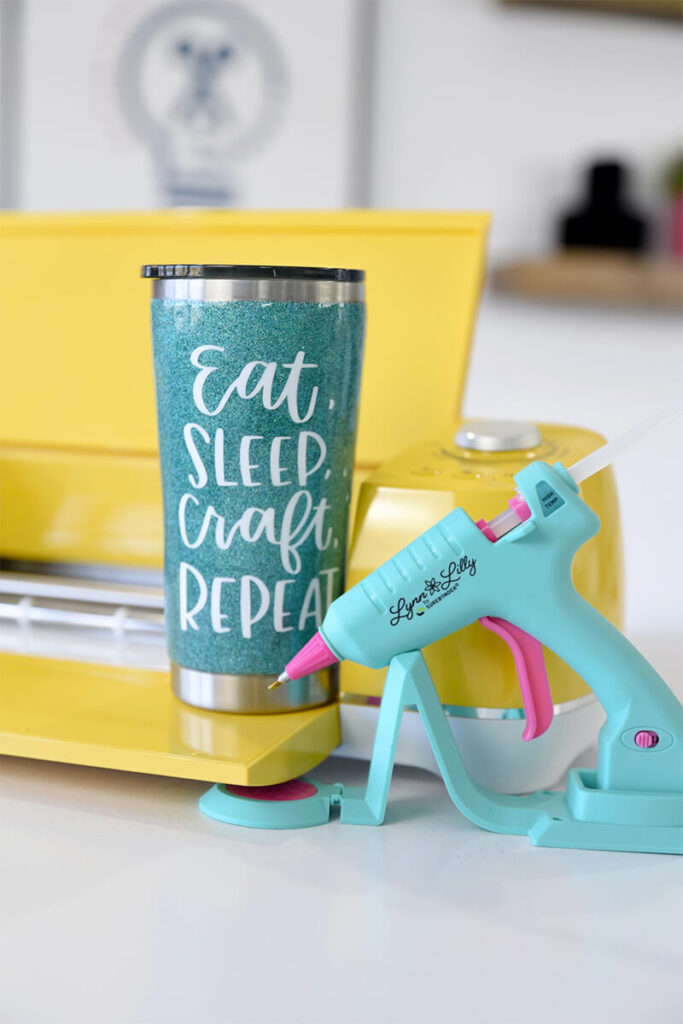 Glitter tumblers are one of the most popular and most requested types of tumbler tutorials. We get it – we love them too! There is a step-by-step technique for creating glitter tumblers that is more time-consuming than putting vinyl on a plain tumbler.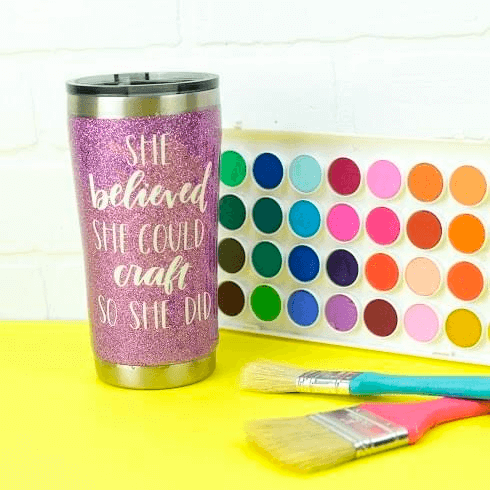 We went through a lot of trial and error before we came up with the perfect glitter tumbler tutorial. Be sure to check it out and follow the steps carefully. This can be an intimidating craft project for a beginner, but if you use our technique and go through it one step at a time, you can create a beautiful, successful glitter tumbler cup.
If you want to create stripes on your tumbler, the best way we have found is to apply strips of electrical tape to it. Then, paint on adhesive in between the tape and sprinkle on glitter to coat. We like to use paint that matches the color of the rest of the project as our glitter adhesive. This gives it the most professional look we've seen.
Be sure to apply two coats of Mod Podge over your stripes before removing the tape.
Pro tip: The chunky glitter doesn't work well for these tumblers. You need to use fine glitter.
You can also try using the Tack It method for creating glitter tumblers. We'll show you just how to do it in the video below: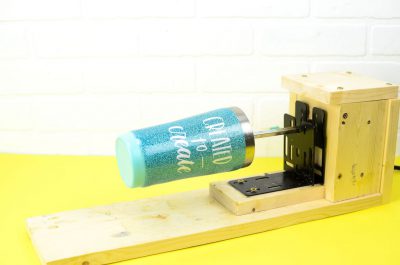 A tumbler turner can make the process of creating a glitter tumbler so much easier. Learn how to make your own!
Wondering about which kind of epoxy to use on your glitter tumbler? Check out this video comparison.
Other things to think about when making tumblers:
1 – If they are tumblers with lids, be careful not to position the vinyl design too close to where the lid will be. Put the lid on the tumbler. Some of them extend down over the lip of the tumbler and it's important to see exactly what empty space you have to work with for your design.
2 – Don't make your design too big. The bigger it is, the more difficult it can be to apply the vinyl and get it to lie flat.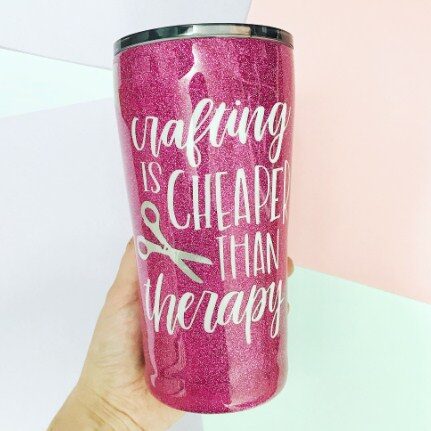 3 – There are many different types of tumblers. Beside, the material they are made of – stainless steel tumblers, plastic tumblers, and so on – there are also different styles. Some have lids and straws; some don't. There are different shapes as well. Some are slightly slanted, some are more tapered, some are quite chunky and rounded, and others are quite straight. It's important to consider the shape and style of them when creating your design. Remember, a design that works perfectly on one style may not on another. Before making a large batch of tumblers, test out your design and adjust it as needed for that particular style.
4 – If you're a Cricut tumbler beginner, we recommend buying a few tumblers from the dollar store to practice on before investing in more expensive brands. It's a great way to perfect your technique before you spend too much on it!
Can you remove vinyl from tumblers?
Yes you can! Begin by using your weeding tool to try simply peeling up the design. Heat can help loosen it so you can try warming it with a blow dryer.
Then, we suggest using Goo Gone or Goo Gone spray to remove any last traces of the adhesive that might be left behind. Clean your tumbler well and you're ready to use it again for another project.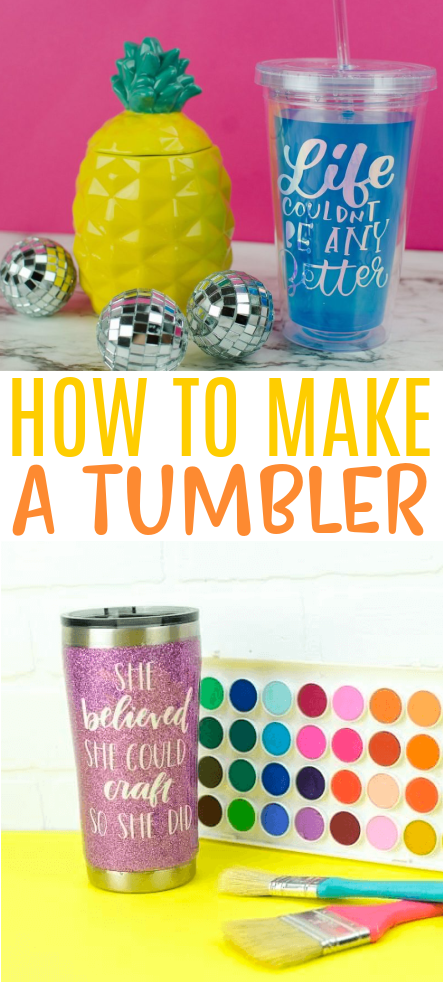 Tanner, Courtney, and the rest of the Makers Gonna Learn Team are all here because we love die-cutting and especially love sharing fun projects and tutorials with fellow makers. We are all great friends and are always having a blast when we are together- you will see this on camera, especially during live streams! We are here to inspire and support you in your crafting journey!