How To Make Stickers With Your Cricut – How To Print Then Cut
In today's tutorial, we're going to teach you How To Make Stickers With Your Cricut die cutting machine using Printable Vinyl and our Canon printer when it comes to print then cut projects.
You're going to love making these stickers. They have so many uses! Decorate your school supplies, use for planner stickers, get organized with them, and more! I bet you can think of lots of uses for printable stickers, so let's get started!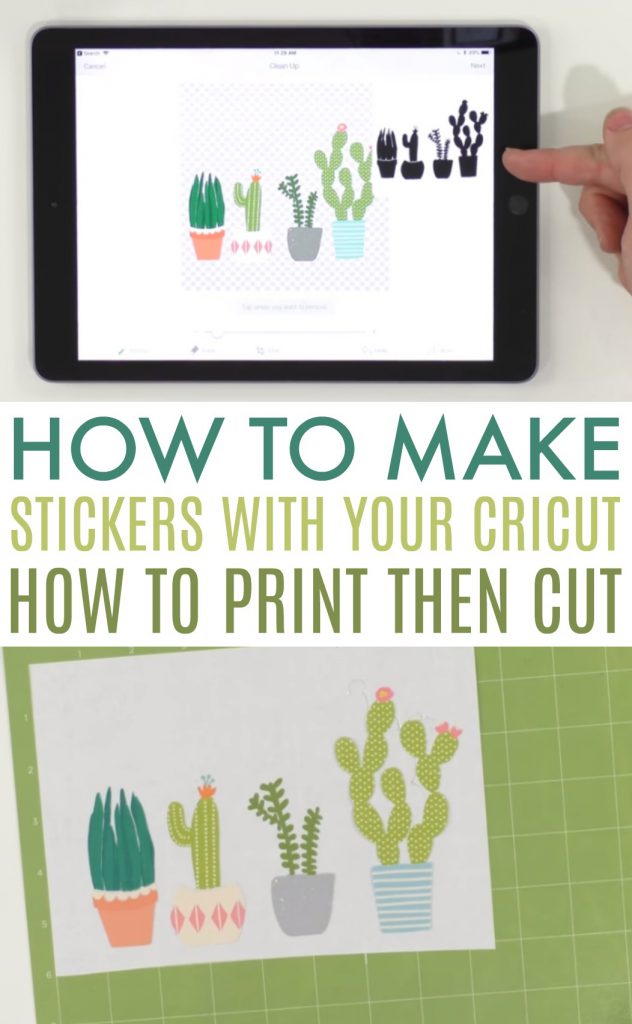 How To Make Stickers With Your Cricut – How To Print Then Cut
First things first, select the image that you would like to use. We're using one of the files from our membership site Makers Gonna Learn. Take note that we're going to make a print then cut project, so we're going to use a PNG file. We're going to download from Makers Gonna Learn and then upload this in Design Space.
Cleaning up your design
We'll select our cactus and Cricut Design Space will prompt you to clean it up. Right now if you are going to print and cut this, you need to first click "Remove" and click on the white background to extract.
You can see here that it took away a little part of our cactus because it was a very light color. So, you're going to need to bring that down. You'll see your images are all back, but you can tell that it's going to cut exactly over your cactus images.
Double check and save your design
Once you're happy with your design, press "next" and it's going to let you look at your images again. Make sure to check out the whole image. It's going to print what you see in the colored image and the black image is showing you where it's going to cut.
Now we can get ready to print it. So, we're going to select next and then the colored image and it should say that it's going to save as a print then cut image. Once you're good to go, name it and you can press done and that'll save to your online library.
Print your design
We've already added this one to the mat and sized it. We are now ready to print this out. The first thing you want to do is click "Print". Then, it'll let you select what printer you're going to print to. You should see that it has a black bar around it.
That black bar is showing you the registration marks the Cricut is going to scan to understand where all of our little cactus friends are. We like to print with our Canon TS8120. It's a great printer for print then cut and it works really well with the Printable Vinyl.
Be sure to follow your printer's instructions for loading the vinyl
Bear in mind that this only works with inkjet printers and not with a laser printer. Remember to check the instructions for loading the printable vinyl into your printer. To improve the quality of your printing, be sure to use the System Dialog. This can help you finetune your settings and get the best quality possible.
For ours, we are loading it into the bottom tray with the Cricut logo side up so the actual vinyl is face down. One thing I love about this is that as soon as it prints out, you can touch it and there's no smearing.
If you have any quality issues with your Print then Cut projects, be sure to check out this post: Fixing Cricut Print then Cut Issues
Place printed design onto a cutting mat to load into die cutting machine
Our next step is to go ahead and apply it onto a cutting mat. Align it in the top left hand corner and what I love to do is to take this scraper tool and make sure that it's on the mat really well by burnishing it.
So now that it's ready, we're going to click continue on our iPad. We're going to click all material and choose Printable Vinyl. Then we're going to load this into our machine, turn fast mode on and press that flashing Cricut button.
Weed your design
It is finished cutting, so now we're just going to unload it from the machine. Our next step would, of course, be weeding but first, we're going to cut off the excess Printable Vinyl using our Cricut TrueControl Knife.
You could save that for another small print then cut project if your printer could reprint that, but we haven't seen too much success trying to reuse the scrap pieces. So, now it's time to take our weeding tool and weed through the project.
I love how precise this was! I forgot to mention that we always leave bleed on before printing for a print then cut project. This helps in case your Cricut is cutting just a tiny bit off to still give you a perfect final project. After you've weeded the project, you're now able to take your sheet off the mat.
Now you're able to just take the little sticker that you just printed and apply it to whatever you want! A great note is that if this is a kind of intricate sticker to handle, you are able to use Cricut transfer tape to apply and reapply your little stickers. Isn't that fun? You're going to love making your own stickers with your Cricut machine.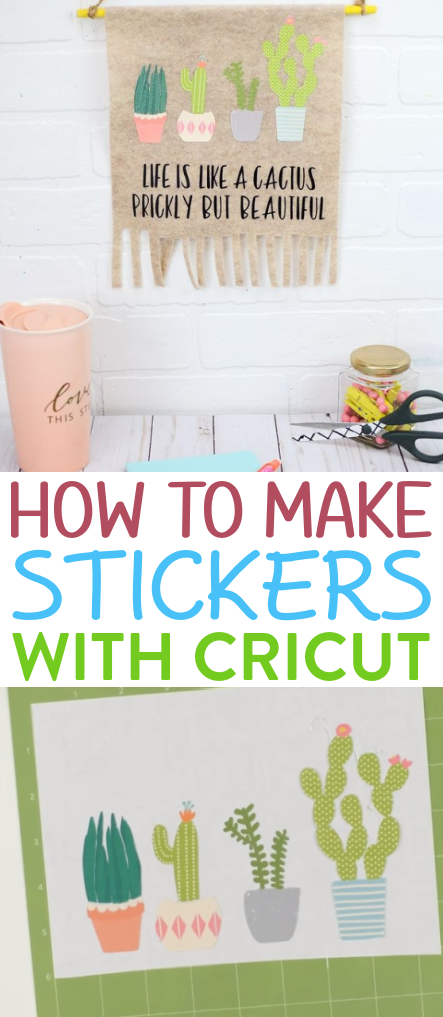 Tanner, Courtney, and the rest of the Makers Gonna Learn Team are all here because we love die-cutting and especially love sharing fun projects and tutorials with fellow makers. We are all great friends and are always having a blast when we are together- you will see this on camera, especially during live streams! We are here to inspire and support you in your crafting journey!