Easy Wood Burning with Cricut
We are so excited about this Cricut hack that we're going to teach you today. In this tutorial, we'll show you how to do Easy Wood Burning with Cricut. 
Cricut wood projects are some of our favorite crafts to make. For this project, we are making a wooden tray with a really pretty tropical leaf pattern on it. It's so simple to make! Place your chosen design on a basic piece of wood, do our easy chemical wood burning technique, add a couple of handles, and voila! You've got an amazing trendy tray.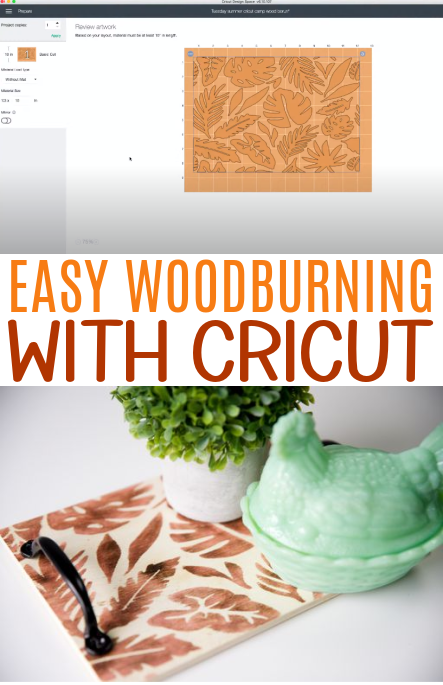 Easy Woodburning with Cricut
Not only are we going to show you how to do use this faux woodburning method, but today, we're going to do matless cutting with regular adhesive vinyl. That's right! We are not using Cricut Smart Materials today. This is going to be an exciting experiment!
We love testing out Cricut tips and sharing them with you. You're going to love this one!
Materials we are using:
SVG we're using: Makers Gonna Learn Tropical Leaf Cut File
Cricut Woodburning Tutorial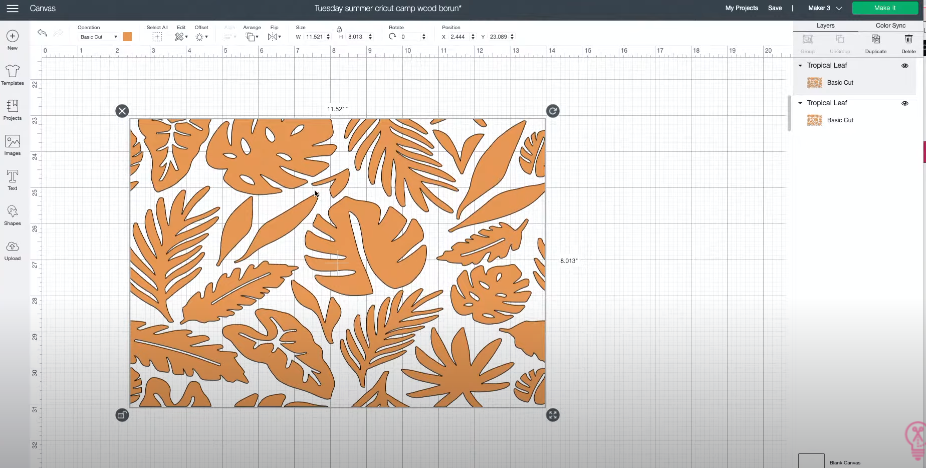 Working in Design Space
1 – Let's begin by downloading the tropical leaf cut file from Makers Gonna Learn and uploading it into Cricut Design Space.
2 – Unlock the design by clicking on the lock symbol. Size the pattern to what you need for your tray. In this case, we're making it 11 1/2 by 8 inches. This is all the work that needs to be done on this design in Design Space!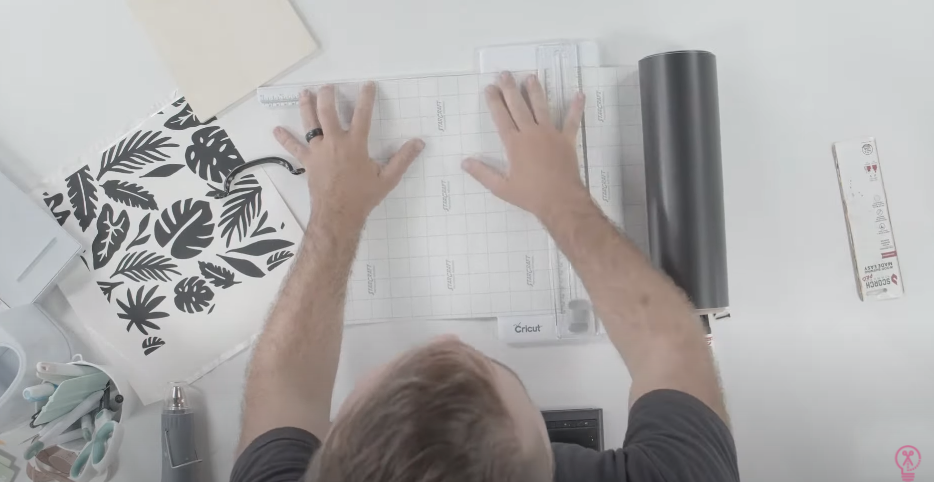 How to do matless cutting with regular vinyl
3 – Because we want to do matless cutting with our regular Starcraft vinyl instead of Smart Materials, we need to cut it to size. For matless cutting to work, the material needs to be 13 inches wide. We're using a roll of vinyl that is 12 inches wide, so we're using our paper trimmer to cut off a piece that is 12 by 13 inches.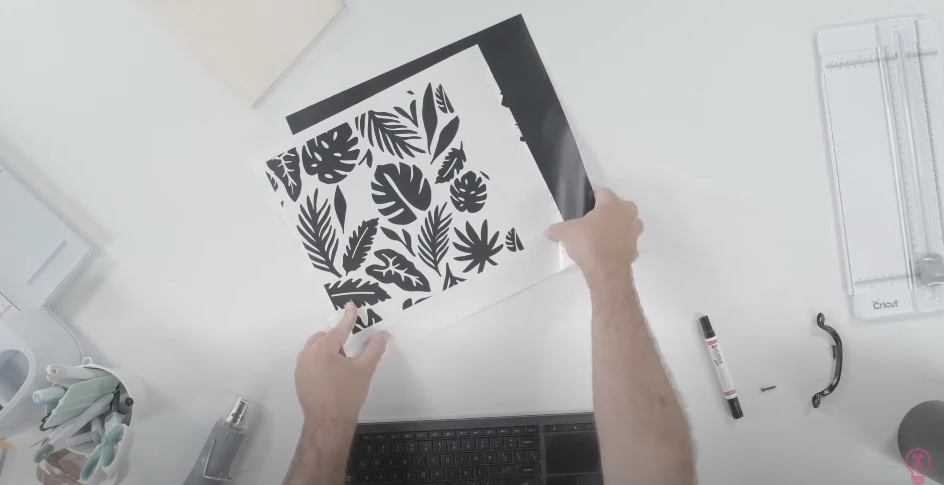 As you can see, with this matless cutting using regular vinyl, the edges came out a bit rough. Bear that in mind when it comes to the placement of your design. You don't want it too close to the edges.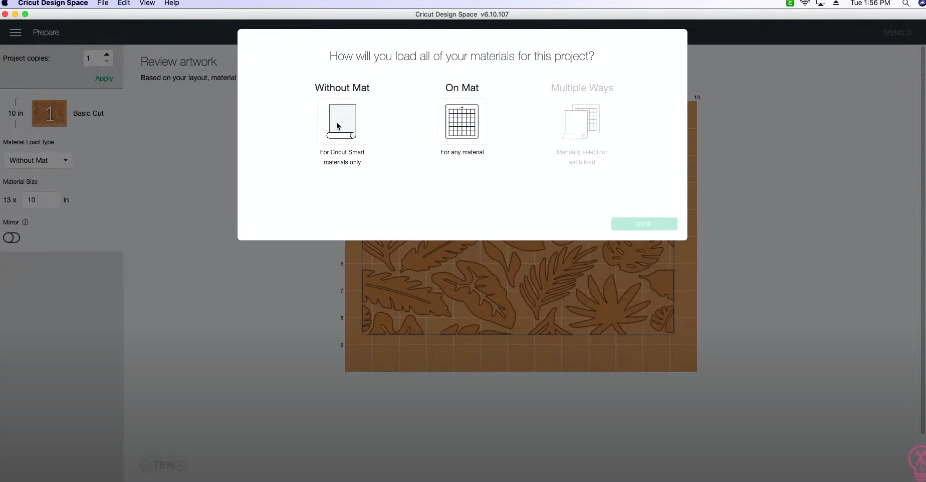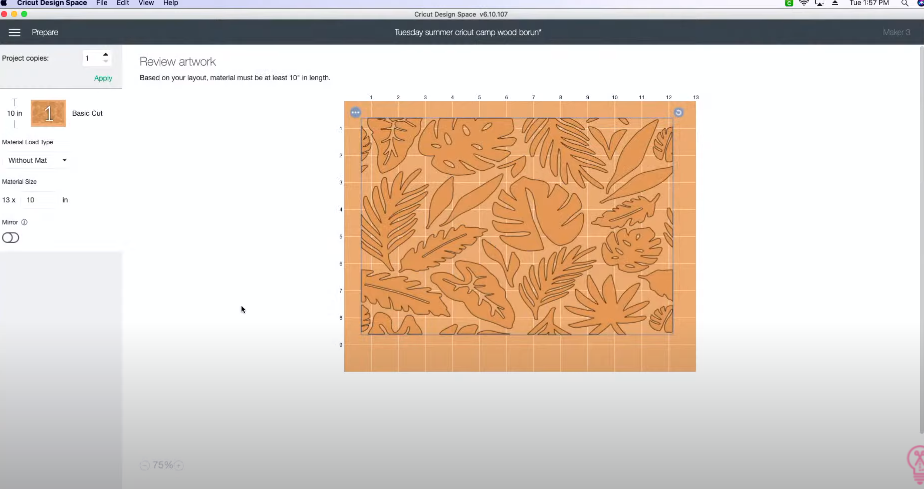 Cutting and weeding your stencil
4 – Click Make It and choose "Without Mat". Press Continue. Allow your machine to connect. Load materials into machine. We're using the Cricut Maker 3. Press the Start button when prompted.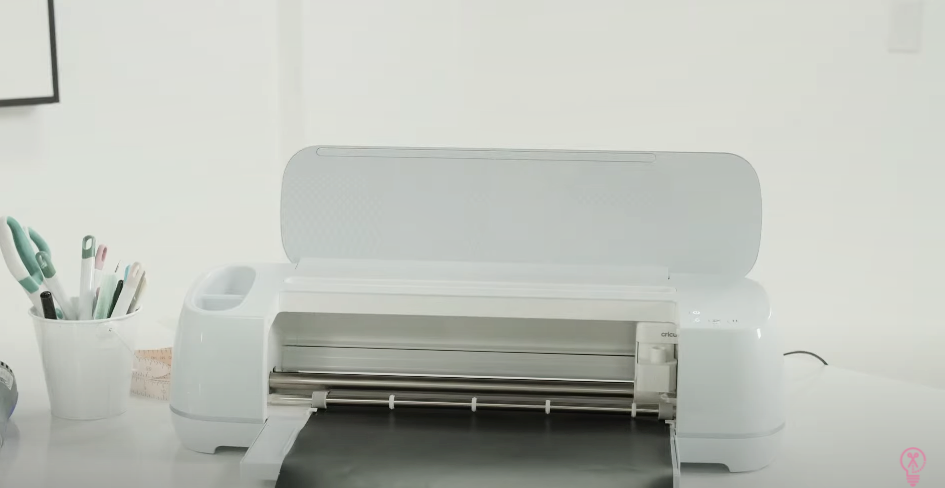 5 – Once your design has been cut out, weed it. We found that even without burnishing, it weeded like a dream. If you are working with a mat, we do generally recommend burnishing for easier and more foolproof weeding.
Reminder: you need to weed away the opposite of what you normally would. We're making a stencil so in this case, we're weeding away the positive space (the design itself) and keeping the negative space (the area around the design).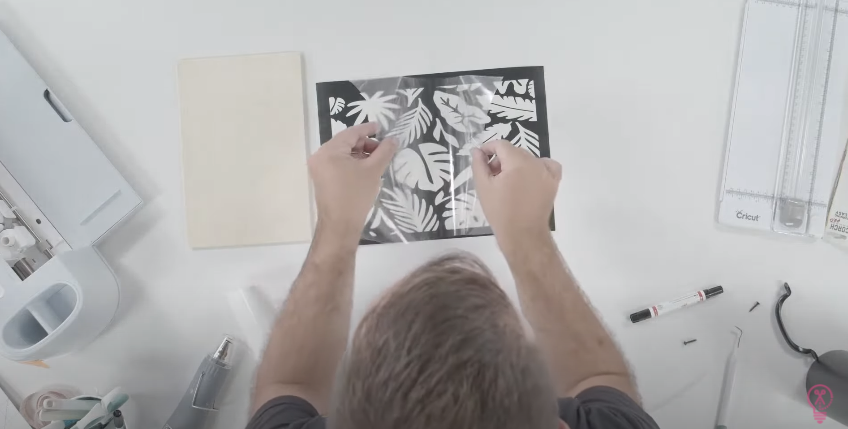 6 – Using the taco method, apply a piece of transfer tape to your design. The taco method is a great vinyl hack! It means to gently fold (don't crease) the transfer tape in half as seen in the photo above. Apply the middle to your design first and then, move your hands to allow each side to lay down onto the design. This is a helpful technique that helps to reduce any air bubbles or creases from forming.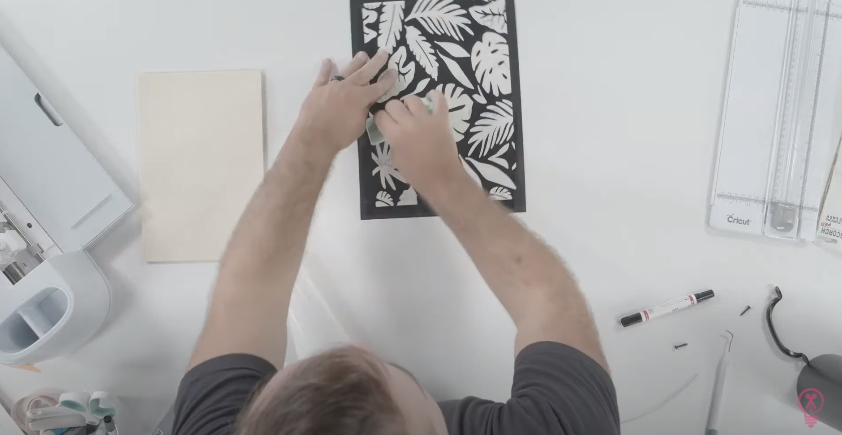 7 – Burnish down the transfer tape to your design. Flip it over and burnish from the back as well.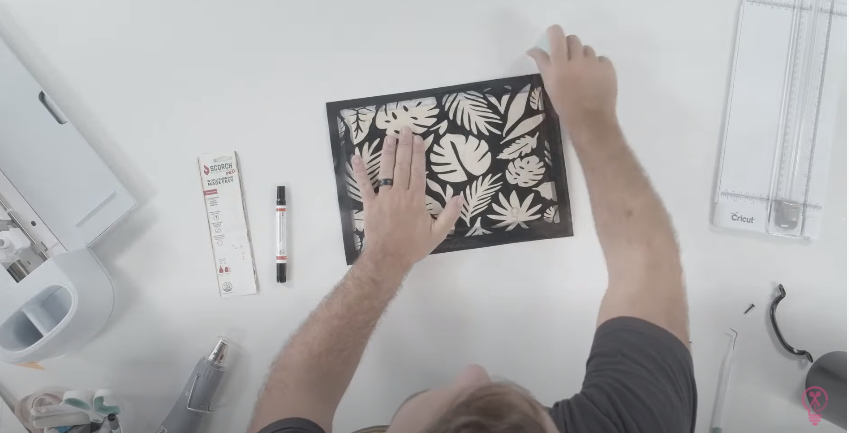 8 – Using the taco method again, place your design down onto the piece of wood. Burnish well. Peel up the transfer tape.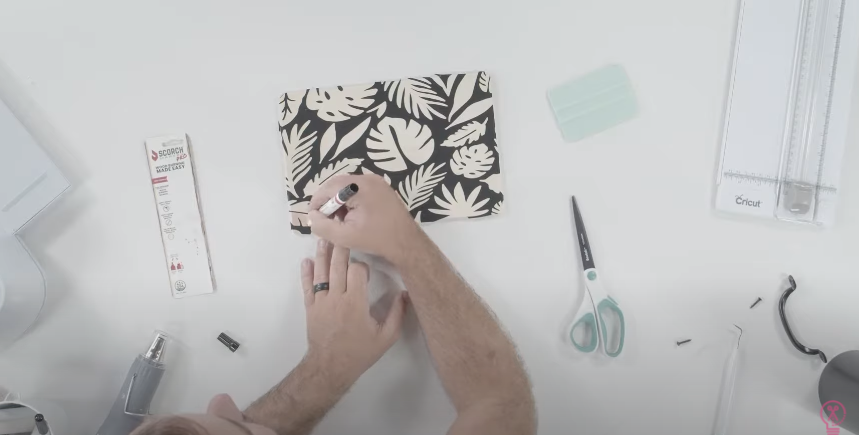 Using the chemical wood burning technique
9 – Color in your stencil using the Scorchmarker Pro marker. Peel up the vinyl stencil.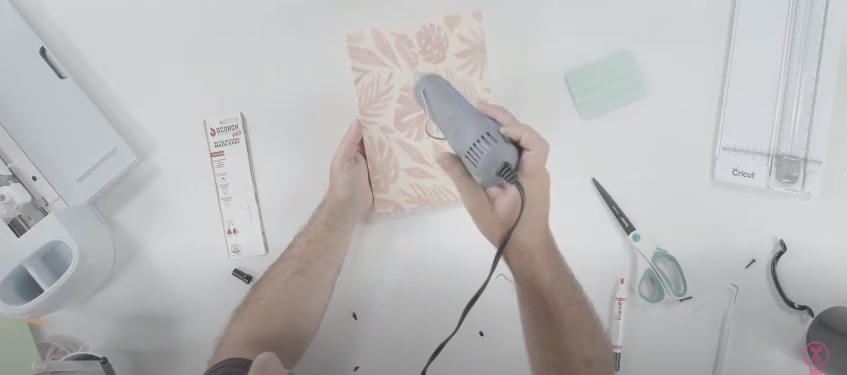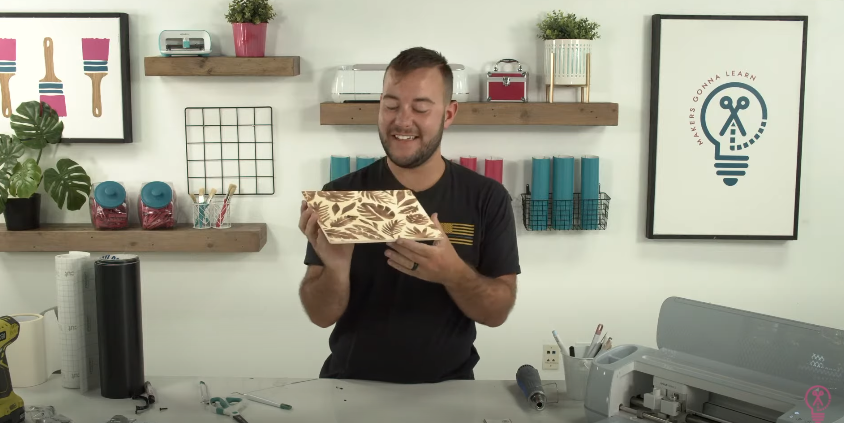 10 – Use your heat embossing tool to scorch your design. Keep the heat moving over your design.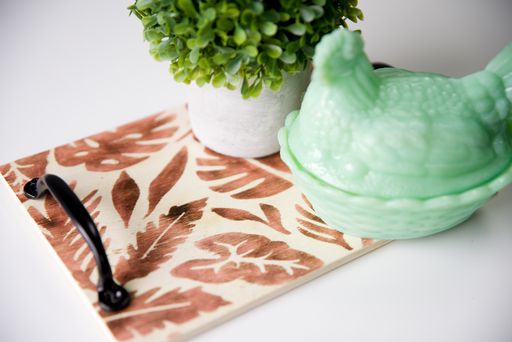 Once complete attach the handles using the provided screws.
There are a lot of variations you can make on this idea. Instead of a tray, how about a cutting board or charcuterie board? You could stain the board or leave it natural as we did. Seal your project if you wish.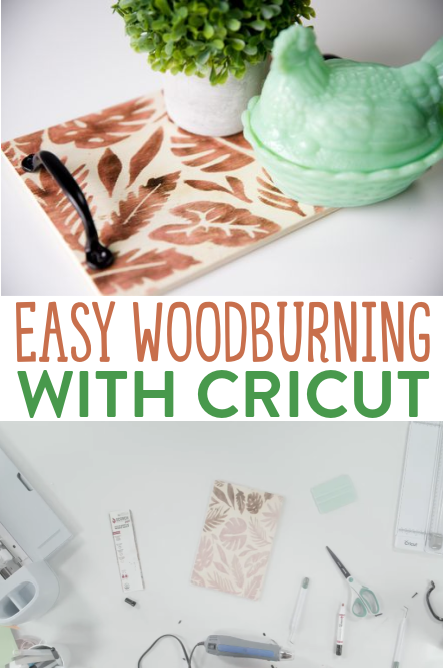 Tanner, Courtney, and the rest of the Makers Gonna Learn Team are all here because we love die-cutting and especially love sharing fun projects and tutorials with fellow makers. We are all great friends and are always having a blast when we are together- you will see this on camera, especially during live streams! We are here to inspire and support you in your crafting journey!