How to Make Cricut Projects Last
If you want to create Cricut projects that are long-lasting, you have to start thinking about it from the very beginning. We're going to show you how to make Cricut projects last, beginning with the products you buy and right through the crafting process to taking care of your finished craft projects.
In this post, we'll discuss Cricut tips and techniques for making crafts that last as long as possible. We will also help you determine when you need to seal your Cricut crafts and when you don't.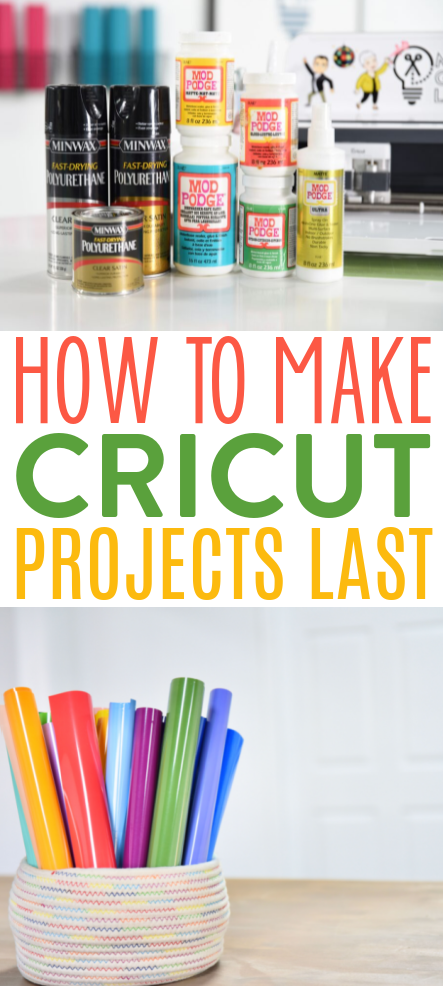 How to Make Cricut Projects Last
Don't let all of your hard work creating beautiful Cricut crafts be wasted on projects that only last a few months. You can get more life out of your Cricut projects with these tips.
Some products we recommend: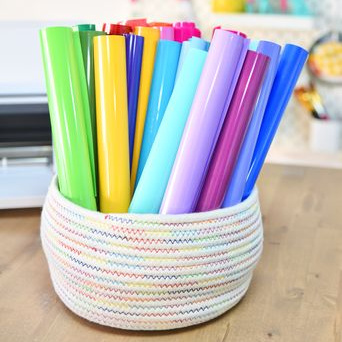 Use quality vinyl.
It's important to use quality vinyl for your Cricut projects. Good vinyl will cut better, weed better, and stick better. Getting good adhesion from the very beginning is a great way to help ensure a long-lasting project. Remember, vinyl has a shelf-life too and the older the vinyl is, the less likely it is to stick really well and to stay stuck for a long time.
We have had the best luck with Starcraft Vinyl and Siser EasyWeed heat transfer vinyl. Because these brands cut, weed, and apply so easily, we don't waste vinyl anymore because of quality issues. Overall, this has saved us a bunch of money!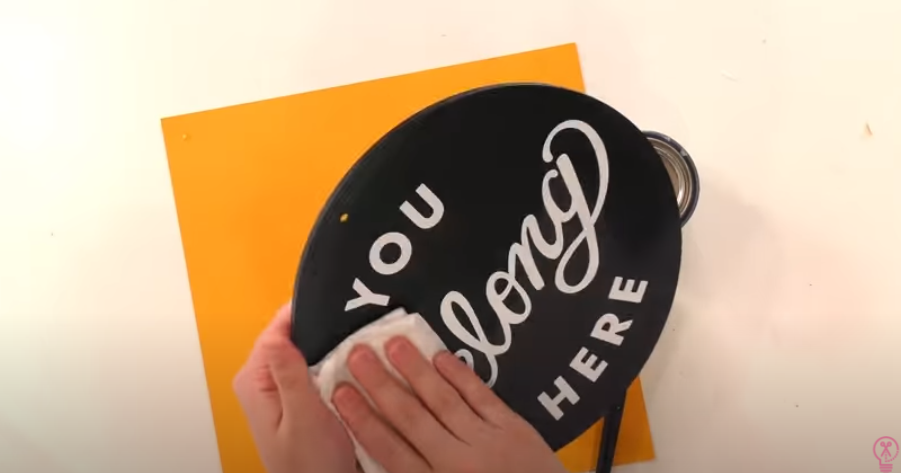 Prepare your surfaces before applying vinyl.
If you're applying iron-on vinyl to a fabric surface like a t-shirt or hoodie, it's so important to prewash your material. This will help remove any sizing that is in the fabric and allow for better vinyl adhesion.
When we iron on heat transfer vinyl with our Cricut EasyPress, we like to preheat the fabric from the front and back before applying the decal. This helps the vinyl stick better to the fabric.
When applying vinyl to non-porous surfaces like glass and ceramic, you have to remember to clean the surface well. We like to use rubbing alcohol on a paper towel to get rid of any dirt, dust, or oils left behind from our fingers handling it.
A lint roller is handy for removing threads and larger bits of debris from fabric items (essential especially before applying Infusible Ink), but it is also great for glass, wood, and pretty much any other material.
It is so important to ensure that there is no dust, debris, or oils from your fingers on the surfaces you are using as these will interfere with getting your vinyl adhered perfectly. To save money, we want to make sure everything works well when we use it and that it stays in place for as long as possible.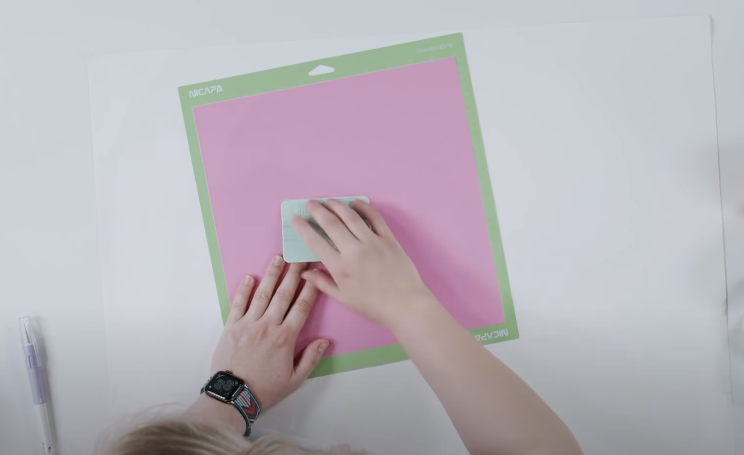 Burnish, burnish, burnish.
If you follow us already, you've heard this before, but it bears repeating. It's so important to do everything you can to adhere your vinyl to your projects as well as possible right from the beginning. Once you've cleaned the surface, now you want to be sure that you burnish it well to ensure that it's sticking really well.
We use our scraper/squeegee tool to burnish our vinyl onto the cutting mat after removing it from our Cricut machine and before weeding. This helps to make the weeding process so much easier. Then, we apply the transfer tape and burnish again. After we remove the vinyl from the cutting mat, we flip it over and burnish one more time from the back.
Finally, once we apply our vinyl to the surface, we burnish again (yes, again!) before peeling up the transfer tape. Why so much burnishing? This is one of those Cricut hacks that allow us to have successful, beautiful craft projects pretty much every time. It makes weeding and application so much easier. Then, it helps your vinyl adhere well to the surface and can make it longer lasting too.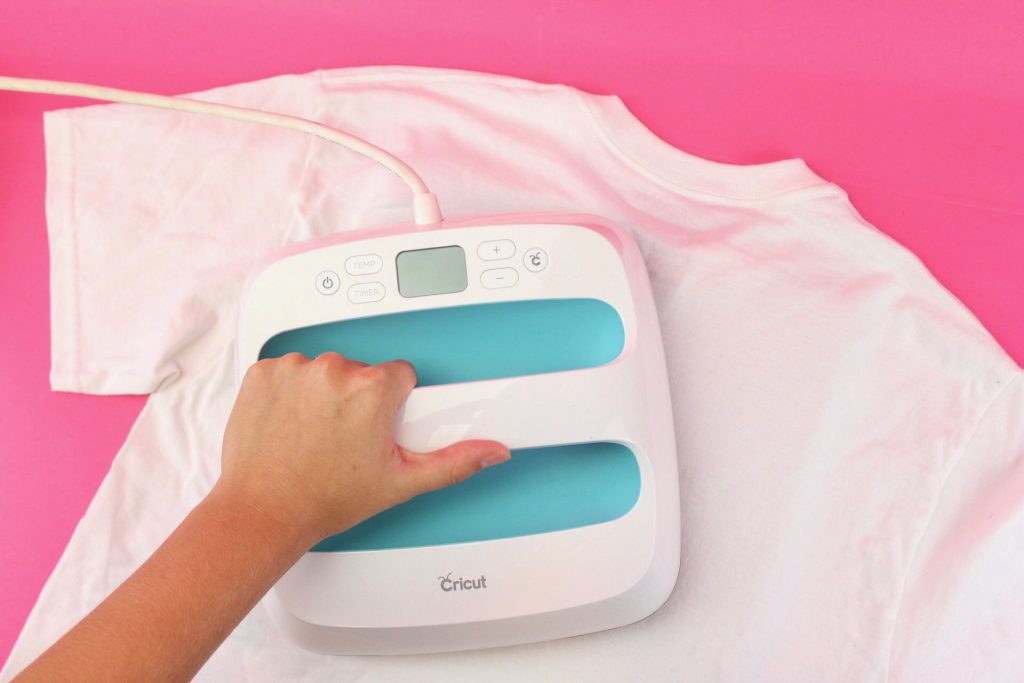 Use the right temperature and time when heating iron-on vinyl.
Be sure to check the package instructions for tips on the correct temperature and time to use when heating your HTV. If you don't heat it properly, it will not adhere as well as it should. For long-lasting heat transfer vinyl projects, it's so important to make sure you are using the correct heat settings.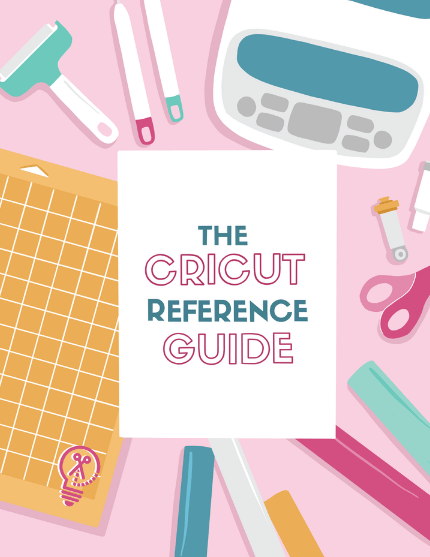 If you are a member of Makers Gonna Learn, we have a handy dandy Cricut Reference Guide available which contains, among other helpful information, a heat setting chart. You'll find it on your dashboard along with many other reference guides.
Use etching or Infusible Ink
You can use your Cricut to create a stencil and then etch on stainless steel, glass, or other items for a look that's permanent. Another option for project designs with permanence is to use Infusible Ink on them.
Take care of the items you have applied vinyl to.
If you want long-lasting items, you have to care for them properly. With shirts, it's best to turn them inside out before washing. Wash them in cold water to help preserve your designs.
With unsealed items like mugs and tumblers, you will need to hand wash them. Do not submerge them in water.
We have some care tag cut files that you can use for many of these items if you are selling them or giving them as gifts:
Mug care – unsealed (mug shaped)
Tumbler care – unsealed (tumbler shaped)
Wine glass care – unsealed (wine glass shaped)
You can also easily create your own custom tags in Design Space. Remember if you are sealing your products, you need to be sure that your recipients know that they need to wait for the curing time to be up before using it. This is really important to make it long-lasting, food-, and dishwasher-safe.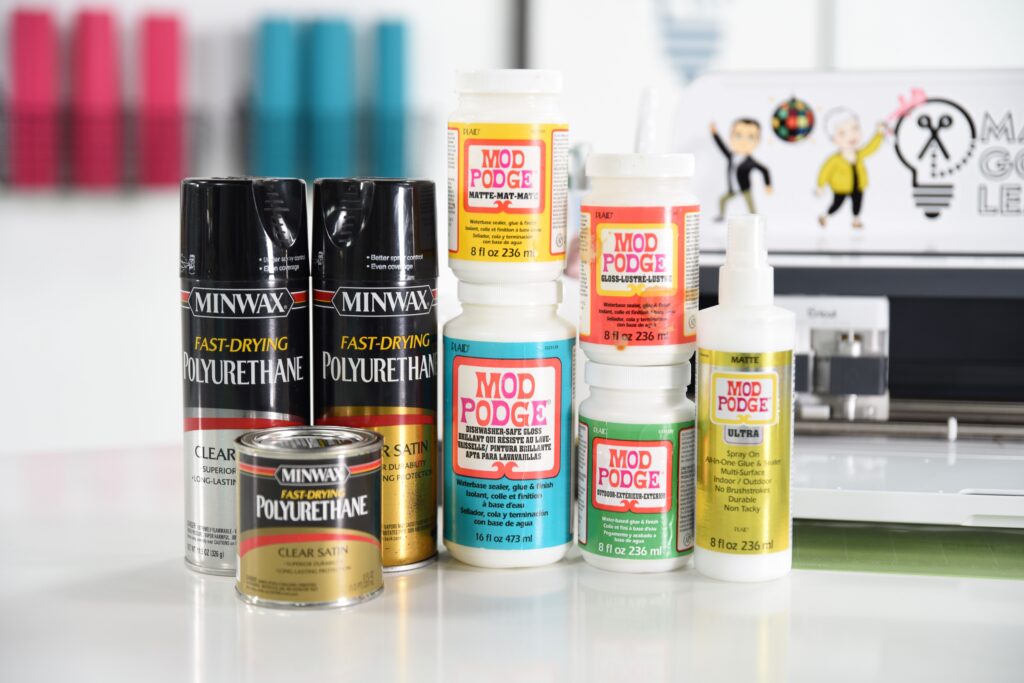 Seal your projects if needed.
Sealing your vinyl projects isn't always necessary. Many vinyl crafts will hold up quite well for years without being sealed. For example, we have had great luck with making long-lasting car decals. We have had some on our cars for 3+ years with no signs of damage or fading.
So, you want to think about the extra time, effort, and cost of sealant that would go into a project and whether it's worth it or not. When it comes to mugs, we are more likely to seal them because we want dishwasher-safe mugs. We want them to last a long time, but for them to be easy to clean too!
If they aren't dishwasher safe and we accidentally expose them to too much water, our mugs could be ruined. Or, we might end up not actually using them because they require so much special care.
Tanner, Courtney, and the rest of the Makers Gonna Learn Team are all here because we love die-cutting and especially love sharing fun projects and tutorials with fellow makers. We are all great friends and are always having a blast when we are together- you will see this on camera, especially during live streams! We are here to inspire and support you in your crafting journey!