Save Money on Cricut Supplies
Once you start creating craft projects with your Cricut machine, you might just find that you want to spend hours and hours every week working on them. After all, it's so much fun! The only problem is that it can get expensive too. So today, we're going to share our best tips to help you save money on Cricut supplies.
These tips and tricks will help make your favorite hobby more affordable. We want you to be able to use your creativity and keep on making those Cricut projects you love! Keep reading to see the different ways we have come up with to stretch your crafting dollars further.

How to Save Money on Cricut Supplies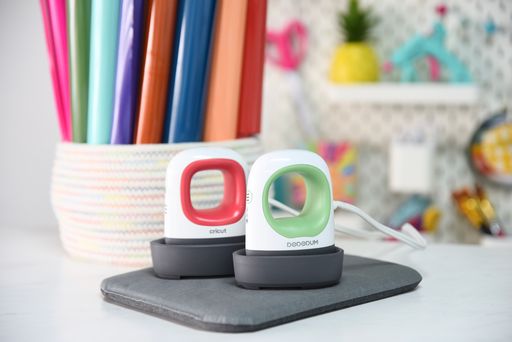 1 – Don't automatically assume that the most expensive product is the best.
It can be difficult knowing which products to buy for your Cricut crafting. You might see some advertised that are cheaper but wonder if the quality is good enough. Do you risk wasting money on this new item or stick with your tried-and-true (but more expensive) alternative?
This dilemma is precisely why we like to do a lot of product testing ourselves. We try them out and report back to you with our results.
We have had some great results using non-Cricut brand markers in our Cricut machines, using off-brand standard-grip cutting mats, a really inexpensive burnishing tool from 143Vinyl, using off-brand mugs in the Cricut Mug Press and much prefer other (less expensive) weeding tools to the Cricut brand one.
Recently, we even tested an off-brand mini heat press vs. a Cricut EasyPress Mini and it worked really well. Read product reviews such as ours on Which Cricut to Buy and Which Cricut EasyPress Do I Need to learn more about which of these Cricut products is right for you. An informed purchase can save you money.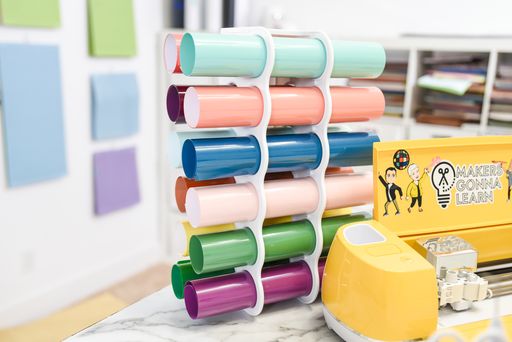 2 – Go for quality materials.
We know that sometimes quality means more expensive, but even when that's the case, we find it worth it. If you try to use lower quality vinyl and it just won't cut and weed well, chances are you're going to go through a lot more of it because of craft fails with it.
We have had the best luck with Starcraft Vinyl and Siser EasyWeed heat transfer vinyl. Because these brands cut, weed, and apply so easily, we don't waste vinyl anymore because of quality issues. Overall, this has saved us a bunch of money!
3 – Make test cuts.
This sounds like it would actually cost you money instead of saving it, right? In reality though, when you're working with a new material that you have never tried before, making a test cut can help prevent waste.
A test cut can help you determine whether you need to increase or decrease the pressure. Or maybe you need to adjust the material setting or put in a different blade. It's much better to cut out a small sample cut such as the one Cricut provides for test cuts and work through these problems ahead of time instead of cutting out a whole design that uses up much more vinyl.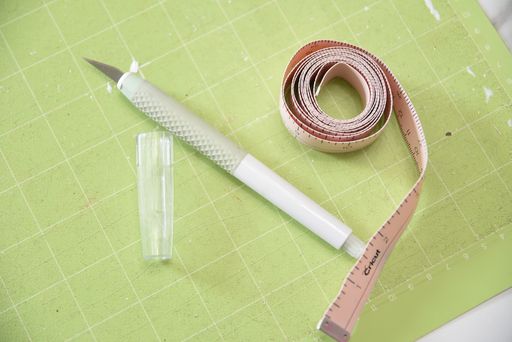 4 – Measure twice (or three times) and cut once.
You've probably heard this before but it's worth repeating. We've seen so many people waste time, effort, and materials because of not taking the time to properly measure their projects. You want to size your Cricut crafts just right!
Then, they cut out their design, and uh oh. It's too big to fit the area they have to work with on their t-shirt or frame or other surface. This is why it's so important to measure – more than once – to ensure that you have a design that's sized perfectly.
We like to pull in a shape to represent our surface area in Cricut Design Space, sizing it to fit our actual project. Then, as we work on our design we can size it accordingly and place it in the shape to make sure we like how it fits. This is such a great way to visualize the finished project!
If you're working with an awkwardly shaped blank, you can also use the templates in Cricut Design Space to create the perfect design.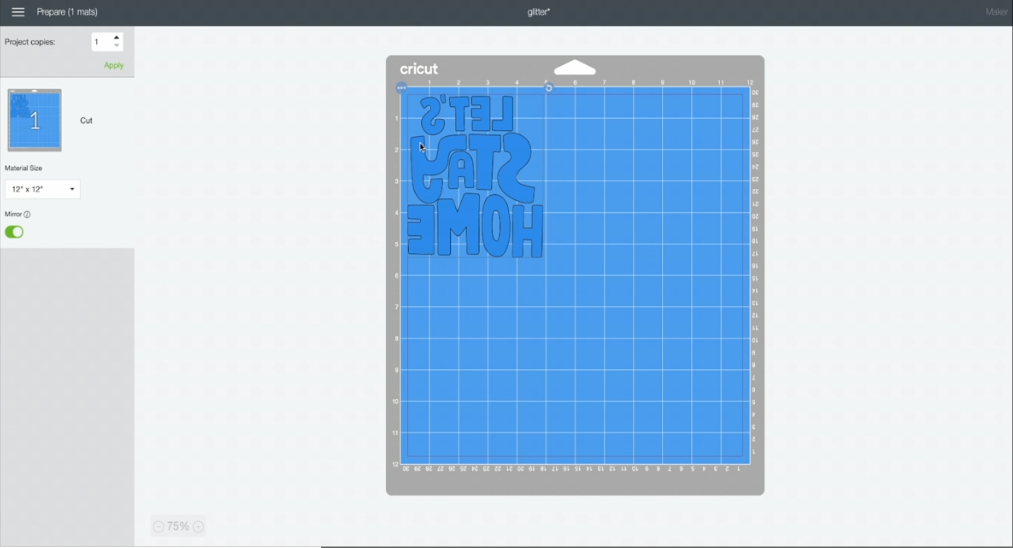 5 – Remember to mirror your HTV.
When discussing Cricut craft fails with some of our members, this was one of the most common ones mentioned. It's so easy to get excited about your project design and then forget to mirror your design before cutting.
Some people have said that they keep a cute sticker on their keyboard or Cricut machine as a reminder. Others have a little checklist they quickly run through for each project before hitting that flashing Cricut button!
6 – Buy in bulk where possible.
Buying in bulk often means you can buy at a discount. It's important though to think ahead as to how much of the item you're purchasing you'll actually be able to use before it expires. Vinyl has a shelf life, so while it can be tempting to stock up on it, you want to be sure you can use it up in time.
You can buy many of the die-cutting blanks you might use in bulk too. If you find a great deal on these, and they're something you use regularly, it's a great idea to stock up. You'll always have them on hand whenever you want to make a gift or craft items to sell and you'll save money on them too!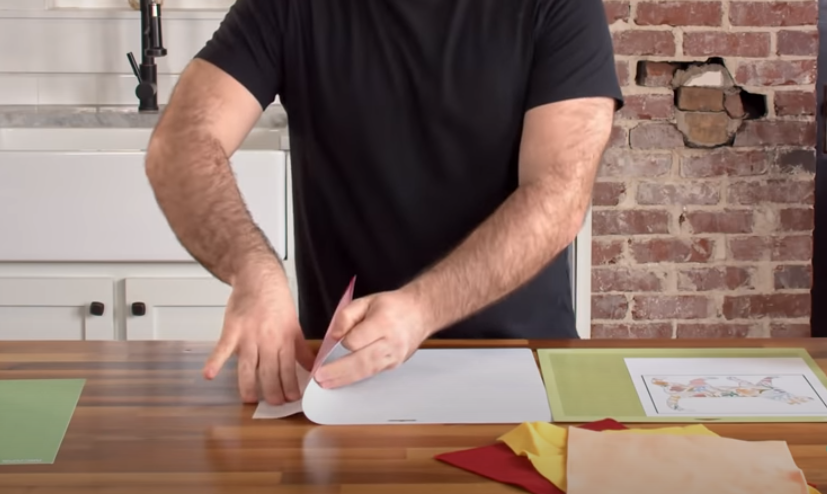 7 – Use gravity to help remove your cut design from the mat.
It's much better to flip your mat over and remove the mat from the design rather than the other way around, especially when working with materials like paper and cardstock. This helps prevent any curling of your materials, keeping them flat and in good condition so you don't have to cut them out all over again.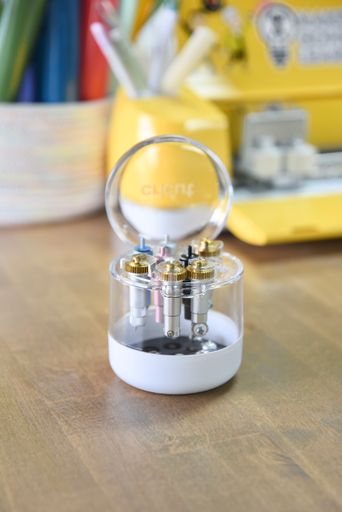 8 – Extend the life of your blades.
You can extend the life of your Cricut blades by taking care of them. Make sure that if they're not in the machine, you're putting them away properly to keep the tips sharp and clean.
Use a ball of aluminum foil and poke your blade into it a few times. This helps clean off some of the debris that may have collected and some people claim it helps to sharpen them too. Either way, we have found it helps extend the life of the blade and we get more uses out of it.
Use the right blade for the material you're cutting. They are made to be used with certain materials (and not with others) so using them properly can help ensure that you have a successful craft project and that your blade will last longer.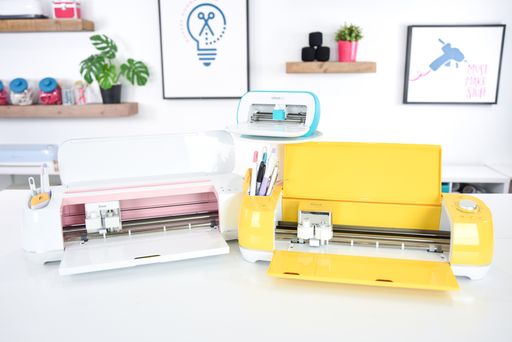 9 – Take care of your Cricut machines and tools.
Your Cricut machines and tools need to be kept clean and cared for in order for you to get the most out of them and have them last as long as possible. With the tools, in general, just a simple wiping down to remove any dirt and debris and then storing them in a safe location where they won't get bumped and dinged and knocked on the floor is pretty much all you need to do.
You also need to clean and maintain your Cricut machine on a regular basis. It won't take much time but it can improve the performance and lifespan by doing so.
10 – Reuse materials where possible.
We have found when using traditional transfer tape, that we are able to get up to 7 uses out of one piece. Most of the time, we use masking paper transfer tape which is quite economical, but if we're using the standard Cricut transfer tape, we like to get all the use we can get out of it.
With butcher paper, either some we have purchased separately or the paper that comes with Infusible Ink, we have found we can reuse that as well as long as it is clean and doesn't have any ink on it.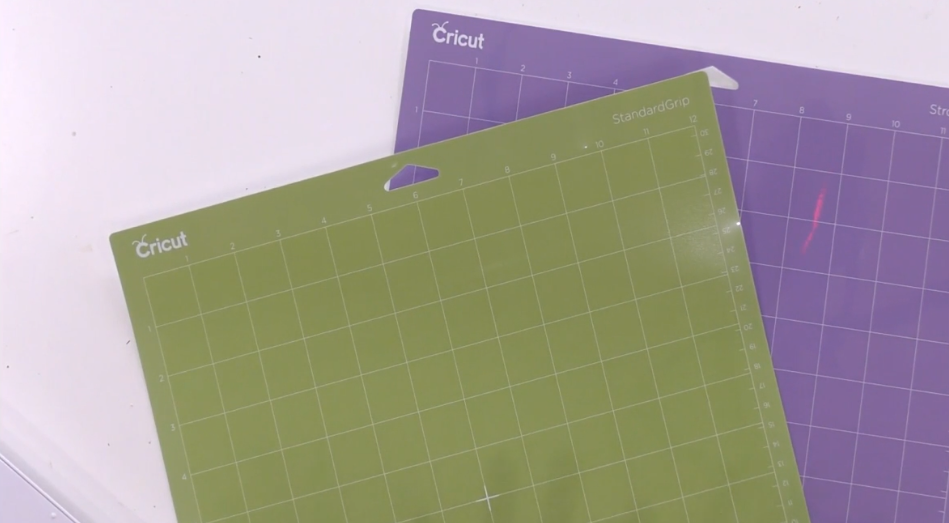 11 – Extend the life of your cutting mats.
Did you know that you can clean your cutting mats? They can get pretty gunky – filled with dirt and debris from the various materials you've cut on them and all of that can interfere with their performance.
Over time and with use, they can also lose their stickiness. One thing to know is that we keep our "less sticky" StandardGrip mats and use them as LightGrip mats. But, of course, you can also clean them and often restore much of their stickiness to make them almost like new.
Speaking of new mats, save those clear plastic cover sheets that come with your mats. You should put those back on the mats each time you put them away to store them. This will help protect them from damage and keep them clean.
If you're making the same cut over and over again on your mat, about halfway through, rotate your mat and insert it into your machine backward. For example, you are making 30 of the same design for tumblers. After you complete 15, for the next 15, turn the mat around and insert it from the opposite end so it's not cutting repeatedly in the same spot.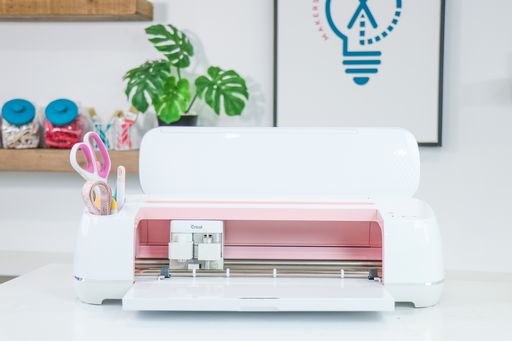 12 – Learn how to use your machine.
The more you know about using your die-cutting machine, the more success you can have with it. Success will save you money! Makers Gonna Learn is dedicated to educating die-cutting crafters so you can get the most out of your machine. Our website, blog, social media and Youtube channels are filled with tips and tutorials so you can make amazing craft projects.
By becoming a member, you also get access to our private Facebook group where like-minded crafty friends share ideas, support, and troubleshoot for each other. With our yearly membership, you get 10+ courses, handy printable reference guides, and Member-Only tutorials, and Q and A sessions to help you learn even more.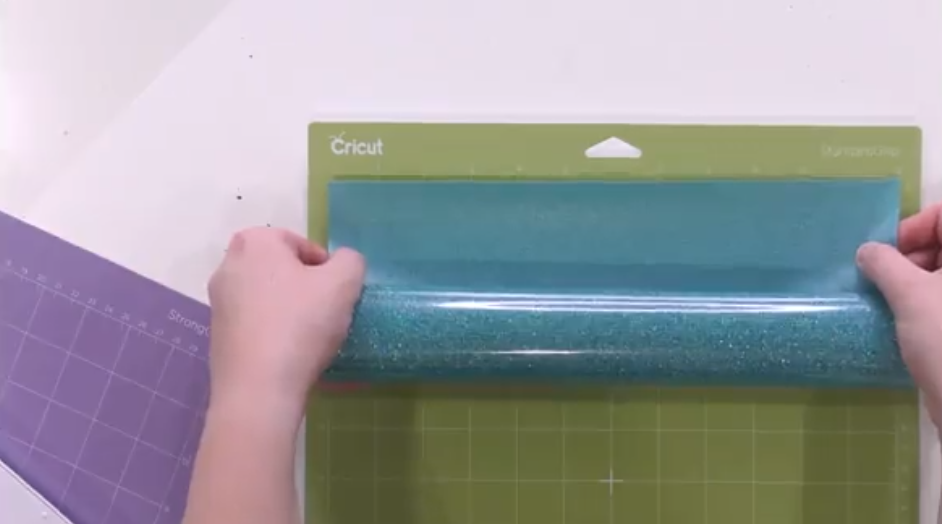 13 – Get the most out of your vinyl.
We often buy vinyl on rolls and have found that by applying it to our mats from the roll, we can save vinyl and money.  Instead of cutting off a piece of vinyl, place it on your cutting mat with the end of the roll hanging off the mat.
By placing the whole roll on the mat, you can trim off the excess after it has cut. You'll see exactly where your cut lines are! Grab your Cricut True Control Knife and cut away the unused vinyl. You'll use only what you need and waste far less vinyl with this tip!
Once you have cut away the unused vinyl, save it. Even if all you have are small pieces left, you can use those vinyl scraps for small designs later. If you can avoid wasting vinyl, you'll be able to get the most use out of it, and over time, you can save quite a bit of money!
Finally, be sure you are using the right vinyl for your project. We can provide you with some guidance on when to choose the various different types of vinyl so you're not risking a craft fail.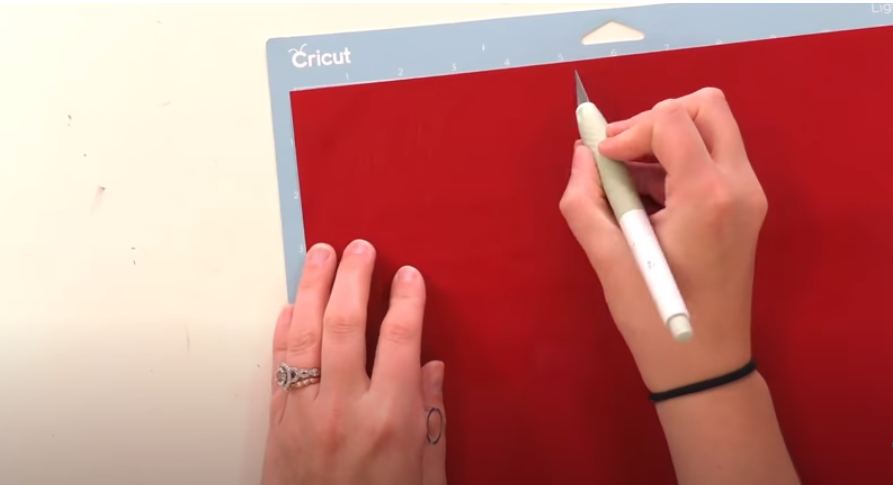 14 – Use items from around the house where possible.
We have our favorite crafting products, but in a pinch, there are some things you might just have around the house that will work instead. Try an old gift card for burnishing or to use as a bone folder.
Masking or painter's tape can be really helpful in adhering items to your cutting mat. This could be because your mat has lost some of its stickiness or for those trickier projects, like ones using balsawood or basswood.
No weeding tool? The off-brand weeding tool and Pin Pen Tool we prefer are quite affordable, but in the meantime, try a sewing needle or safety pin.
Some people have had good luck using clear sticky shelf paper in place of transfer tape. You can often find this at your local dollar store. The masking paper transfer tape we use is really inexpensive, but this is worth a try.
Contact paper is also a good substitute for stencil film. Cut out your design in the Contact paper with your Cricut and then stencil with it as usual.
Remember, when experimenting with some of these household items or an off-brand or brand that is new to you, it can be a good idea to make a small test project to try it out. If you have good results, then you can move on to something bigger.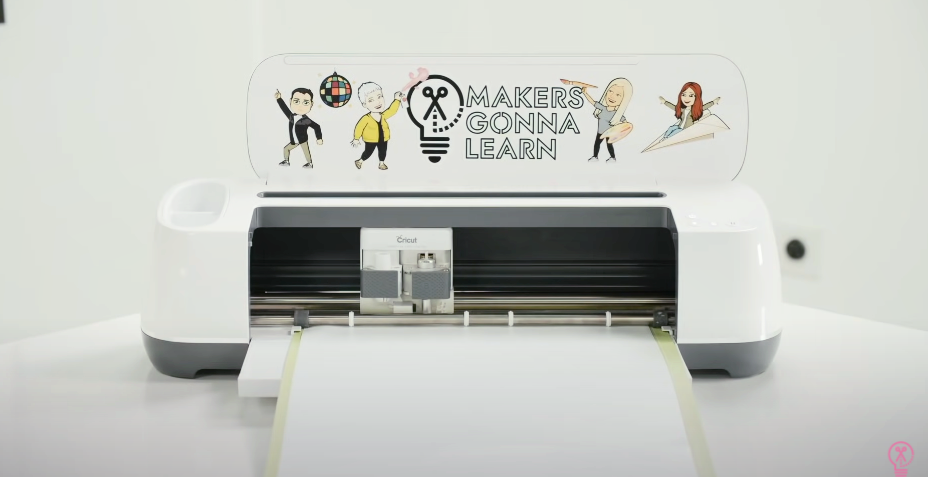 15 – Leave your mat in the machine until you check your design.
If you're in doubt about whether your machine cut all the way through or not, you can run it through to cut again by pressing the flashing Cricut button again. Unfortunately, if you remove your mat from the machine and then try to load it back in again, you might get the design off by just a tiny bit and when it cuts again, the cuts may not match. Leaving the mat in the machine before cutting again ensures that it cuts in exactly the same places.
Obviously, this isn't something we would do for every project. Most should turn out just fine the first time through. But if you're using a new specialty material or if you sense that it's just not cutting thoroughly, this is worth a try. Carefully check your design without moving the mat and then let it cut again.
16 – Invest in a cut file and fonts subscription.
Clearly, we think this is a great idea since we started our own subscription service. But, honestly, by investing in a subscription rather than buying a lot of separate cut files and fonts, you can save a lot of money in the long-run.
If you find yourself purchasing a lot of cut files and/or fonts, you should work out the cost of a subscription and see if it will actually result in savings. For example, if you purchase a yearly Makers Gonna Learn membership, you get instant access to thousands of cut files and over a thousand fonts. Not only that, but we add more every month.
Of course, we also offer education, support, a free commercial license (for use with our yearly membership so that you can sell what you make with our files), and so much more, increasing the value of the membership beyond the cut files and fonts. But, if you simply add up the value of the files, avid die-cutting crafters are very likely to save money on those alone.
17 – Look for sales and coupons.
Many of the stores that sell Cricut supplies offer coupons on a regular basis. Look for those, making sure to read the fine print about any exclusions, as you may be able to wait and take advantage of those for your next purchase of supplies.
The best way to stay on top of these sales and coupons is by signing up for the email newsletters from these companies. Consider Michaels, JoAnn, Hobby Lobby, and even Cricut itself. If you find other companies that make products you like, be sure to sign up for their newsletters too.
Don't forget to sign up for the Makers Gonna Learn emails too! We send out deals for our products on a regular basis as well as fantastic tips and project ideas
Email subscribers are often told about upcoming sales before anyone else. In addition, some brands will offer special deals only available to subscribers, so this can be a great way to find some extra savings.
Pro tip: Get an email account that you use only for these subscriptions. It makes it much easier to keep track of them and keeps them separated from your personal emails.
18 – Sell or trade old materials you aren't going to use.
Find a great deal for vinyl but it's way more than you can possibly use before it goes bad? Or maybe you bought the latest tool for your Cricut Maker's adaptive tool system and then found that you never used it? Sell or trade your unused or excess supplies.
How about forming a local group of die-cutting crafters? You can get together and share ideas and tips and bring items to trade with each other to each meeting.
19 – Work in good lighting.
It's amazing to us how many people try to work in poor lighting. One great way to avoid crafts fails and wasted materials is by working in really good lighting!
We know that not everyone has studio lighting available to them like we do, but even just a good desk lamp can make a big difference. We haven't found the need to use a Cricut Brightpad but we have heard from others with lighting that isn't the best that it has been really valuable for them when it comes to weeding.
Lighting can also make a big difference when it comes to the success of your Print then Cut projects. If your lighting isn't good enough, your Cricut may have a hard time reading the registration marks and cutting it out properly.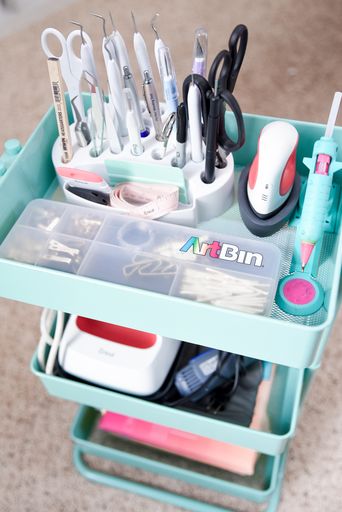 20 – Keep your supplies organized.
You want to store your supplies in an organized way for multiple reasons. First of all, who has ever had to go out and buy more supplies simply because they couldn't find the ones they had already. We see some hands raising!
If your supplies are put away in an organized manner, so that you can find them whenever you need them, you'll save money because you won't need to keep buying more. Use your Cricut machine and make yourself some labels. Then, organize your supplies and label them so you can always find them quickly and easily.
Another great reason for keeping them organized is that when we put our supplies away, we're also taking care of them. If you leave them everywhere, it is so much easier for them to get damaged – torn, nicked, broken! By putting them away, we can ensure that they are safe and protected and get much more life out of them.
21 – Use baby powder for weeding dark vinyl.
Yes, really! If you're having trouble seeing the cut lines in your dark vinyl (and it's not your lighting!), try sprinkling on some baby powder. Then, brush away the excess. The powder will settle into the cut lines and help them show up better, making weeding so much easier.
What does this have to do with saving money? Weeding mistakes can mean ruined projects and wasted vinyl. Using our vinyl weeding hacks will make it flawless!
22 – Learn to make your own SVGs.
Looking for beautiful, custom cut files that you can use with your craft projects? Make your own! Paying someone else to make them for you can be costly, and once you learn how to make your own SVGs, you'll be hooked.
The Design portion of our Design Make Sell course is made especially for people who want to learn how to design their own files.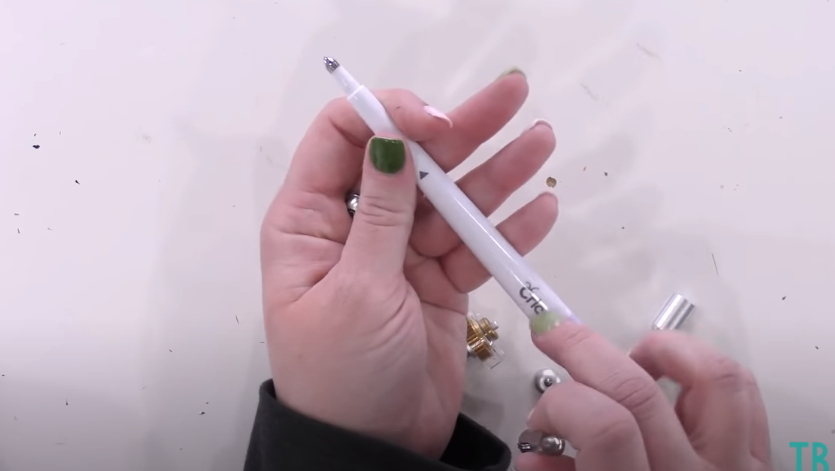 23 – Use the scoring stylus instead of the scoring wheel in the Cricut Maker.
You can usually find the scoring stylus for about a third of the price of the scoring wheel and it works in the Cricut Maker as well as the Explore. Not only that, but we actually prefer using the stylus.
The Scoring Stylus goes into Clamp A, meaning that unlike the Scoring Wheel for the Cricut Maker (which goes into Clamp B), we don't have to stop partway through the project and switch it out for our fine point blade.
24 – Place Cricut transfer tape on the back of leather to make it work with your Cricut machine.
If you're working with Cricut leather or 143Vinyl faux leather, this isn't necessary. However, if you want to make use of leather scraps, this is a great tip. Think about it. You could go to your local thrift store and pick up some old leather clothing to cut apart and use.
Note: we haven't tried this ourselves yet, but we have heard from people who make a lot of leather jewelry with their Cricut machines that this tip is fantastic!
They use Cricut transfer tape to cover the back of their leather. This helps protect the leather and your cutting mat during the cutting process. You want to be sure not to have any excess tape hanging over the edges of the leather as this might gum up your Cricut. Just place the tape to cover only the back.
Now, once you have cut your design out and you remove the leather from the mat, it won't leave behind that leather residue and debris that means you will have to clean your mat really well before using it again.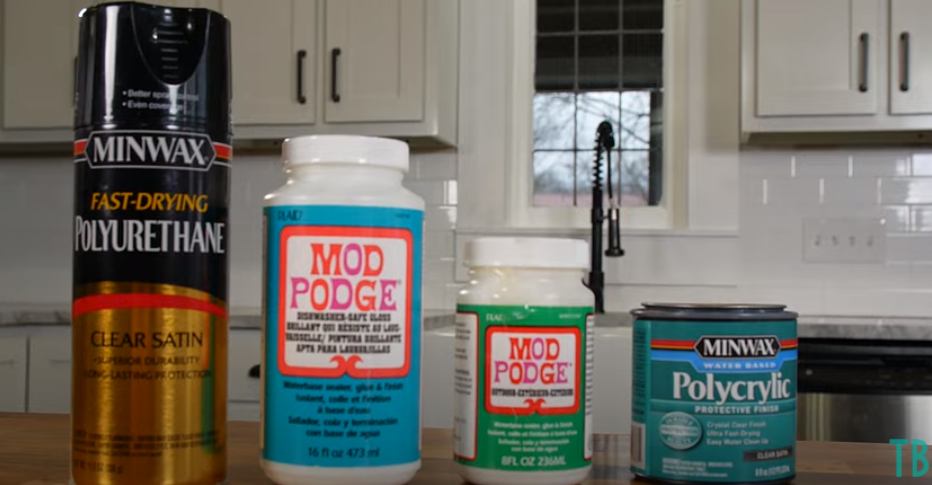 25 – Seal your projects when necessary.
Sealing your vinyl projects isn't always necessary. Many vinyl crafts will hold up quite well for years without being sealed. For example, we have had great luck with making long-lasting car decals. We have had some on our cars for 3+ years with no signs of damage or fading.
So, you want to think about the extra time, effort, and cost of sealant that would go into a project and whether it's worth it or not. When it comes to mugs, we are more likely to seal them because we want dishwasher-safe mugs. We want them to last a long time, but for them to be easy to clean too!
If they aren't dishwasher safe and we accidentally expose them to too much water, our mugs could be ruined. Or, we might end up not actually using them because they require so much special care.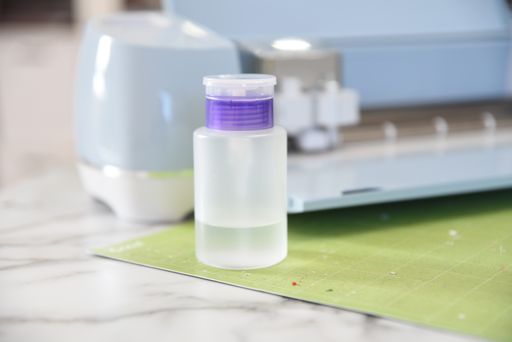 26 – Clean your surfaces well before applying vinyl to them.
It is so important to ensure that there is no dust, debris, or oils from your fingers on the surfaces you are using as these will interfere with getting your vinyl adhered perfectly. To save money, we want to make sure everything works well when we use it and that it stays in place for as long as possible.
When it comes to porous materials, simply wiping them off with a clean cloth gain help remove that layer of dust they may have on them. For larger bits of dirt and debris, a lint roller comes in handy too.
For glass, ceramic, and other non-porous items, we like to clean them with rubbing alcohol on a paper towel. You can go ahead and use the lint roller first if they have a lot of debris on them, and follow up with some soap and water, but ultimately, it's the alcohol that helps get those very last bits of dirt and oil off the surface.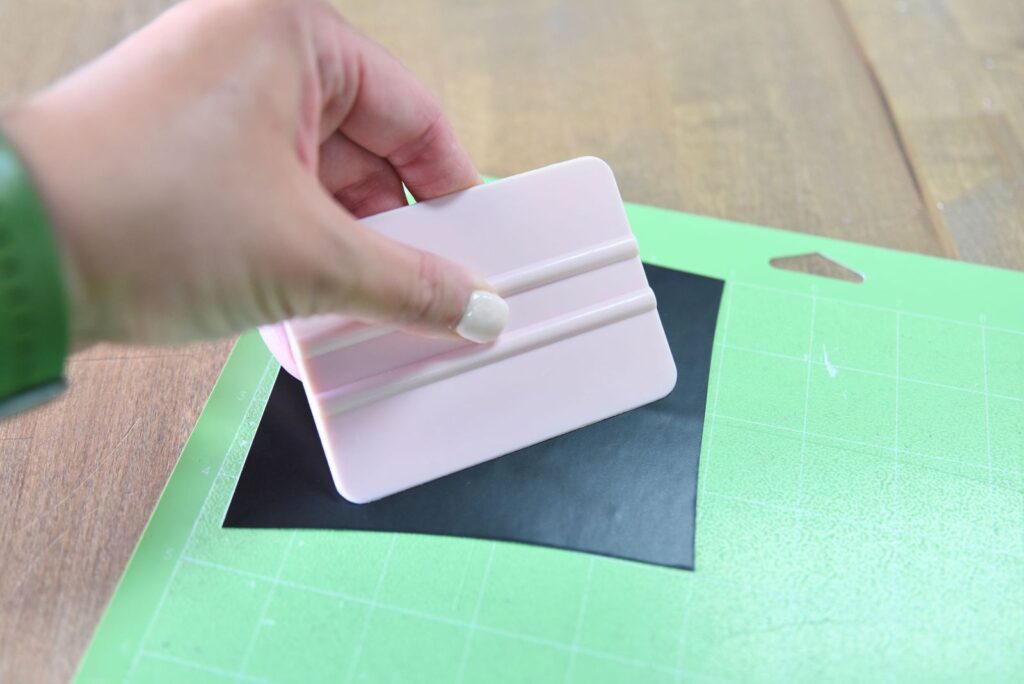 27 – Burnish your vinyl well.
We use our scraper/squeegee tool to burnish our vinyl onto the cutting mat after removing it from our Cricut machine and before weeding. This helps to make the weeding process so much easier. Then, we apply the transfer tape and burnish again. After we remove the vinyl from the cutting mat, we flip it over and burnish one more time from the back.
Finally, once we apply our vinyl to the surface, we burnish again (yes, again!) before peeling up the transfer tape. Why so much burnishing? This is one of those Cricut hacks that allows us to have successful, beautiful craft projects pretty much every time. It makes weeding and application so much easier. Then, it helps your vinyl adhere well to the surface and can make it longer lasting too.
28 – Use an air fryer for sublimation.
Yes. An air fryer. We tried out using an air fryer for sublimation in place of using a Cricut Mug Press and it worked. It doesn't work as easily as a mug press so if you're planning to make tons of mugs, you probably want to get an actual Cricut mug press or a heat press with the mug attachment.
However, it's worth looking at our results and deciding for yourself, particularly if you're going to only be using it occasionally.
29 – Kern your fonts.
Kerning involves moving the letters in a word closer together. It's especially important in the case of cursive fonts so that they join together and look like they were written.
Cricut Design Space has now added an "automatic" kerning function, where many script words are already kerned for you, but it's important to know how to kern fonts because you may have to do some tweaking to make it perfect.
Why is this so important? We have seen many craft projects where people forgot to kern their fonts and the text just didn't look "right". Craft fails mean wasted materials (and wasted time) so it's important to make sure your text is perfect before you apply it to your projects.
30 – Learn how to remove vinyl.
We want to try to get our projects beautiful and perfect from the beginning, but mistakes happen. Don't just throw your project away if you're unhappy with it! You may very well be able to remove the vinyl and start over.
Another great reason to learn about removing vinyl? Sometimes we just get tired of the design on a project or we want to switch it out seasonally. This is a great way to freshen up some of your craft projects without investing in a new blank for it.
Aren't these fantastic tips? There are so many ways to save money on Cricut supplies and allow you to create all the craft projects you want!
Tanner, Courtney, and the rest of the Makers Gonna Learn Team are all here because we love die-cutting and especially love sharing fun projects and tutorials with fellow makers. We are all great friends and are always having a blast when we are together- you will see this on camera, especially during live streams! We are here to inspire and support you in your crafting journey!