Ultimate Guide to Vinyl
If you're thinking about working with vinyl to create some amazing die cutting craft projects, or maybe you're already using vinyl and would like to learn more about it, this Ultimate Guide to Vinyl is for you.
We want to eliminate any confusion or frustration you have in trying to figure out which kind of vinyl to use, how to use the different kinds of vinyl, and what kinds of die cutting tools and techniques you need to know.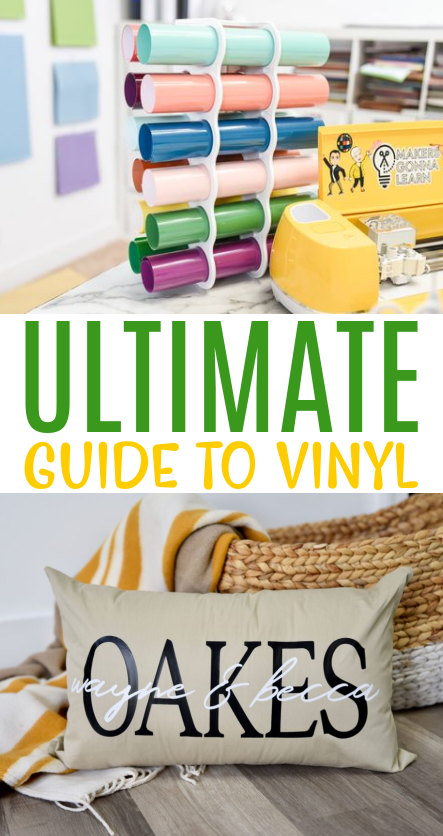 ULTIMATE GUIDE TO VINYL
This vinyl guide is going to be perfect for Cricut beginners and pros alike. Don't worry – if you own a different brand of vinyl cutting machine, you'll find this information very helpful too!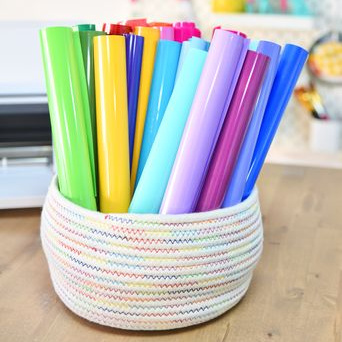 TYPES OF VINYL
The type of vinyl you will choose for your craft project will depend on the look you want to achieve and the surface you are applying it to. Understanding the various types and how they differ from each other will help you choose the perfect one each time.
There are two basic types of vinyl: basic adhesive vinyl and heat transfer vinyl (also known as iron-on vinyl). We'll go into more details about each kind below.
We all want to save money, but using a quality brand of vinyl is so important. Of course, we also know that there can be a lot of wasted money involved in figuring out exactly which brand of vinyl is the best.
We have tested many brands for ourselves and for most vinyl crafts, our favorites are Starcraft Vinyl and Siser EasyWeed Heat Transfer Vinyl. They are high-quality vinyl products and an economical option too!
We advise that you start making a few projects and really figure out which kinds of vinyl projects you like making the most. Vinyl does have a shelf life and won't give you amazing results forever. It can be more difficult to cut, weed, and apply as it ages.
It's important to consider how much you will use on a regular basis so that you won't end up wasting any that is past its prime. Once you know which kinds you prefer to use and how quickly you use it, you can then start bulk buying vinyl and stocking up when there are sales to save some money.
PRO TIP: KEEP TRACK OF THE AGE OF YOUR VINYL
We suggest that you mark the backing paper of your leftover vinyl and scraps with a permanent marker to track when you purchased it so you can use it up before it "expires". You can also mark rolls of vinyl.
A simple way to keep your rolls of vinyl tidy and organized is to cut open a toilet paper roll. Use that to wrap around the roll of vinyl and keep it closed. You can even write on the rolls with a marker to indicate what type of vinyl it is and when you bought it.
Another option is to use a rubber band. Try color coding them – blue is vinyl, pink is HTV, etc. Use a second colored rubber band on the rolls to indicate when they were purchased.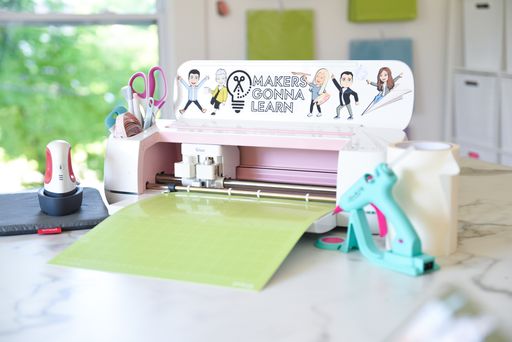 KEY DIFFERENCE BETWEEN ADHESIVE VINYL AND HTV
One of the important things you need to know is that with adhesive vinyl, you will need to use some transfer tape. After you cut and weed your vinyl, you will apply transfer tape so that you can remove the backing and apply the vinyl to your surface.
HTV, on the other hand, has built-in transfer tape. Because of the way it's designed and used, you have to place it "upside-down" on your mat – shiny side down and you have to mirror your design in Cricut Design Space after you click Make It. Again, a reminder that you will need heat to apply this kind of vinyl.
We prefer to use a Cricut EasyPress when heating our heat transfer vinyl. It's easy to use, portable, and provides even heat to your design. You can learn more about which EasyPress we recommend for your crafting needs here.
We have a comprehensive guide to the Cricut EasyPress here. If you're thinking of getting one, have a look. We'll talk about the pros and cons of each model and compare it to other heat sources as well.
If you're starting out with a basic household iron, you can find our tips and tricks for using HTV with a household iron here.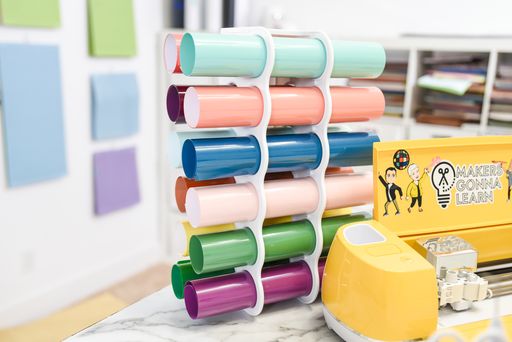 BASIC ADHESIVE VINYL
Adhesive vinyl has a backing on it. Once you remove that backing, the adhesive is exposed and you can stick your vinyl down on a variety of surfaces. You can kind of think of it as a sticker or decal! Our favorite brand of adhesive vinyl is Starcraft.
Adhesive vinyl comes in all kinds of sheens, colors, and patterns. This is the type of vinyl we use the most often because of its versatility. When you look for vinyl, remember to check the labels well so you're getting exactly the kind you want and that it's suitable for the surface you want to place it on.
You will see that some vinyl is marked as permanent, but really, in our opinion, all vinyl can be removed. If you see labeling that talks about "outdoor", "permanent", or "removable", what they are really referring to is the stickiness of the vinyl. So, as you might expect, permanent is stickier than removable.
Premium removable vinyl is the perfect option for wall and door decals or for seasonal projects that you might want to change out regularly. As the name suggests, this type is easy to remove from surfaces and leaves no residue making it perfect for wall décor. You do not want to use permanent adhesive-backed vinyl on walls because it can damage the wall and be difficult to remove.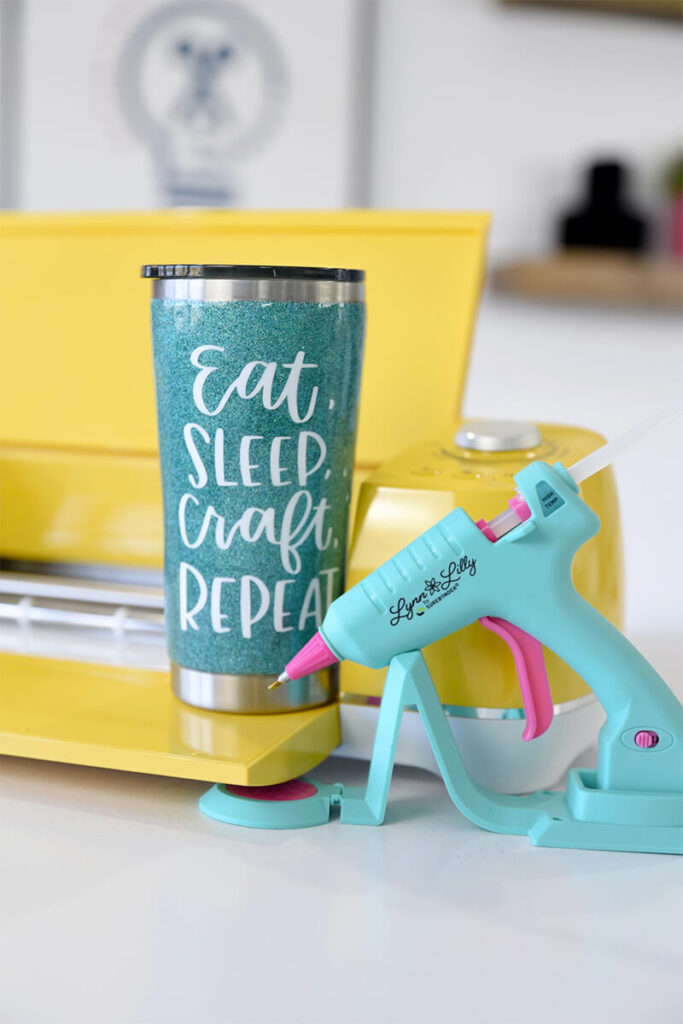 MATERIALS YOU CAN USE ADHESIVE VINYL ON
Use adhesive vinyl for: labels for items in your pantry, to decorate your Cricut machine or laptop, a glass, mug, or tumbler, a phone case, a picture frame, or your car. You can use it on wood, glass, metal, plastic, or ceramic, and more. There are many materials you can use adhesive vinyl on and it will last quite a while.
In order to apply vinyl to your chosen surface, you will need to use transfer tape.
TYPES OF ADHESIVE VINYL AVAILABLE
Plain in a variety of colors and in matte or glossy finishes
Patterned
Holographic
Glitter: Glitter vinyl can be especially hard to work with, especially if you don't use a good brand. In fact, we don't like working with most of them. However, the glitter HTV from Siser EasyWeed is one we can recommend! ( See more about HTV below). Remember that you must use strong grip transfer tape with glitter vinyl. It's the only kind that will give you flawless results when it comes to the glitter vinyl. This vinyl is really really thick! So, you must make sure to select not just iron on but glitter iron on in your settings to get the deep cuts that you need!
Foil
Metallic
Chalkboard: An important tip for using the chalkboard vinyl is that after you cut it, you should use a piece of chalk and rub it all over your vinyl piece. This helps kind of get the chalkboard started and makes it easier to write on from then on.
Window Cling
Dry Erase
Glow in the dark
Printable: You even can print then cut photos
CRAFT PROJECTS USING ADHESIVE VINYL
Applying vinyl to a leather notebook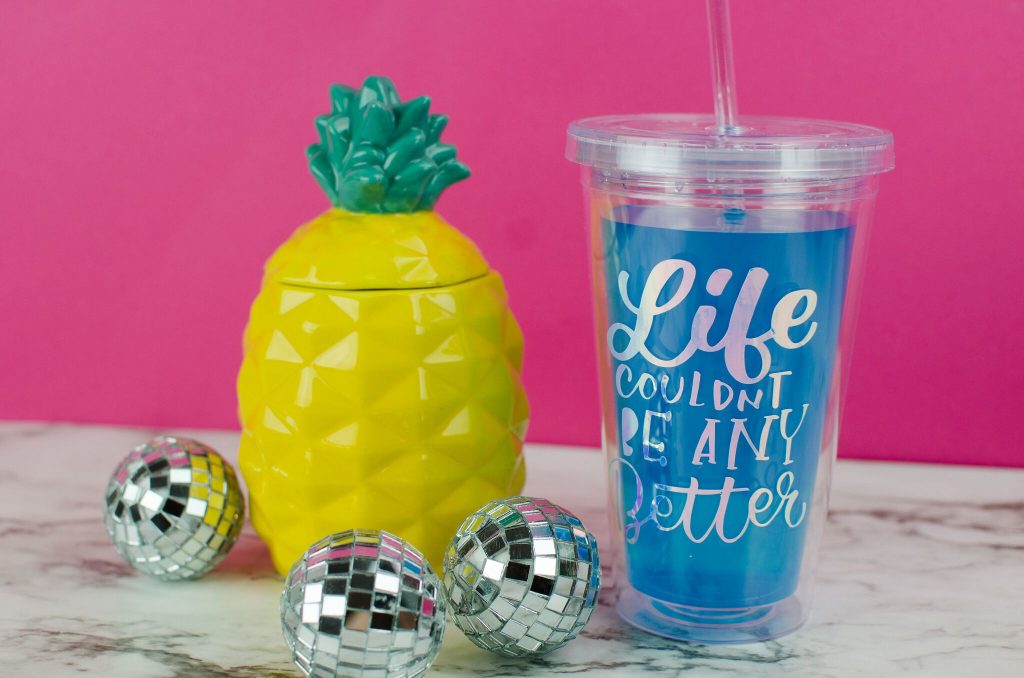 Use vinyl as a stencil to etch on stainless steel tumblers.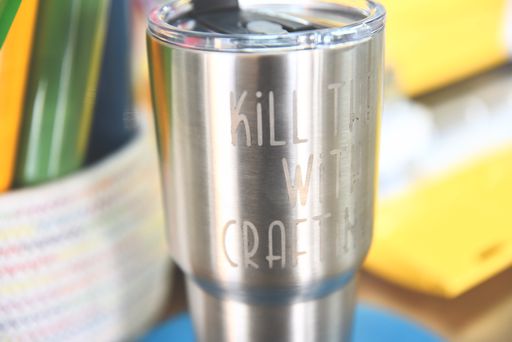 Unique wedding guest book idea using vinyl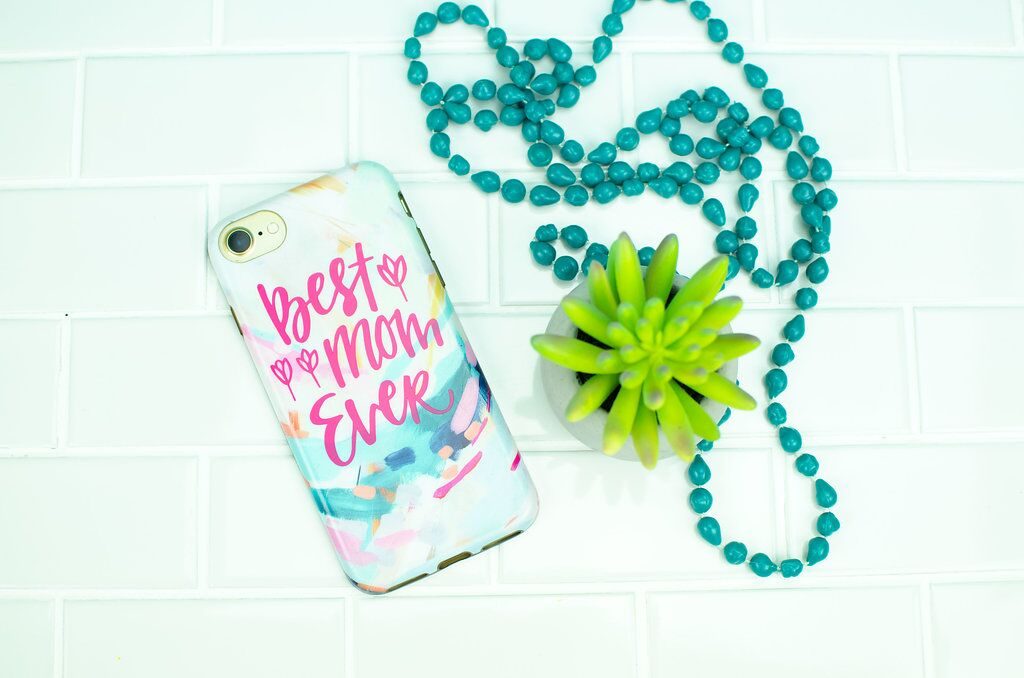 HOW TO REMOVE ADHESIVE VINYL
If you need to remove vinyl from things like mugs, try heating it with a heat gun or blow dryer. While it's still warm, use your weeding tool to peel up the vinyl from the surface. It will usually come right up with no residue left behind.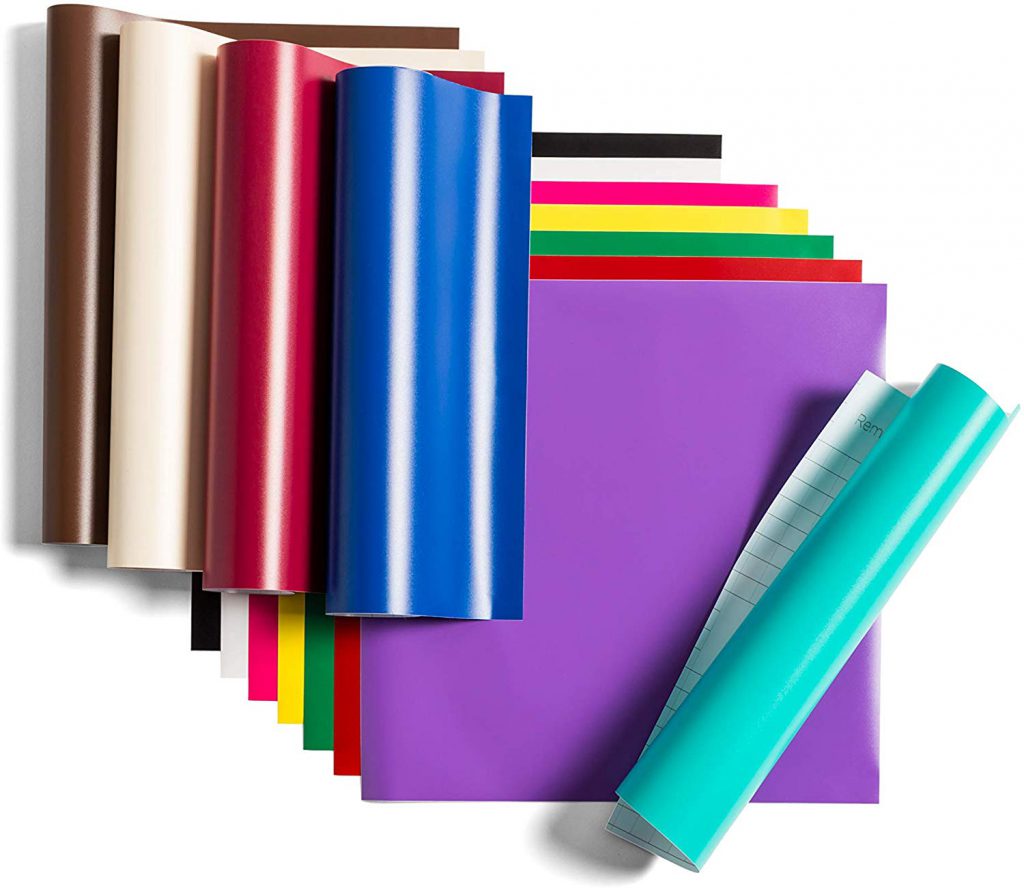 HEAT TRANSFER VINYL
Heat transfer vinyl is also known as HTV or iron-on vinyl. Unlike other types of vinyl used for die cutting, iron-on has built-in transfer paper. This is important to keep in mind when working with HTV.
As the name implies, you need to use a source of heat such as an iron or heat press to make the HTV adhere to the surface. When you look at your heat transfer vinyl, you'll see that one of the sides is shiny. That's the built-in transfer paper.
You will need to lay your iron-on vinyl shiny side down on the mat for cutting. Be sure to mirror your image/text in Cricut Design Space so that it comes out the right way after cutting.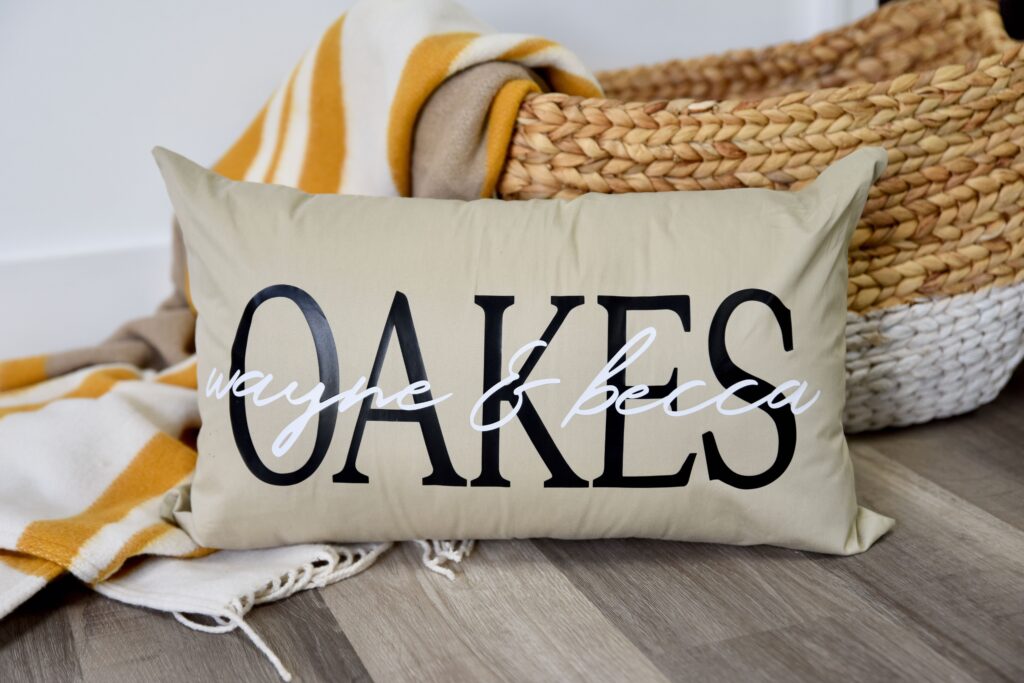 MATERIALS YOU CAN USE HTV ON
Like adhesive vinyl, you can get HTV in a variety of colors, finishes, and patterns. HTV is mostly used on fabric items, but you can also use iron-on vinyl on wood (we LOVE this!) and we've even applied heat transfer vinyl to tumblers too!
You can apply HTV on thousands of different surfaces. For example, use it on: t-shirts, tote bags, koozies, onesies, pillows, blankets, kitchen towels, pillowcases, hoodies, and hats,and so many other items.
Our favorite brand of HTV is Siser EasyWeed.
TYPES OF HEAT TRANSFER VINYL AVAILABLE
Plain, in a variety of colors, generally in a matte finish
Holographic
Foil
Patterned
Metallic
Printable
SportFlex HTV is the vinyl you're going to want to choose if you're working with a stretchy fabric. Running shorts, bathing suits, workout shirts – any of those items that are stretchy need Sportflex so that your design will move properly with the fabric!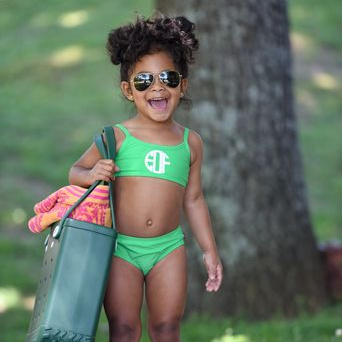 A beginner's guide to working with HTV
HOW TO REMOVE IRON-ON VINYL
You can remove HTV from fabrics! We found a great heat transfer vinyl removal product that's definitely a life saver. Removing iron-On vinyl is so easy! Now you can remake or repurpose your fabric Iron-On projects without worrying about ruining your fabric. Check out this article: how to remove HTV.
With other surface materials such as wood and tumblers, you may be able to remove the vinyl by reheating it and then carefully and gently scraping it away. This is generally easiest to do the sooner you do it after having applied the HTV in the first place, but it can be successful with older projects as well.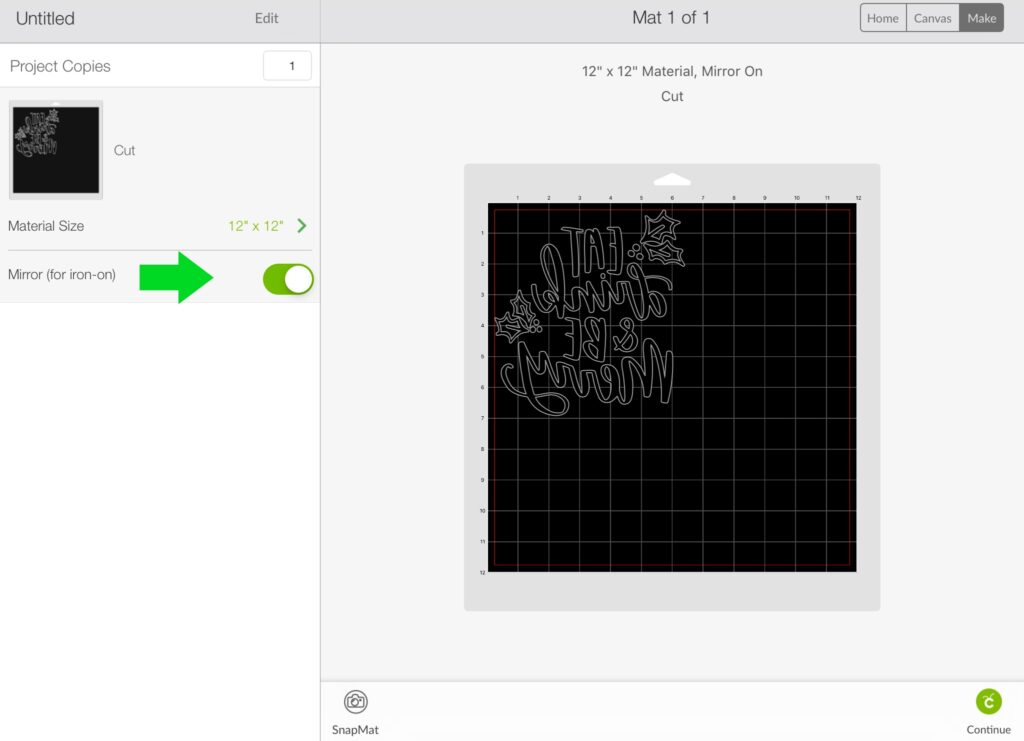 Pro Tip: Remembering to mirror your HTV.
It's so easy to get excited about your project design and then forget to mirror your design before cutting. Some people have said that they keep a cute sticker on their keyboard or Cricut machine as a reminder. Others have a little checklist they quickly run through for each project before hitting that flashing Cricut button!
With vinyl, we've found that it's better to increase the default pressure ONLY if you're working with a fine point blade that is a little bit dull. A brand new blade works perfectly with the default pressure. Vinyl will always be set to default, but increasing the pressure with a used blade makes it much easier to weed the vinyl after it's been cut.
CRAFT PROJECTS USING HEAT TRANSFER VINYL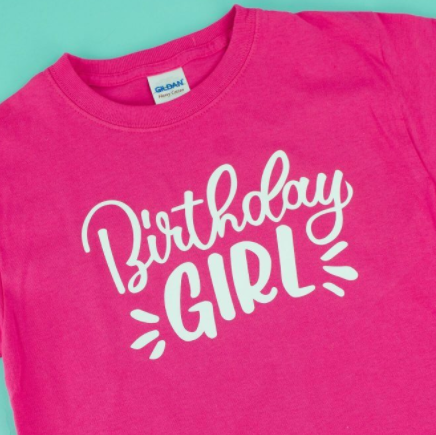 Making Iron-On Stuffed Animals <<< Yes! It's possible to iron vinyl on a stuffed animal! We'll show you how.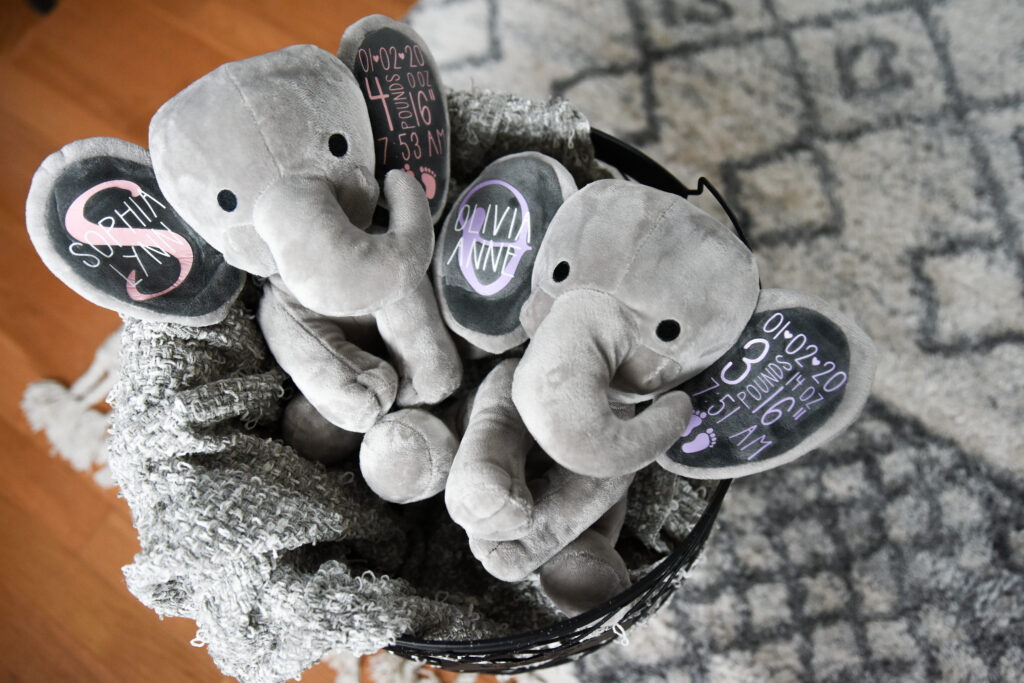 How to Make "If You Can Read This" Socks <<<This is such a fun gift idea!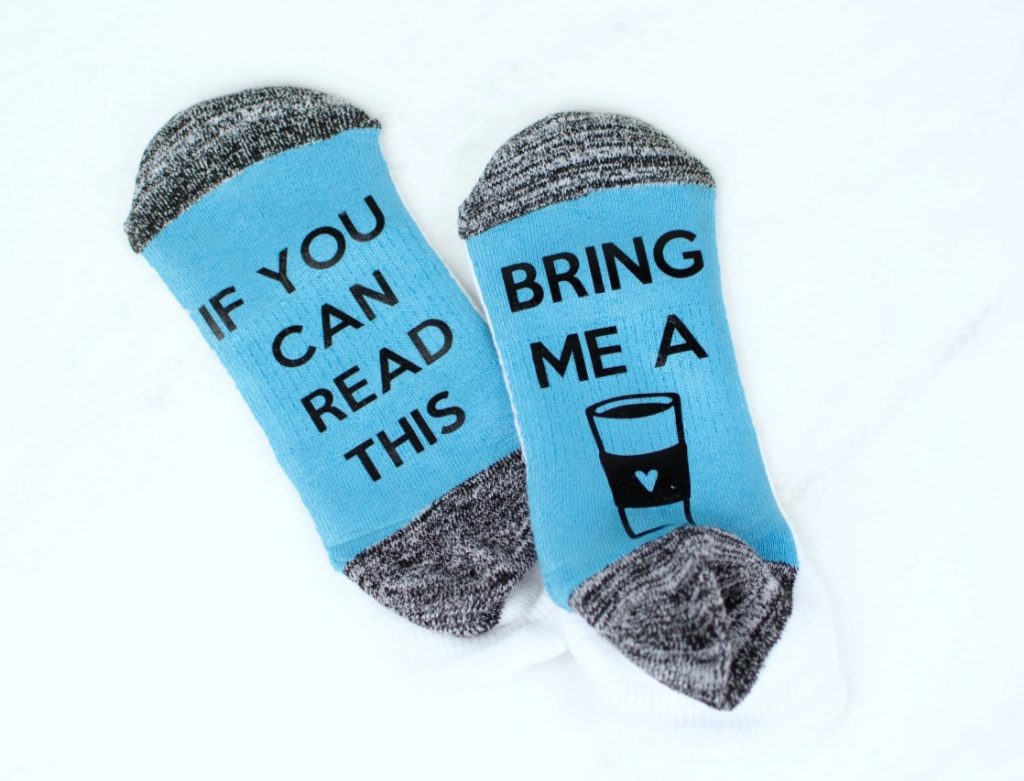 Make a Hat with Iron-On Vinyl <<<Think you can't use HTV with something soft and rounded like a hat? Think again.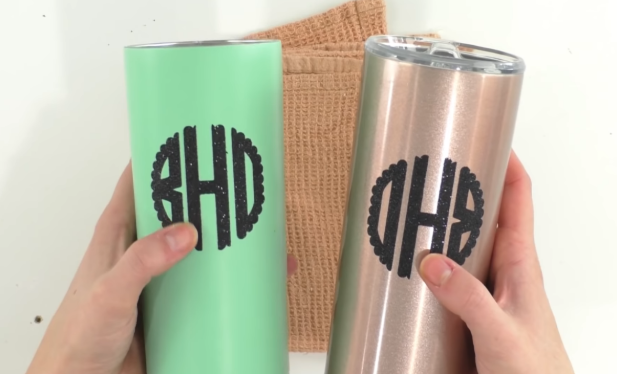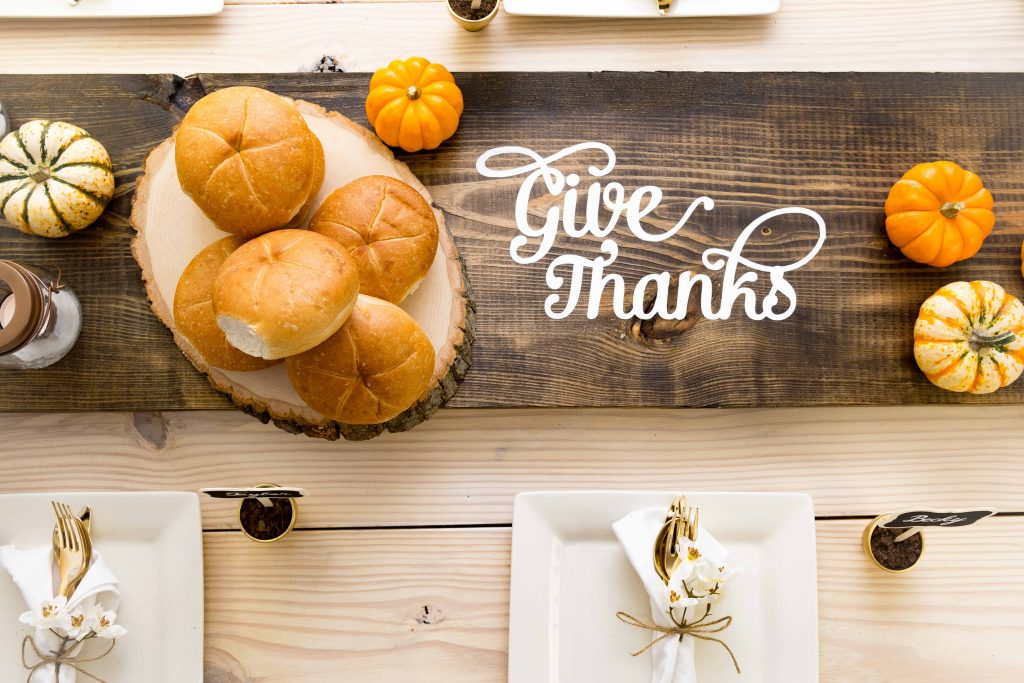 HOW TO HEAT YOUR IRON-ON VINYL
The reason this kind of vinyl is called heat transfer vinyl or iron-on vinyl is because you have to use heat to activate the adhesive and adhere it to your surface. You can use a Cricut EasyPress, a heat press, or a household iron.
SHOULD I USE ADHESIVE OR HEAT TRANSFER VINYL?
Did you know that there are some surfaces that you can use either adhesive vinyl or HTV on? One of those is wood. We love applying iron-on vinyl to wood but adhesive vinyl does also work. Wood can be uneven – even after sanding – so you may find that HTV works best in those circumstances and will adhere better. As you use and practice with the different types of vinyl more and more, you will get to know exactly when you'd prefer to use each kind.
HOW TO CUT VINYL
When using most brands of vinyl, you will find that they have helpful gridlines on the back. These help you make straight cuts – the straighter you cut the vinyl, the straighter you'll be able to place it on the cutting mat to get the best results.
With adhesive vinyl, you will place it on the mat right side up and grid side down. For iron-on vinyl, you will place it shiny side (right side) down.
You may find that you prefer to work with the vinyl still on the roll. It's easy to line it up on the cutting mat. Use the two corners of your vinyl and the two corners of the grid on your cutting mat and take your time!
Once you have this lined up perfectly, everything else pretty much falls into place. Simply start from the top and use your hands to start smoothing the vinyl onto the mat.
Once you have the length of vinyl you need (the grid lines and measurements on your cutting mat make this so easy!), simply use a craft knife to cut away the remainder of the roll. We love to use the Cricut TrueControl Knife – it's so easy and so precise! We use ours every day.
As an extra step to make sure the vinyl is really securely adhered to the cutting mat, you can burnish over it with your scraper tool. This will help to make it stick even better and to get rid of any of those last few air bubbles you might have.
WHAT TO DO WITH VINYL SCRAPS
After you've cut your design out of either kind of vinyl, be sure to use your Cricut TrueControl Knife to cut away the excess from around the design. Save your vinyl scraps and use them for other craft projects. You'll save money by making the best use of your craft materials.
You can also save your printable sticker paper and iron-on too. You can "trick" your printer to use up leftovers. Tape the remaining sticker paper or printable iron-on onto an 8 1/2 x 11″ piece of cardstock with masking tape. Now you can use it to create some more beautiful Print then Cut projects!
PRO TIP: How to organize your vinyl sheets and scraps
Use a 12 x 12 scrapbook with the page protectors in it for vinyl sheets and a regular school binder with page protectors in it for scraps. You can also buy scrapbooking storage boxes at the craft store instead.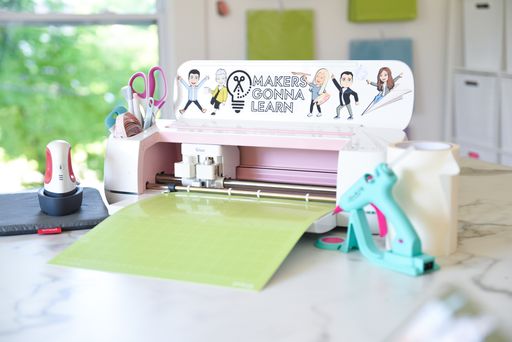 USE THE RIGHT TOOLS AND SETTINGS
It's important when cutting your vinyl and HTV to use the correct blade and cutting mat. In general, for most kinds of adhesive vinyl and iron-on vinyl, we can simply use the fine point blade and the green StandardGrip cutting mat.
If you're unsure of which mat to use, the basic thing you need to know is that each of the Cricut mats gives you clues in its name just how strong the adhesive on that mat is or what it is meant to hold. Cricut machines can cut much more than vinyl. LightGrip, StandardGrip, and StrongGrip all go from least to most adhesive. The stronger the mat's hold, the heavier the material you can place on it.
The StandardGrip mat is the basic mat for many different projects and has a medium amount of adhesive on it. We use it for nearly any kind of vinyl (although we usually find that unless our green Cricut mat is brand new, we need to use a StrongGrip mat for glitter iron-on).
For vinyl and HTV craft projects, we find that the fine point blade works well. We have a complete guide to Cricut blades and tools that will help you choose which blade or tool to use with which material.
When trying to decide on your vinyl cutting pressure, you will find that much of it can depend on how new your blade is. With a fresh blade and using the default cutting pressure, your blade can often cut too deeply. It may go not only the vinyl but the backing too, making it pretty much impossible to weed.
We find it's always a good idea to set it to less pressure anytime you are using a brand new blade.
With an older blade, you might be able to get a little more life out of it by selecting more pressure. Just use the dropdown menu where it says "Pressure".
PRO TIP: Perform a test cut.
A test cut can help you determine whether you need to increase or decrease the pressure. Or maybe you need to adjust the material setting or put in a different blade. It's much better to cut out a small sample cut such as the one Cricut provides for test cuts and work through these problems ahead of time instead of cutting out a whole design that uses up much more vinyl.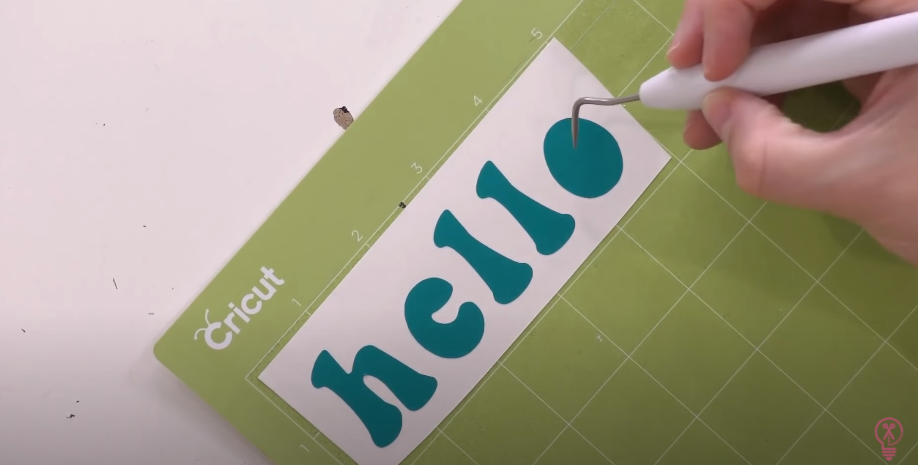 HOW TO WEED VINYL
Once you have cut your vinyl, it's time to get ready for weeding. The tools you'll want to have on hand are: your weeding tool, your Cricut TrueControl Knife, your Pin Pen weeding tool, a pair of good scissors, and your burnishing tool.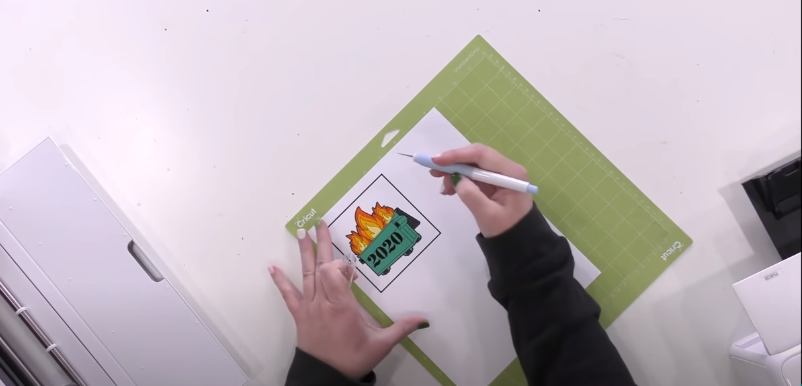 Before we begin weeding, we like to use the TrueControl Knife to trim away the excess vinyl from around the design. As previously mentioned, these uncut sections of vinyl can be saved for other projects.
Weeding is the process of removing the excess vinyl that isn't needed for your design – the negative space – so that you can easily apply your vinyl design to your project. With some projects and materials, you can do some of the weeding with your fingers, but in general, you will use a weeding tool, at least to get started.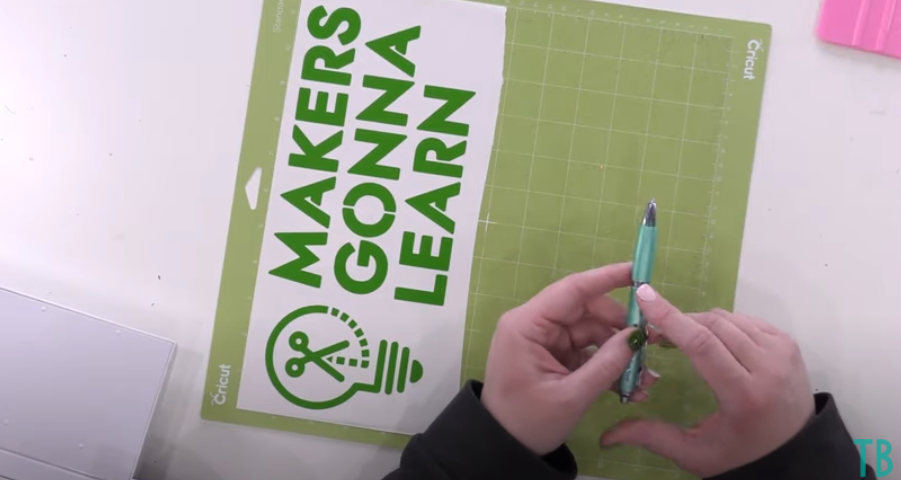 We use two different kinds of weeding tools: the basic tool is kind of a hook-shaped tool and the Pin Pen is designed like a ballpoint pen, but instead of having a tip with ink, it has a little needle there. The basic weeding tool is great for larger designs, but we really like the Pin Pen for smaller, more intricate parts like the centers of letters.
HOW TO SEE YOUR DESIGNS BETTER FOR WEEDING
We find that as long as we work in good lighting, we can see our cut designs well. But, we work under studio lighting and know that home lighting can be trickier for some people.
You can use a lightbox, a Cricut Brightpad, or even a window with good light coming through. We have even heard of some people placing a light under a glass coffee table and using that as a lightbox. The disadvantage with any of these methods is that we can't weed on the mat as we prefer to do.
Other options include wearing a headlamp to better illuminate what you're working on. Or, if you're working on a dark color of vinyl, you can sprinkle on a bit of baby powder. Brush away the excess. Some of the powder will settle into the cut lines making them show up more.
WEED ON THE MAT
We love to weed on the mat. It's like giving yourself an extra hand to help hold down your design and it makes the weeding process go much more smoothly.
After cutting your design, use your burnishing tool to burnish the vinyl down to the mat really well. Then, when you start weeding on the mat, this will help keep everything, except the parts you are purposely trying to weed away, securely on the cutting mat.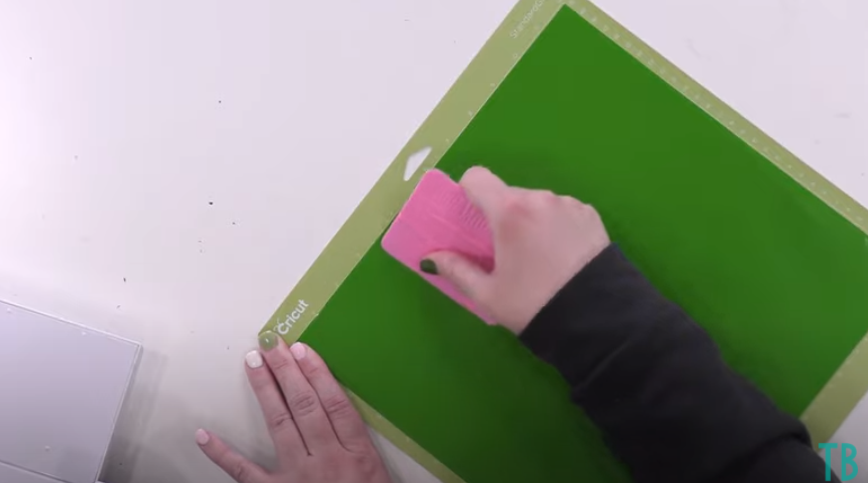 To weed, we like to begin at one of the corners. Use your weeding tool and pick up the corner. Start peeling away slowly and carefully.
We like to switch away from the weeding tool and use our fingers to continue peeling up the negative space vinyl away from our project on the cutting mat.
Go section by section, cutting away excess vinyl as needed. Once you have removed the majority of the negative space vinyl, you can go in with your Cricut weeding tool to get the rest – the centers of letters for example. This works well for the larger pieces. For smaller pieces, we like to use the Pin Pen instead.
PRO TIP: Use a safety pin for weeding.
This is a great makeshift idea if you don't have a Pin Pen handy. Use a safety pin instead!
PRO TIP: WEED A LARGE PROJECT IN SECTIONS
When working with a large vinyl project, it can be easiest to weed the vinyl in sections. As we gather up the excess vinyl that we're weeding away, it can be really convenient to sort of form it into a ball in our hand.
However, even that can get overwhelming after a while. So, we will cut away that excess vinyl. Then, we can start working on another section without having a bunch of weeded vinyl getting in the way.
TRY REVERSE WEEDING FOR INTRICATE DESIGNS
With tiny, intricate designs, we find it can be much easier to use a reverse weeding technique. To do this, place a piece of transfer tape over your design BEFORE weeding.
Flip your design over and remove the backing. Instead of weeding on the backing, you're going to be weeding from the back on the transfer tape.
HOW TO APPLY VINYL
PREP YOUR SURFACE
To apply your vinyl, let's begin by thinking about the surface you're putting it on. If it's a rough surface, like wood, give it a quick sanding and then use a damp cloth to pick up the dust and debris. With fabric items like t-shirts or even pieces of fabric for sewing, it's best to prewash them to remove any sizing that may interfere with the smooth transfer of your vinyl.
You also need to ensure that the surface you are using is clean. When working with something metal, glass, ceramic, or similar non-porous materials. you want to clean it well with some rubbing alcohol. This cleans away oils and fingerprints and will help your vinyl stick to the surface really well.
For porous items like shirts, hats, and wood, you can use a lint roller to pick up any loose bits of debris.
USING TRANSFER TAPE
Next, you're going to need some transfer tape. Our favorite is the masking paper transfer tape. It's so inexpensive and it's not overly sticky
Apply some transfer tape to your cut and weeded design, using your scraper tool to burnish. You can work with the tape still on the roll, unrolling and burnishing as you go. Or you can cut a big enough piece of transfer tape off of the roll and apply it using the "taco" method.
This next part is one of our favorite tips! Instead of peeling our design away from the mat, we're going to flip it over and peel the mat away from the design. While your design is still upside down on your work surface, go ahead and use your scraper tool to burnish it down one more time.
Carefully peel the backing away from your vinyl design. Now, you can apply it to your surface. Once again, you can use the taco method for laying your vinyl down on your surface if you'd like.
Grab your handy dandy scraper again and burnish your vinyl down to the surface. Start in the middle and work your way out to the sides. Once it's well burnished, peel away the transfer tape. If any of the design starts to lift with it, simply put it back down and burnish again.
Pro Tip: applying vinyl to curved surfaces
When applying Cricut vinyl onto curved surfaces such as a mug or an ornament, you may find that the transfer tape doesn't want to lie flat and adhere well. How to get past this problem?
Simply cut slits into the transfer tape so it will lay flat on the curved surface and your design will stick well. If you ever have any issues with bubbles, those are much easier to work out with those slits in place too.
APPLYING IRON-ON VINYL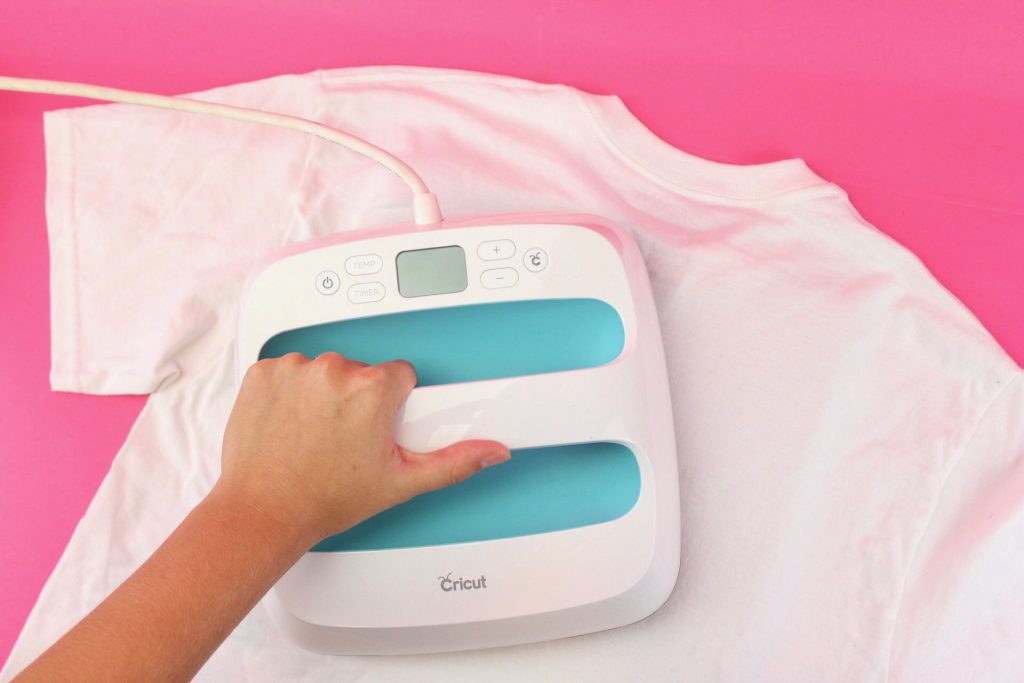 PREP YOUR SURFACE
Just like when using adhesive vinyl you want to work on a clean surface. In addition, when applying iron-on vinyl, it can be really helpful to preheat the surface with our Cricut EasyPress before applying HTV. This serves two purposes: it gives that extra little bit of heat to help the vinyl adhere and it helps to iron out any wrinkles or creases that might interfere with a smooth transfer.
It's also a great idea with fabric projects like t-shirts and sweatshirts to heat the back of the project after you've ironed on the vinyl. You don't need to do more than 10-15 seconds but this helps ensure a longer-lasting vinyl design. This is especially important with thicker materials like a thick hoodie or if you're not using a Cricut EasyPress Mat which is designed to send heat back up into your project.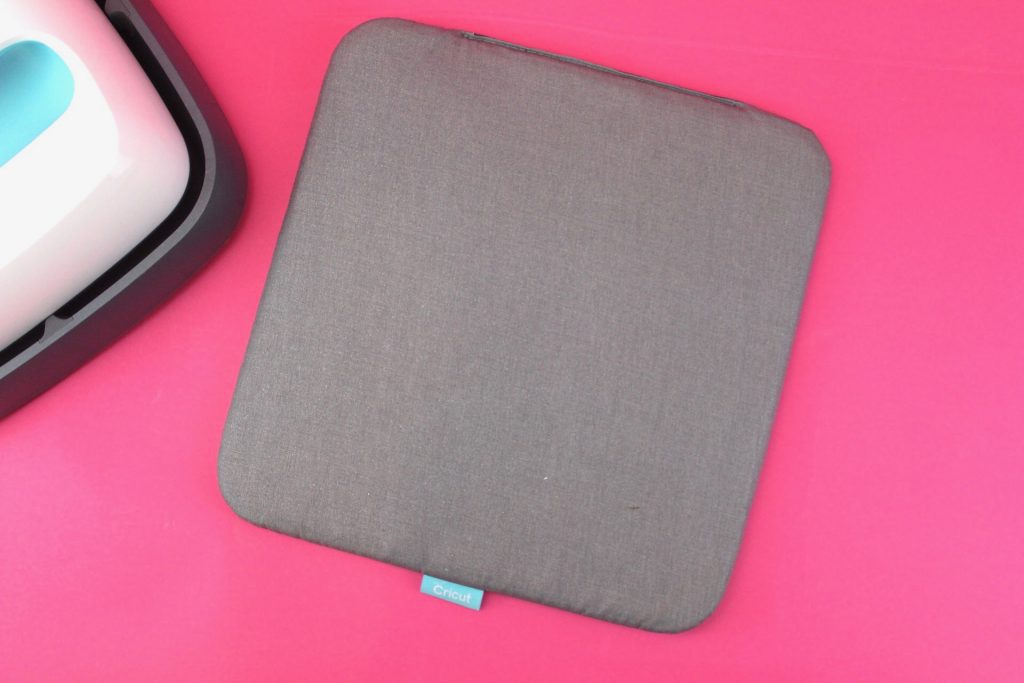 WHAT TO USE IF YOU DON'T HAVE AN EASYPRESS MAT
We highly recommend the EasyPress mats for best results, but if you're not ready to purchase one or need an alternative in a pinch, you can use a terry cloth towel. You should fold it 3 or 4 times to achieve the even pressure you need for best results.
Place the towel on a very sturdy table or countertop. Again, you need firm and even pressure to have your heat transfer vinyl adhered to your design as well as possible.
We have the Cricut EasyPress mats and love them! They are definitely game-changers! Each of the mats have properties in them that take the heat and sends it right back up to your surface material.
We've found that with the EasyPress mats, we don't need to use as much pressure. We've also been able to use lower temperature settings and get better results.
If you're not ready to commit to one of these, we highly recommend, as an alternative, a terry cloth towel. You want to make sure that it's folded three or four times to achieve that even pressure you need for good results.
Check out our Comprehensive Guide to the Cricut EasyPress here.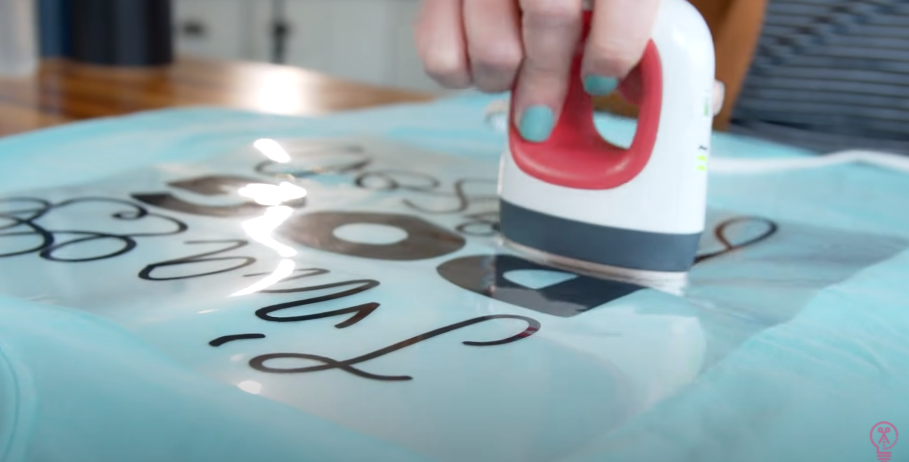 CENTER YOUR DESIGNS EASILY
To get your designs centered on a t-shirt, simply fold it in half lengthwise and press it. This gives you a center line that you can use for lining up your design. You can even create another crease line partway down the shirt to indicate where you want your design to begin. We usually recommend about 3 inches down from the neckline.
If you need more help with vinyl sizing and placement, we always like to measure our surface – and then measure again. Be sure you know exactly how much workable space you have for applying your design.
Then, create a mock-up in Cricut Design Space. Use basic shapes to create a shape that represents the surface you are working with and size it exactly to the size of your item. This way you'll know just what size to make your design and can visualize it on the finished project.
If you're working with something more awkwardly shaped, you can also use the templates available in Cricut Design Space for your mock-ups.
How do I Make Designs with Multiple Colors?
There are basically two different ways to multi-colored designs with your die cutting machine.
The first one is Print then Cut.
In this method, you're going to be using Printable Iron-On Vinyl or Printable Sticker Paper to create a sticker with your machine. It's called Print then Cut because it's a two-step process.
Once you've created your design, you'll print it onto the HTV with your ink jet printer. As it prints, registration marks will be added to your design. These aren't part of the design itself and will be cut away later but they help carry out the next step properly.
The second step is to load the printed vinyl into your die cutting machine. Your machine will read the registration marks and these will help it know exactly where to cut.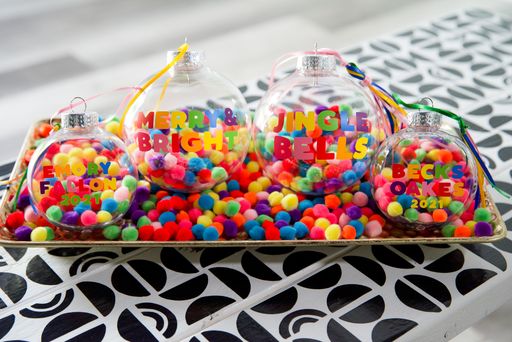 The second way is to layer the vinyl or HTV.
We have fine-tuned our techniques and come up with what we find is the easiest way to layer HTV or to layer adhesive vinyl.
Cricut Print then Cut issues and how to solve them
How to work around print then cut size restrictions
Our secret print then cut hack to improve the quality of your projects
HOW TO SEAL VINYL
Sealing vinyl is not always necessary. If you use good quality vinyl (and we always advise that you do), your projects will continue to look as good as new for quite a long time.
Of course, you need to take care of the projects you make with vinyl. For example, with a mug, you're going to want to hand wash it if you don't plan to seal the vinyl. If you're going to be submerging it in water or want to run it through the dishwasher a couple times a week, then you do need to seal it.
With things like t-shirts and hoodies that you've added heat transfer vinyl to, you want to wash them inside out, in cold water, and hang them up to dry for the longest lasting results.
If your vinyl project is being exposed to rain, sun, and other elements day after day – for example a car decal or an outdoor sign – after a while, you will need to replace it. Sealing it won't necessarily make it "permanent", but it can certainly prolong the life of it.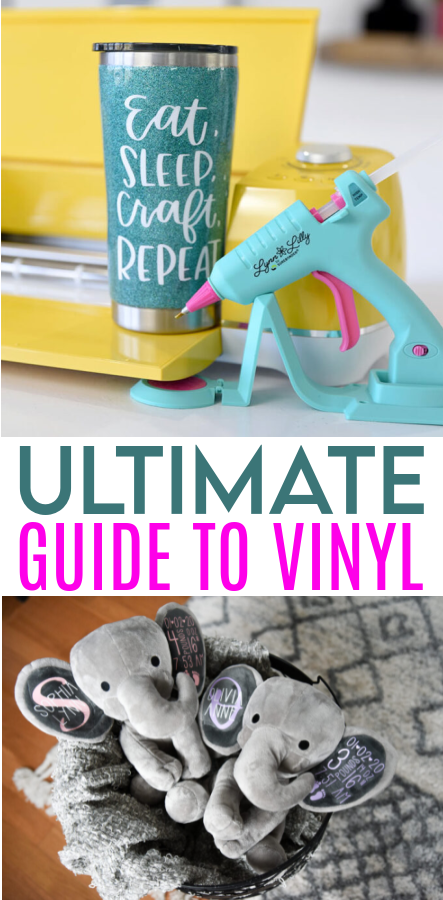 Tanner, Courtney, and the rest of the Makers Gonna Learn Team are all here because we love die-cutting and especially love sharing fun projects and tutorials with fellow makers. We are all great friends and are always having a blast when we are together- you will see this on camera, especially during live streams! We are here to inspire and support you in your crafting journey!